I've seen and read way too many instagram sale scams to shop on the Gram but for some reason I just felt @nutrientglowcosmetics would be different. I decided to patronize them after I saw @janemena's post praising their body oil. I was also intrigued by the fact their customers didn't look bleached. Just clear even skin tone which was my priority.
https://www.instagram.com/p/BejAkHLH0YJ/?hl=en&taken-by=janemena
Here's how shit went down and south with them with me losing N7900.
On the 13th of June, 2018 I sent them a message on whatsapp asking for recommendation on which of their products I should invest in to even out my skin tone. She replied 4 days later and then I asked a follow up question which she only replied 4 days after.
Due to my experience with shipping fluids down to Sokoto, I decided to have my sister in Lagos make the order and when it arrived she would package carefully and send to me via RedStar. Again she replied 4 days later with a voicenote that she was grateful for my patronage.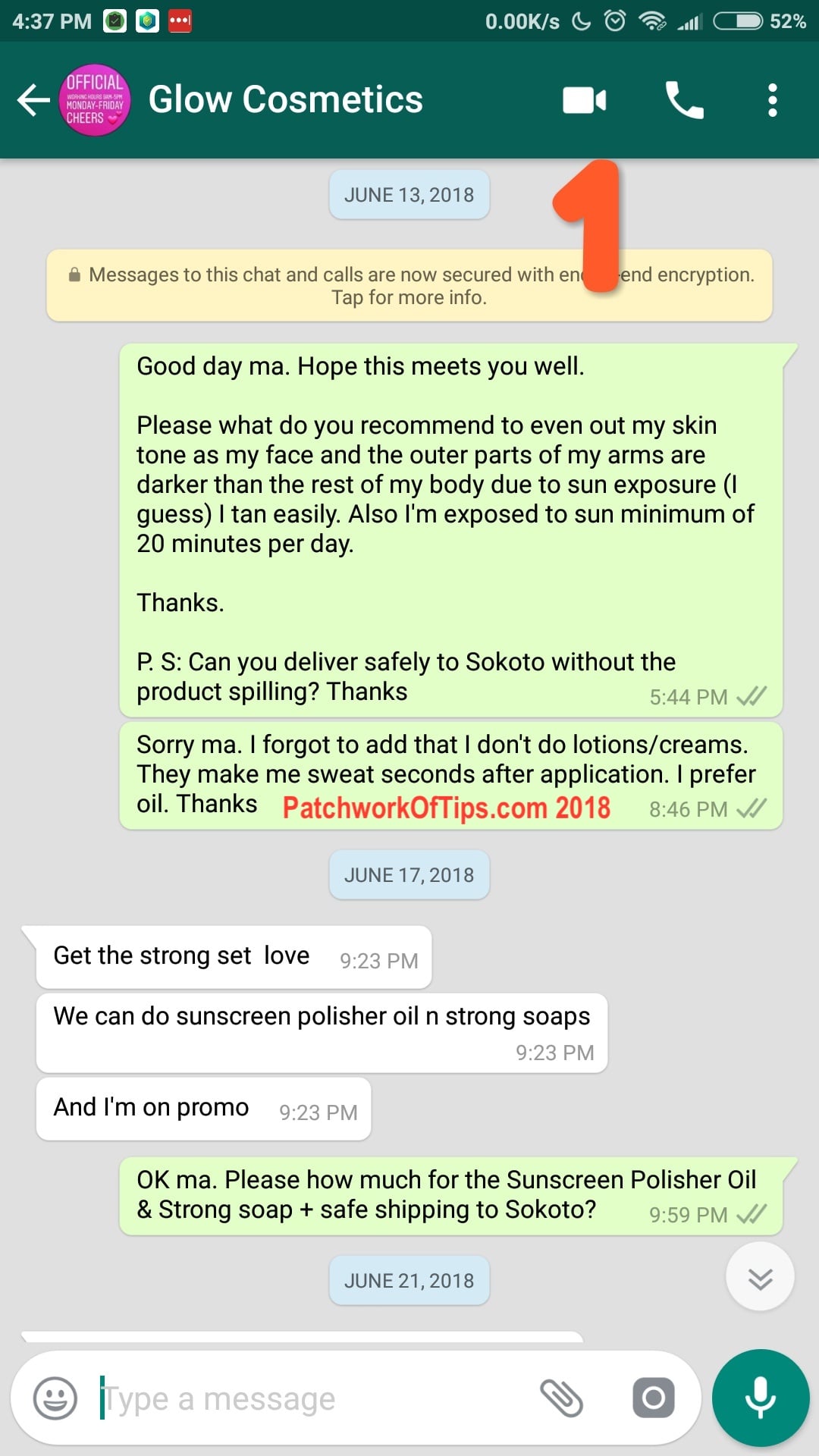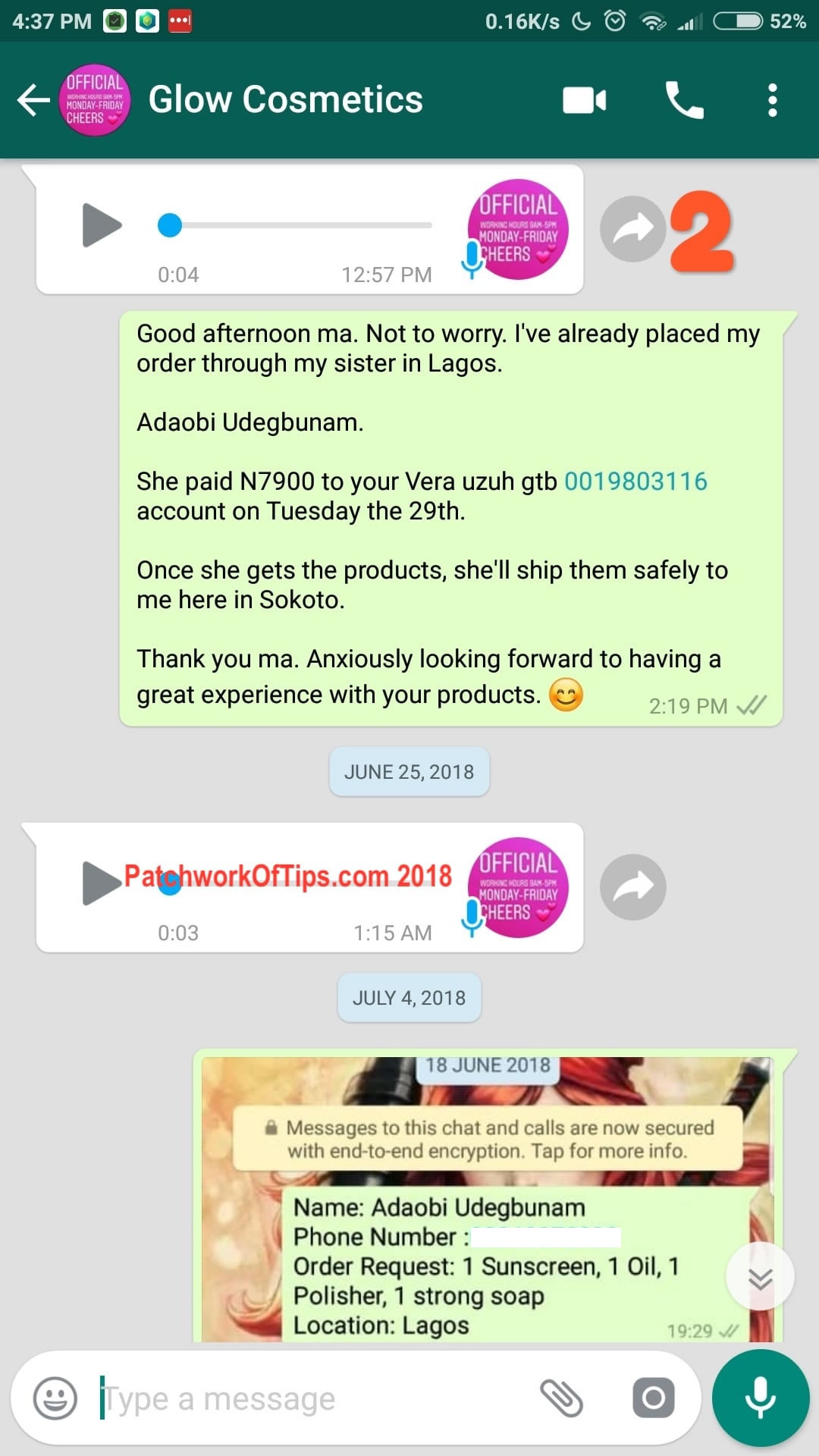 Below are screenshots of my sister's interaction with her. She sent how much it would cost me on the 18th of June and my sister paid the full amount into her account the next day which she confirmed via a voicenote (Bitch can be be very lazy and prefers communicating via voicenote mainly)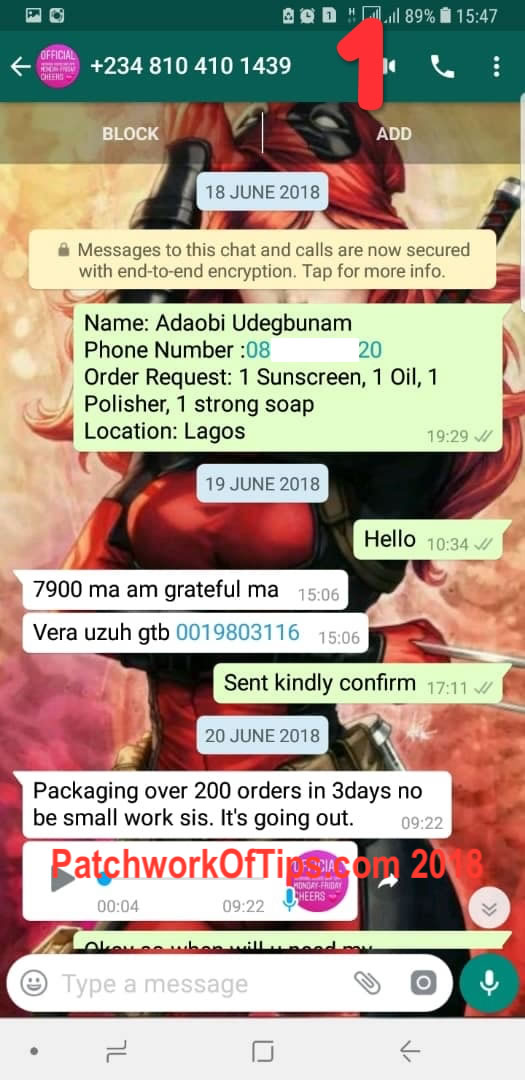 The next day after payment, my sister asked her when she would be hearing from her with regards to delivery details and she replied after 6 days by sending yet another one of her voicenote asking for patience.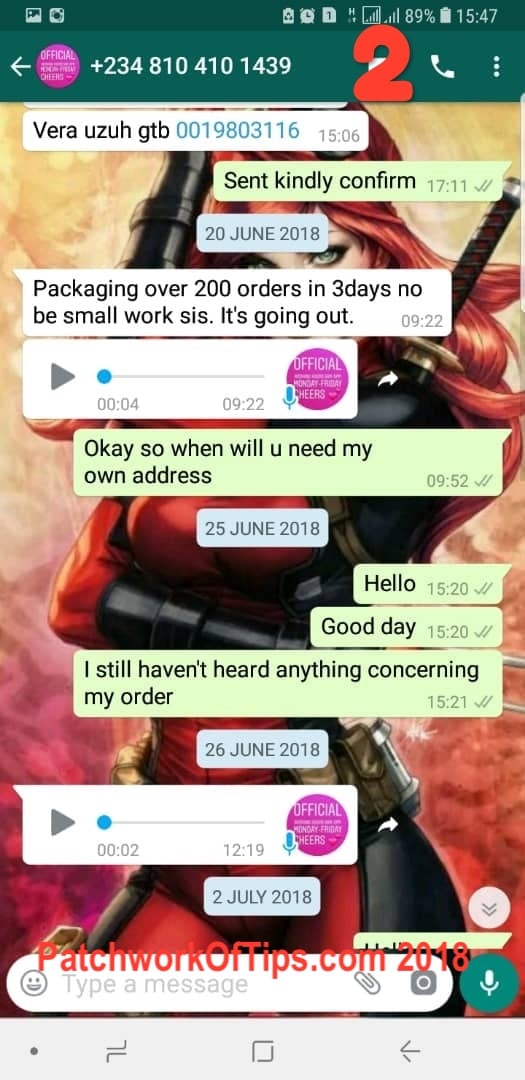 By 2nd July, I had had it with the bastard and asked my sister to demand for a refund. Till date we haven't heard from her and she keeps forwarding messages about how they are switching to DHL deliveries to serve us better. Your Fada!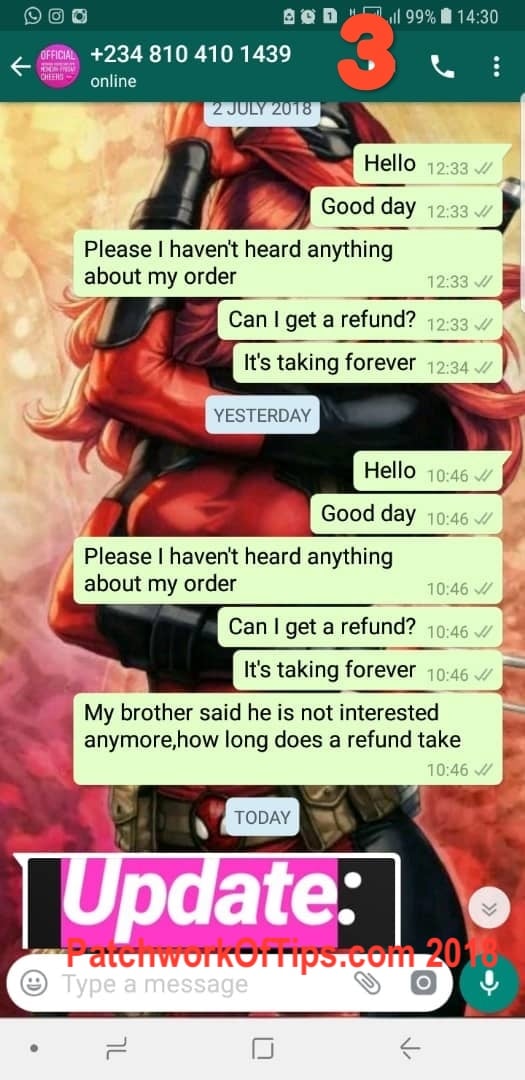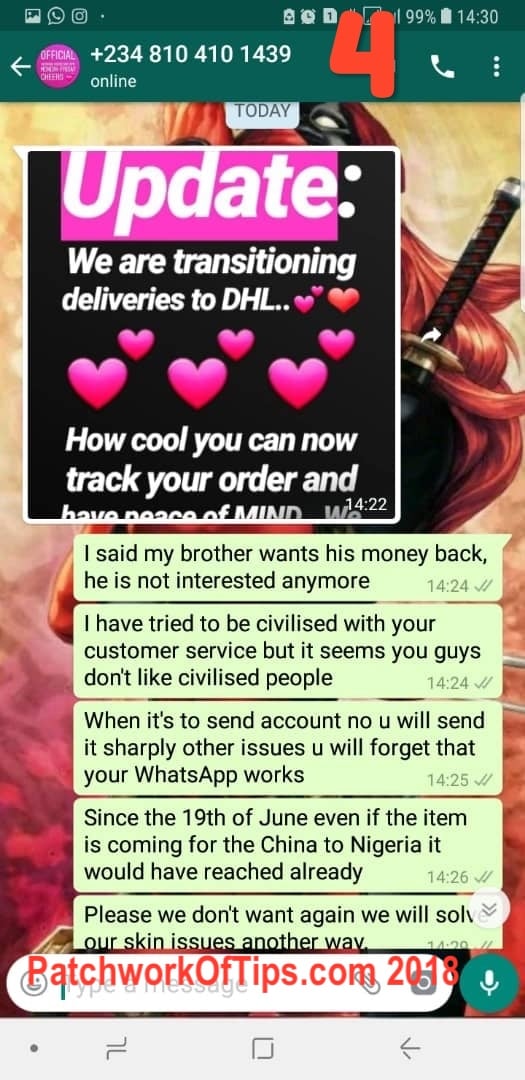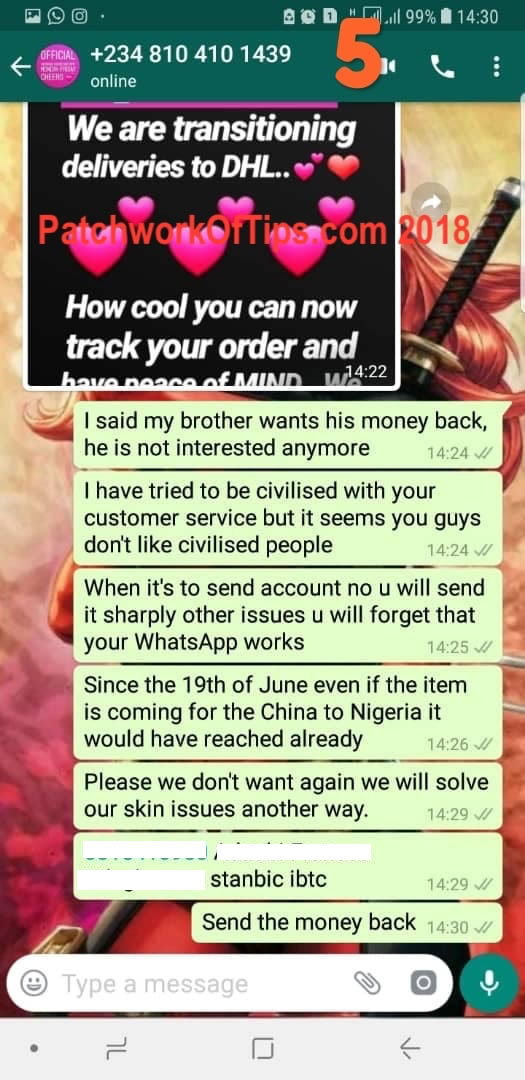 On my own end, I sent her a message threatening to expose her nonsense and the bitch only replied with a video ad promoting her DHL delivery business.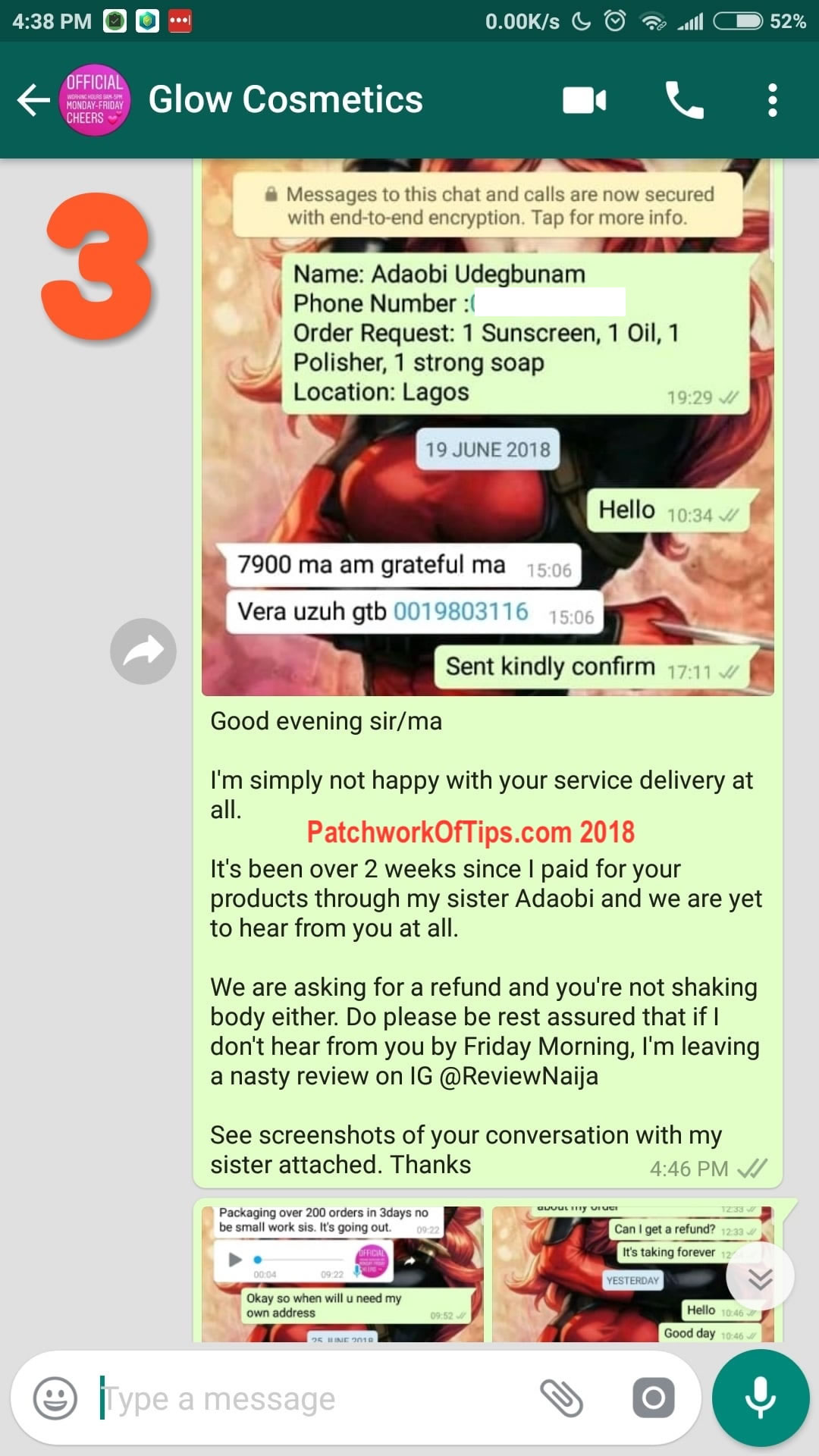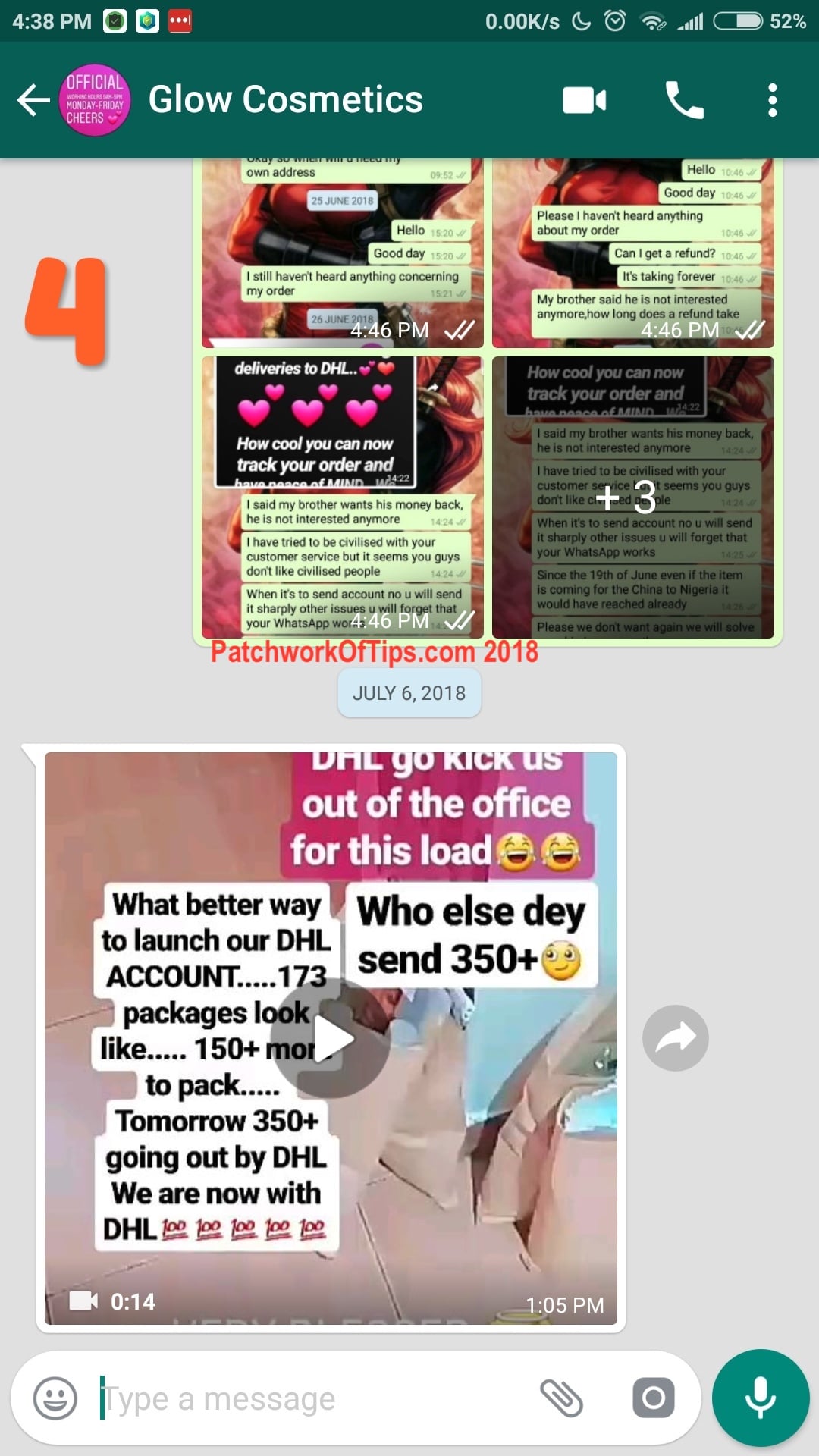 My sister and I have called them several times on  09060001523 and most times the number is switched off and when it happens to be on, they either don't pick, act like theirs network issues or they offer more apologies that they will get to us soon. Never have they ever asked for a delivery address for my order.
It's almost 1 month since we made payment and no product has been delivered. The stupid God forsaken bitch has even turned off comments on her instagram page which makes me suspect there are quite a number of customers in my shoes too.
Madam Vera Uzuh with GTBANK Number 0019803116 I pray you get what's coming to you soon. I would have dragged the police into this matter but that would mean spending more than the N7900 to get my money back.
Thunder fire you all the way! May the worst of cancers be your portion in Jesus name.
UPDATE: I just googled her name and she has been "scamming" since sef. See this comment from 2014 https://www.stelladimokokorkus.com/2014/12/jeremiah-ogbodo-romances-kwam1s.html?showComment=1419941811833#c5870960779044912201
UPDATE 16th July 2018: So my sister called me to say they finally reached out over the weekend and asked for her address so they can deliver. Lemme siddon dey wait and see what happens. Will update as necessary.
UPDATE 18th July 2018: Package finally came through and she actually ships via DHL according to my sister though instead of 4 items as ordered (1 Body oil, 1 sunscreen, 1 Body polish, 1 strong soap), she delivered 2 Body oil, 1 Body Wash and 3 Body polish. I no get strength to complain again abeg.
See picture attached
UPDATE 19th July 2018:  Just as I was anxiously making plans to have these items sent to me, Madam (or her staff) went and hired "hacker" asking me to take down this review and be compensated OR be hacked. Can you imagine? There's something wrong with the average Nigerian business person. They treat you like shit and expect you not to complain about it all.
I blurred out the "hacker's" details as he's just a kid who doesn't realize he can actually rot in a Nigerian cell for making such open cyber threats. If the site goes down, I'm splashing his name, phone number, pictures, recorded phone calls etc everywhere.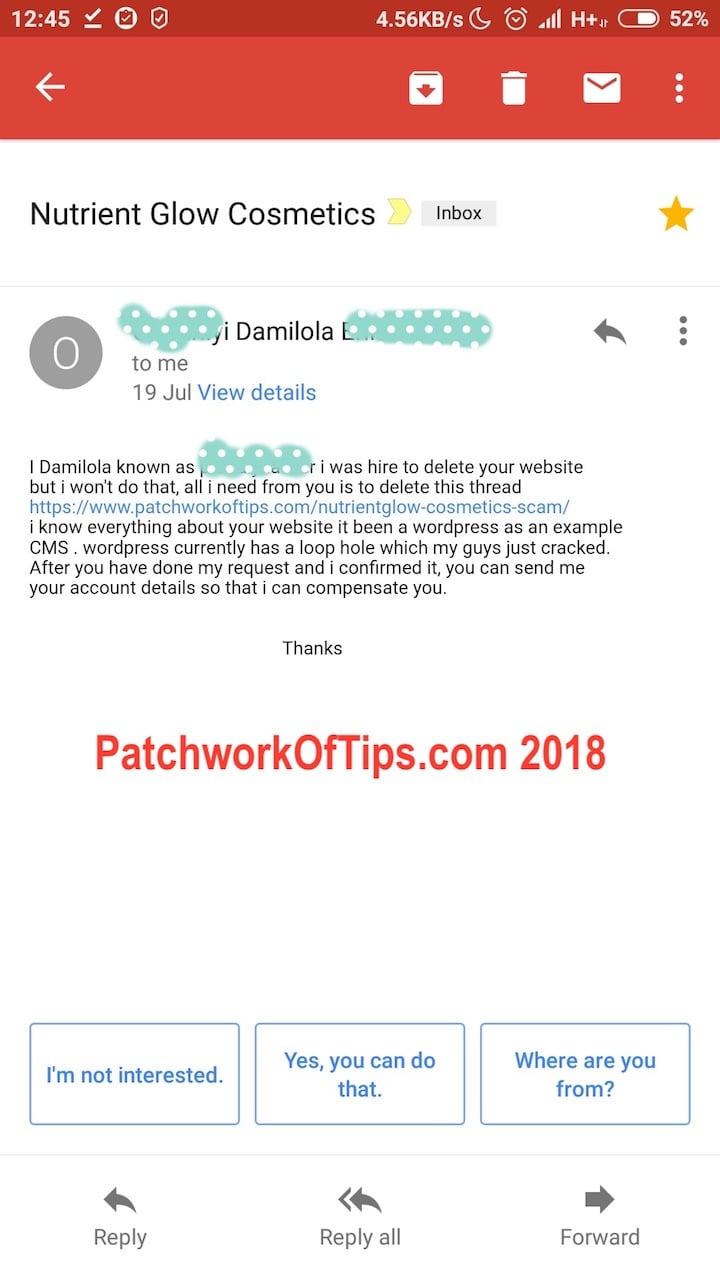 Me that was even having hopes of appending a glowing review to this piece after using her products; with extra tips on how to make her business customer friendly and she went and did this nonsense.
I've decided not to use the products again sef and asked my sister to trash them. N7,900 wasted! My paranoia no gree me use them at all. If someone can run a business like this only God knows what exactly she's mixing and selling. I don't understand building a legit brand that delivers and not working actively to protect it. I just don't get it.
In other news, I did another google search again and it's the same complaints with this woman/company. See this YouTube review comment section for similar complaints. If the reviewer deletes the comments, here they are.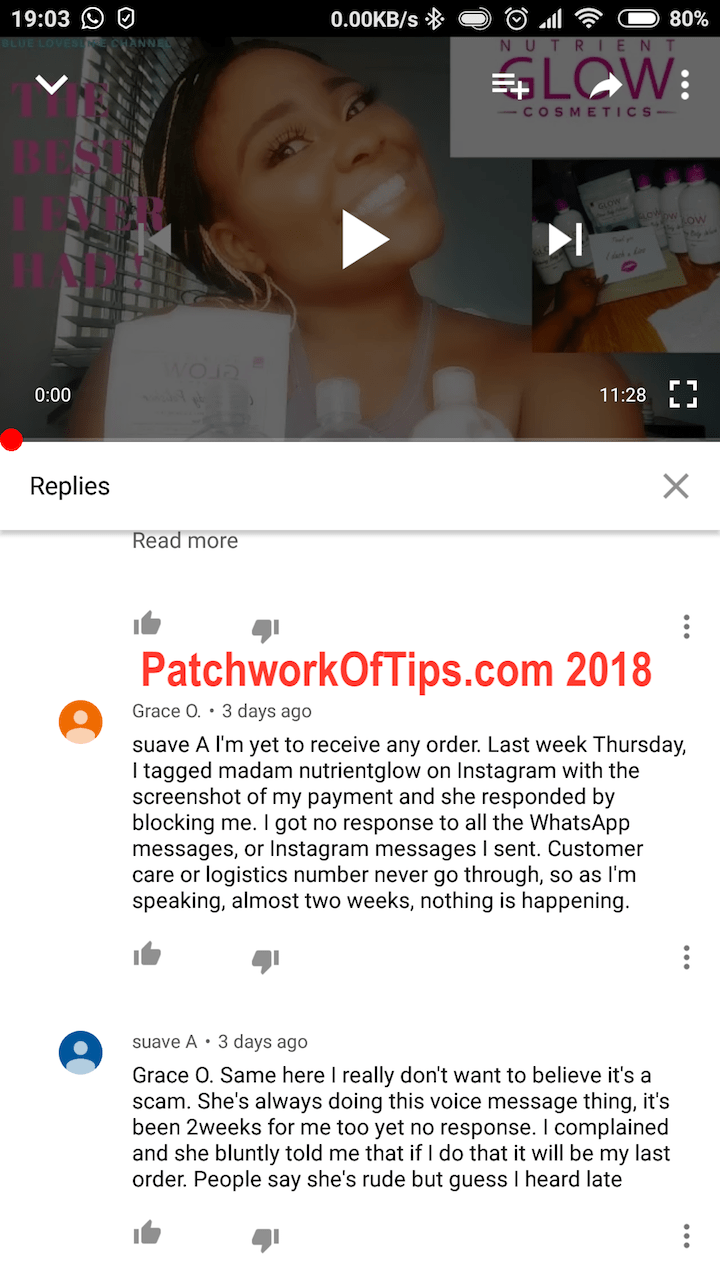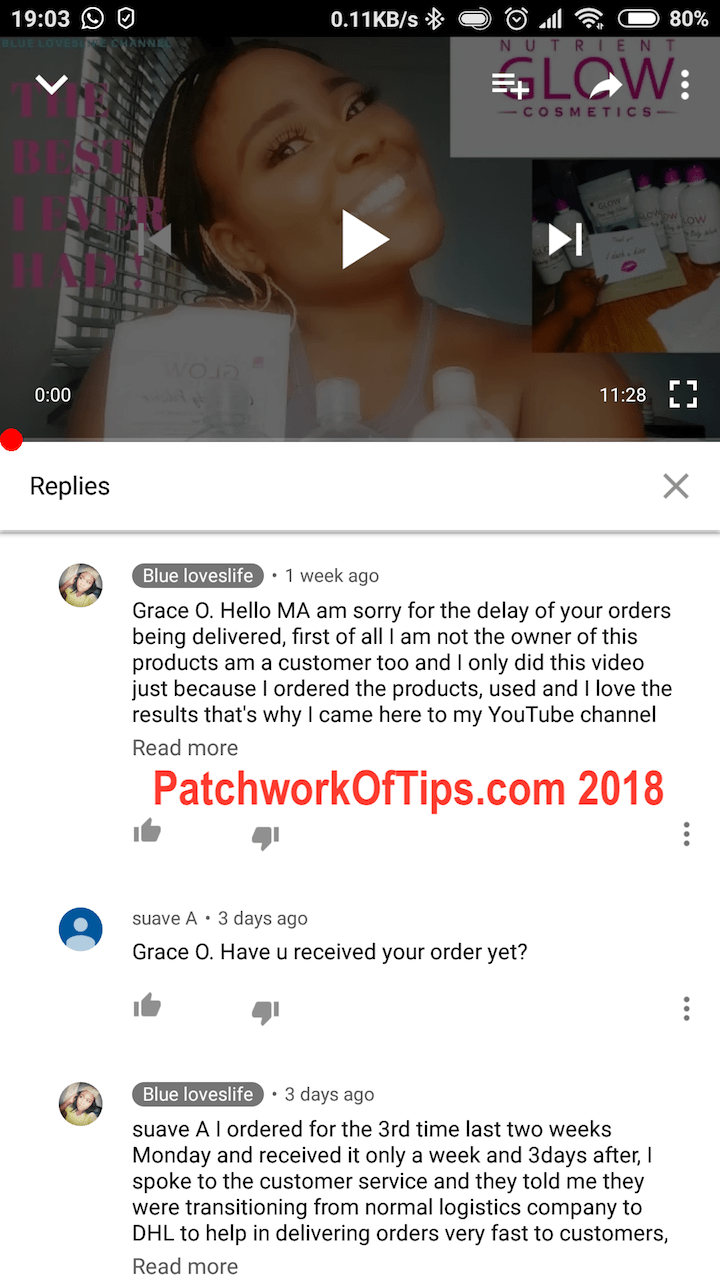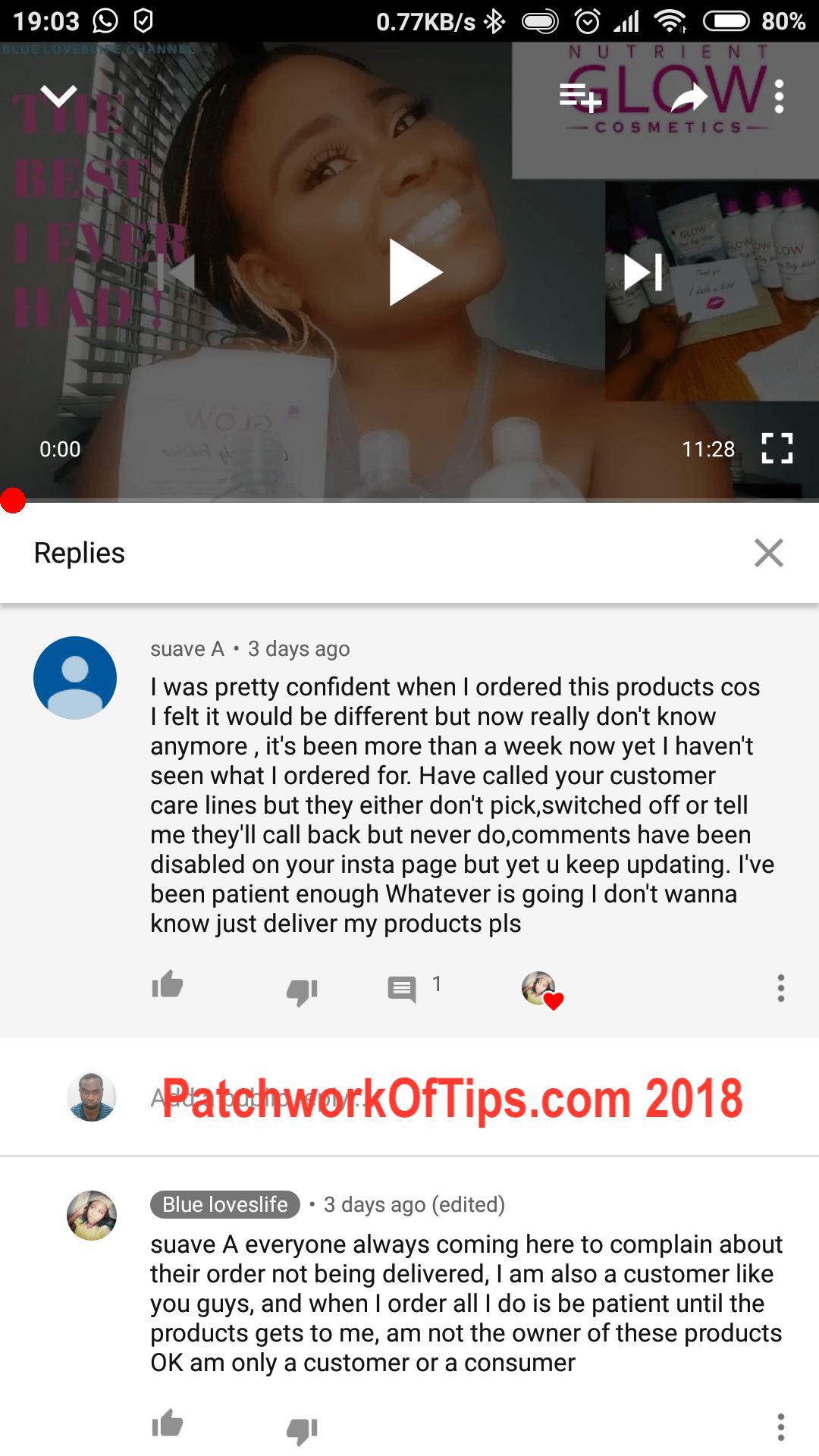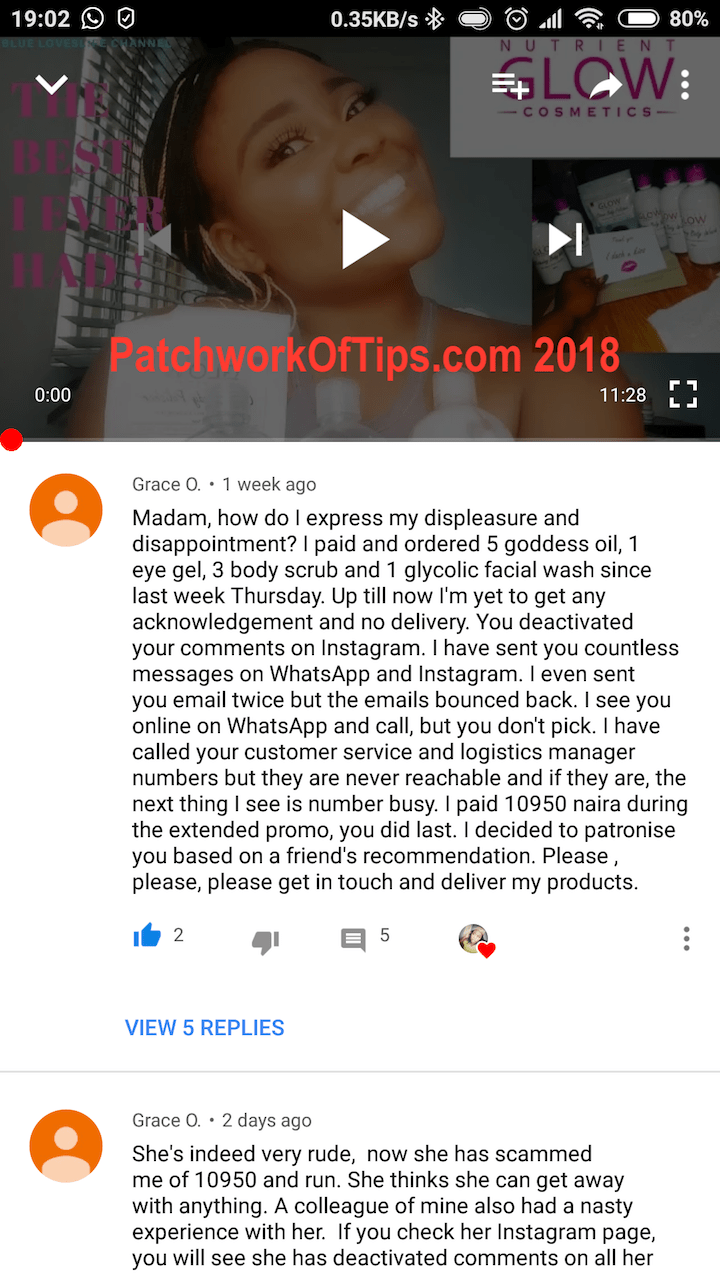 Also this NairaLand thread shows her poor customer service don teeey. Since 2013 fa! SMH
The business is run like one in which she depends on money she collects from customers to order her goods/raw materials thus the delays. That business model works fine ONLY if customers are made aware of the fact that delivery isn't instant after payment.
People like me that can wait 3 weeks for an item to arrive from the abroad have no issues with such business models at all as long as we get what we paid for when they are expected to be delivered and they actually work.
Madam Nutrient Glow Cosmetics GET YOUR SHIT TOGETHER PLEASE!