I tried playing a video the other day via MX Player and the app started giving me errors. It basically was telling me it was unable to validate that I had purchased the app legally from Google Play Store and as such was shutting down and I should proceed to the Play Store to purchase a license. I went through MX Player's list of fixes for Purchase History Not Found issues and none of them could fix the problem.
I uninstalled the app in hopes that a reinstall would fix the problem but that only made things worse as the install button suddenly vanished.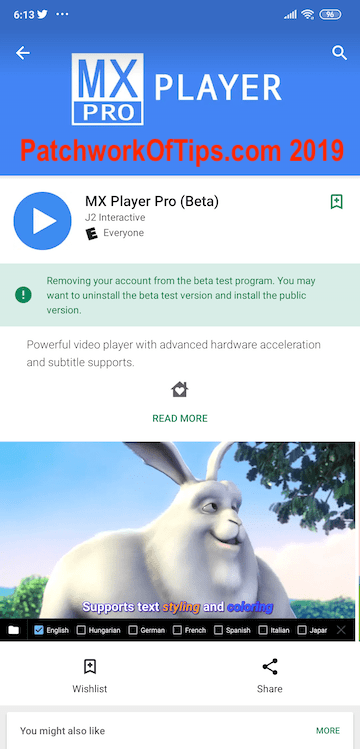 Luckily enough I was able to get through to the developer via the XDA Forum and these tips fixed the issue:
Uninstall MX Player Pro if you haven't done that yet then delete the Google account from which you purchased the app from your device (check Settings > Accounts > Google > Tap on the account and Remove Account. On Xiaomi's MIUI, this is Settings > Sync > Google > Tap on account and Remove Account).
Now on Xiaomi devices, simply go to Settings, Manage Apps, Google Play Store. Tap on Clear Data and select the Clear All Data option. Also look for Google Play Services, tap on Clear Data >Manage Space > Clear All Data.
For Vanilla android devices, it might be Settings > Apps > Google Play Store > Storage > Clear Data. Don't forget to repeat the same for Google Play Services > Manage Space > Clear All Data.
Reboot your device and proceed to add the Google Account back to your device again. You should find this option at the bottom of the Settings > Accounts or Settings > Sync page.
Go to Google Play Store, switch accounts to the Google account you purchased MX Player Pro from and then reinstall.
MX Player Pro should be up and running now just fine without issues. Enjoy
If you still have issues, you can hit up the developers here.
Please rate & share this article to help others. Thanks
You'll also like: