In recent times, mobile broadband internet has been made possible with the introduction of 3G enabled mobile phones and of course usb modems. With a 3G enabled usb internet modem, you can browse anywhere, anytime as long as you have your laptop with you.
Sometimes, your internet service provider might go off air and leave you stranded without an internet connection thus the need to make sure that your very own portable usb internet modem is FREE to work on any network thus making migration smooth and seamless.
This quick tutorial will show you how to get the unlock code for your Huawei USB Modem etc with the help of the Universal Master Code Huawei  unlocker software.
TAKE NOTE: If your modem is not listed below, this tutorial will not work for you so please don't comment or contact me asking for unlock code to a model that's not enlisted.
Compatible Models Of Huawei 3g Usb Modems
E156 E155, E1550 E1552, E156G E160, E160G E161 E166, E169 E169G, E170, E172, E176 E1762 E180 E182E E196 E226 E270, E800,E870 E880 EG162 E880 EG162 EG162G EG602 EG602G E271 E272 E510 E612 E618 E630 E620 E630+ E660 E660a
Huawei Modem Unlocking Instructions
Click here to download and Run Universal Master Code.
NOTE: If the link has expired, do notify me by leaving a comment. Thanks
Select the Tab For the modem you'd like to unlock. In the screen capture below, we are working with Huawei,
Type the 15 digit IMEI number of your Huawei modem. The IMEI number can be found on the usb modem itself or on the packaging it came in.
Select the Model of your Huawei USB modem and if not present, you can leave it to AUTOSELECT.
Hit the Calculate button and wait a few seconds for the software to create the appropriate unlock code for your usb modem.
Your unlock code is as shown circled in red. If you wish to flash the modem, the flash code is also provided.
Now that you have successfully gotten the unlock code for your Huawei usb modem, here's how to apply the unlock code and free your modem off any restrictions once and for all

.
How To Unlock Your 3g Usb Internet Modem With The Unlock Code
Once I've provided you with the unlock key, follow the steps below to unlock the modem.
Insert a SIM CARD different from the network that sold you the modem. For example, if you bought your modem from GLO, remove the GLO SIM inside and put in MTN, ZAIN or ETISALAT.
Plug the USB Modem into your computer and open the dashboard from where you connect to the internet.
After a few seconds/minute, a small window will pop up requesting for the unlock code.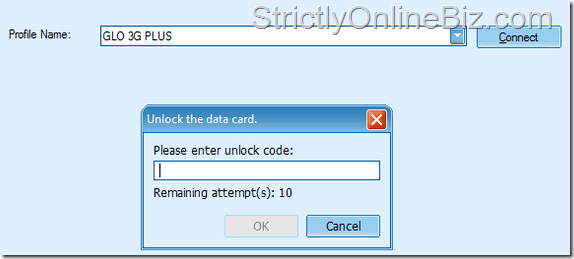 Type in the unlock code correctly and click enter.
If the unlocking was successfully, the small window will automatically disappear meaning that your usb internet modem has been successfully unlocked

. As shown below, give the dashboard a few seconds and @ the bottom left corner, it will start showing the name of the network whose SIM is within the modem.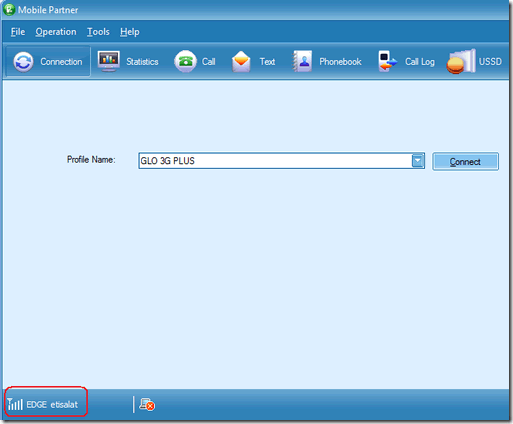 How To Connect To Other Networks Using An Unlocked Usb Modem
Once your USB modem has been unlocked, you can now browse with any of the GSM networks BUT you will need to fill in their respective internet settings for you to be able to connect freely.
Under your dashboard, click on Tools then Options under which you'd now select Profile Management.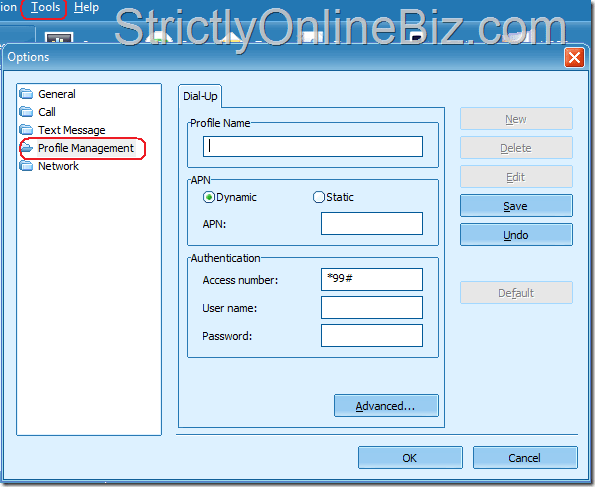 Under Profile Management, click on New and fill in the following for each network you want to setup

Once you're done setting up a network, click Save to save the settings, then New if you want to set up another network.
When you're through setting up the networks, go back to the Connection page, select the network you want to browse with, then click connect. If everything was setup properly, you should be able to browse without a hitch unless the network is experiencing problems @ that point in time.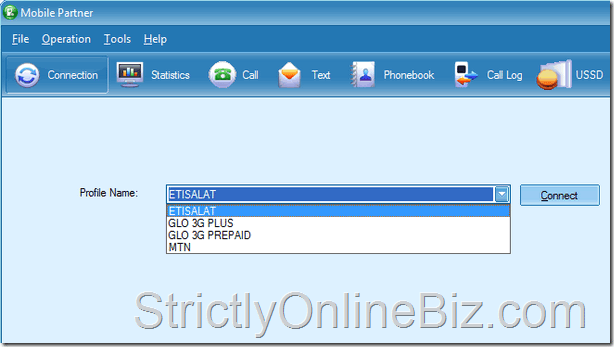 That's all there is to it folks. Do please be kind enough as to share this info with your Facebook Friends. They'll appreciate you for life for this simple gesture.
Please rate & share this article to help others. Thanks
You'll also like: