It took me months to find this. If only I knew what name to put into the search engine on Aliexpress. Lol. I think any Lead Acid battery charger will do (I'm not 100% sure) but this one works just fine and gets the job of recharging my fan's battery from 0 to 100% in just 6hrs instead of the regular 14hrs.
I like how simple and not bulky it looks.
100V-240V Portable 12V Smart Lead-Acid Battery Charger Automotive Motorcycle Power Charge Adapter US EU Plug Black Auto Car Tool
Video and Transcript Below
In a country like Nigeria where power supply is erratic as fuck, rechargeable fans like this one here are a staple in some homes. They come in handy to provide a good night's rest when the power is out and the weather is unbearably hot. The only problem with them is that unlike mobile devices that now come with fast charging, these fans do not. They take on average 12 – 14hrs to achieve a full charge from zero.
Well worry not as you can now half that charge time with this Monfara Smart Lead-Acid Battery Charger which I got off Aliexpress for $9. With this charger I'm able to charge my fan's battery from zero to 100 is less than 6hours.
Here you have the EU plug and then the red and black charging points. At the back you have the specifications of the charger. This charger is best suited for 12V lead acid batteries with an ampere range of 2 – 25AH.
In keeping with the charging times on the specifications sheet, it truly does charge this 12V 4.5AH battery in 6hrs or less.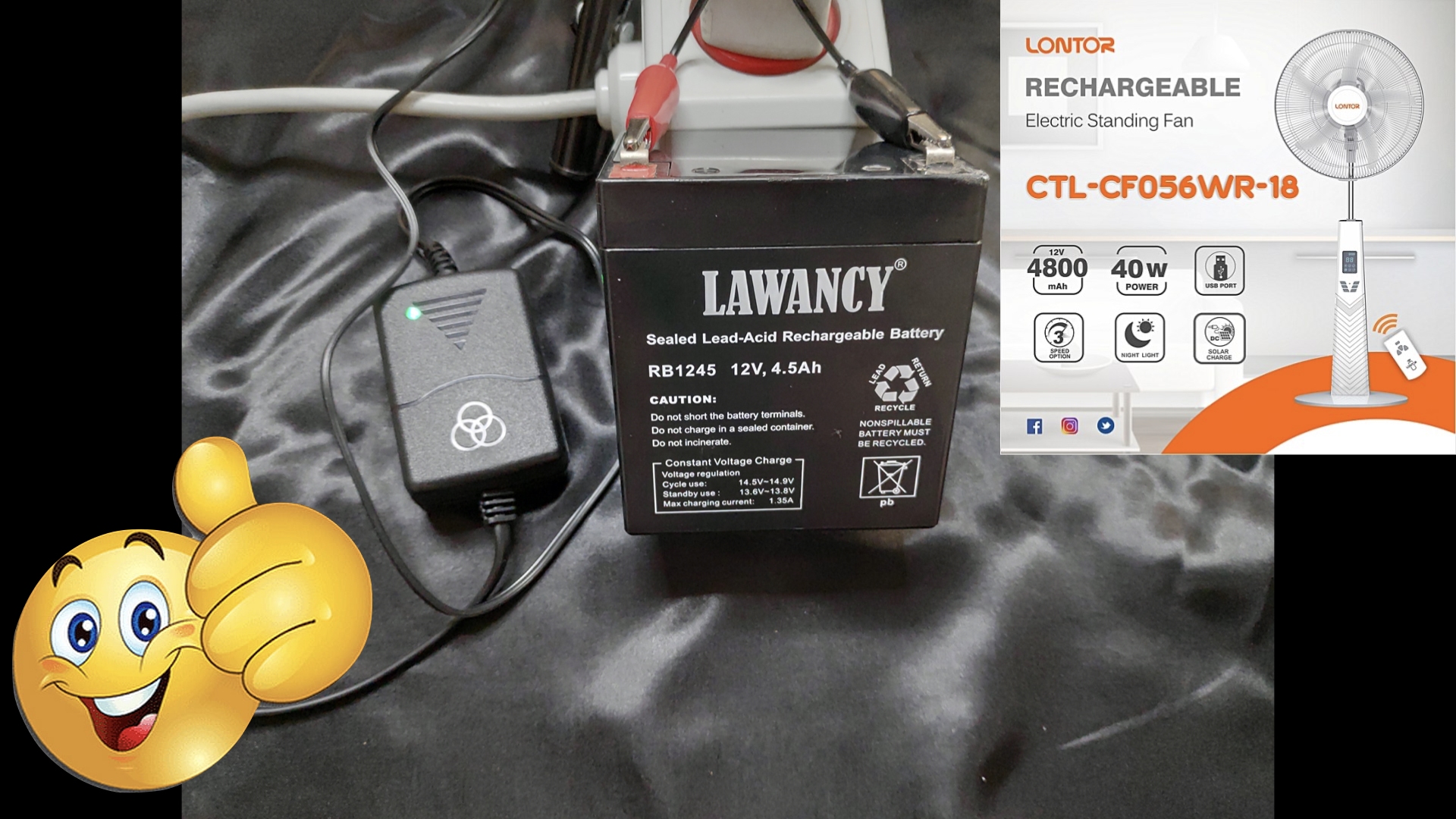 Operation is quite simple. Simply connect the black charging point to the black terminal and the red charging point to the red terminal. Insert the plug to the socket and start charging right away.
The device comes with an LED light that shines red while charging then goes green when fully charged. Do please note that when not connected to the wall socket, as long as the charger's charging points are connected to the battery's terminals, the LED light will stay green.
This has been a life saver for me but shit can easily go wrong if you're not paying attention when setting it up. Always make sure that red cables go to red terminals and black cables go to black terminals. I wasn't paying attention at one point and one of my fans exploded. Thankfully it was a small explosion. Praise Jesus.
If you find this review helpful, do please share with your friends, give it a thumbs up and don't forget to please subscribe and turn on the notification bell so you don't miss an update.
Questions and comments are welcome always
Bye guys.
Please rate & share this article to help others. Thanks
You'll also like: