Over the weekend, I performed an upgrade of my BlackBerry Curve 3G to OS 6.0 and loved the initial result until I discovered that I had less memory to install and run my favorite BlackBerry applications.
Apparently the new OS 6.0 comes with a ton of features that use up quite a chunk of the memory and most of these features aren't really needed by most users thus I sort to wipe them all and increase my memory.
Google as always came to my rescue and thus I discovered BB Boss 2.2 for BlackBerry.
Here's how I managed to increase the memory on my BlackBerry 9300 by shrinking OS 6.0.
DOWNLOAD BB BOSS 2.2 OS SHRINKER
The software is currently been hosted on MediaFire but I've uploaded it to my server for easier access.
Click here to download BB BOSS 2.2 OS Shrinker.
Download and Install the BlackBerry Desktop Manager.
Download and Install the OS software for your Blackberry Phone to the computer.
Connect your BlackBerry Phone to your computer, Install  and then run BB Boss.
IMPORTANT WARNING! Backup up your data using the BlackBerry Desktop Manager before shrinking your OS. This is for your protection should in case the shrinking process goes bad.

I shall not be held responsible for any BlackBerry OS shrinking gone bad.
BB Boss 2.2 automatically detects the newly installed OS on your computer and sets the OS Build Folder to it's exact location
The way BB Boss 2.2 works, all checked items would be deleted from the phone to create space while the unchecked ones will either remain or be installed.
Below is a screen capture of how I modified my BB 0S 6.0. I checked all the items I no longer wanted and then hit the Direct Shrink on Phone button.
About 4 minutes later, my BlackBerry completed its usual battery pull reboot cycle and low and behold, I have an extra 60MB of memory

.
Caution: Do not go near the Advanced section if you aren't tech savvy at all. Do so at the risk of damaging your BlackBerry phone.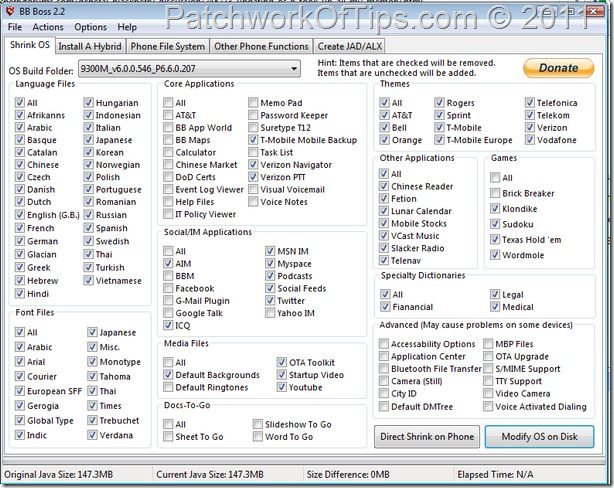 Please rate & share this article to help others. Thanks
You'll also like: