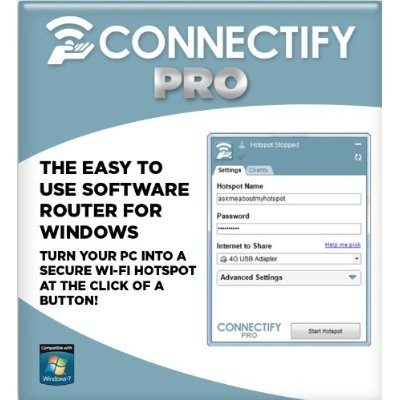 Not everybody has access to one of those broadband packages that come with a wireless router to enable over 5 devices connect to the internet.
Mobile hotspot devices called MiFi have stepped in to alleviate this problem but they can be somewhat expensive and in most cases they only allow a maximum of 10 devices to be connected at a time.
Getting a MiFi device will set you back N20,000 to N30,000 ($120 – $185) but did you know that you can easily create a wi-fi hotspot using your wireless enabled PC and your good ol' regular Huawei USB Internet modem?
Connectify Pro makes creating Wi-fi hotspots a breeze using your LAN, Wi-Fi or 3G/4G internet connection.
The free version of Connectify Pro only supports conversion of LAN and Wi-Fi internet connections into Wi-Fi hotspots. For 3G/4G modems, you would need to pay $39.99 only.
You can check out and compare the features of the Lite and Pro versions here.
How To Setup Wi-Fi Hotspot With 3G/4G USB Internet Modems
Simply purchase and install Connectify Pro. (Non-US residents can purchase it directly from the Connectify site. I used my First Bank Nigeria Naira MasterCard without a hitch)
Plug in your USB modem, start the connection and then run Connectify Pro

Choose a name and password for your Wi-Fi hotspot and set Internet to share to Automatic or your USB internet connection.
Under Advanced Settings, set Share Over to Wi-Fi and Sharing Mode to Wi-Fi Access Point, Encrypted.
Under Firewall, tick Allow Internet Access and Allow Local Network Access
Hit the Start Hotspot button and wait for Connectify Pro to start the Wi-Fi hotspot.
Once the hotspot starts, you can start connecting other devices to the network. As you can see from the screen capture below, under the Clients tab, my BlackBerry and Android phone are connected to the Hotspot.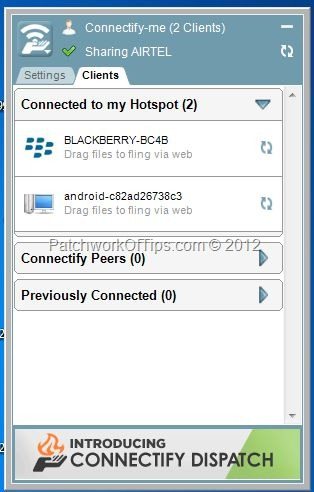 The $39.99 Connectify Pro fee covers the license for life and 1 year of support plus free updates. After 1 year, you stop getting updates but your PRO version will remain active.
Unfortunately I couldn't get a list of supported USB modems but if memory serves me right, most usb modems in the market are supported. I also haven't been able to verify how many devices can be connected to the Connectify hotspot at a time.
That's all folks. If you experience drops in connection, you might need to update your wireless card driver or check to make sure your network's internet service isn't fluctuating as is the case most times.
Please rate & share this article to help others. Thanks
You'll also like: