Video Transcript
Based on my nasty experience with the Sunsense Ultra SPF 50+, I totally get why some sunscreens are formulated with fragrance but for the fragrance to appear close to the middle of the ingredient list instead of at the end make me wonder what the hell is going on here.
To make matters worse, this sunscreen is targeted at kids with sensitive skin issues.
Hey guys this is Chuks from Patchwork Of Tips and this is my review of the Garnier Ambre Solaire Kids Sensitive Advanced Wet Skin Lotion SPF 50.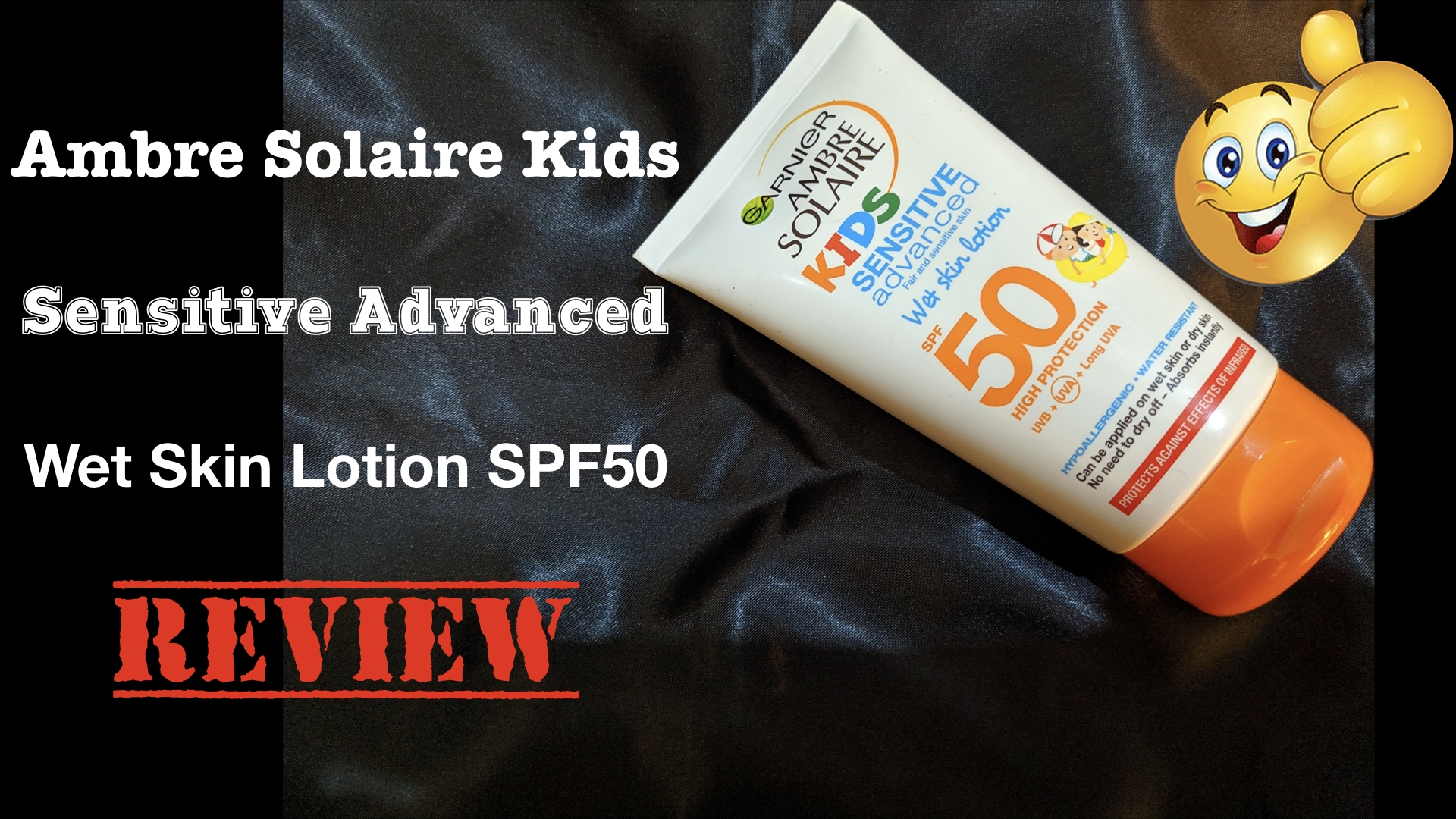 As it is with all Ambre Solaire sunscreen, that I've reviewed here this one claims to be hypoallergenic and water resistant. It's rated SPF 50 for UVB protection and 3 Boots stars for UVA protection. These 3 stars translate to a UVA-PF of 30 – 40 which is quite good. There's added protection against the effects of infrared but nothing for visible light.
Its' active sunscreen ingredients are Homosalate, Octisalate, Avobenzone, Octocrylene, Uvinul T150, Tinosorb S, Mexoryl XL. For antioxidants, you have Ascorbyl palmitate and Tocopherol. This is a chemical sunscreen with no physical filters in sight so it ought to be white cast free.
Just like the L'Oreal Hydragenius, the first thing you'd notice on dispensing the product is the fragrance. It smells nice but can be overpowering. The texture is kinda watery and it's absorbed in less than 2 minutes leaving zero white cast BUT some hard to remove white residue in the hairline and beard area. This residue is the main reason why I don't use this sunscreen on my face. It serves as a body sunscreen lotion.
Just like the Bioderma Photoderm MAX SPF 50+ Family Milk, this can be applied to wet skin.
At £6 for 150ml of sunscreen with a period after opening time of 12 months, this is most definitely a great budget alternative, if you're shopping for a wet skin sunscreen.
There's no explicit expiry date on the tube but you can always input the code at the end of the tube at CheckFresh.com to get an estimate of when the product was manufactured. This one was manufactured in May 2018 and since skin care are said to be good for a minimum of 3 years post production, I've got less than a year to finish my stash of this sunscreen.
Less I forget, it does leave a greasy finish and also stings around the eye so it's best to avoid the eye area. based on @BenazirBeauty's tip, I apply an extra layer of antioxidant around my eye area for sun protection. I'm using and loving the Resveratrol 3% & Ferulic acid 3% from the Ordinary.
And I think that concludes my review of this sunscreen. If I missed something, do please let me know in the comment section down below.
Don't forget to please like, share and subscribe and I'll see you guys in my next video where I'll be reviewing the Solimo Sensitive Suncream Body Lotion SPF 50+ from Amazon UK. Take care guys.
FTC Disclaimer: Any video on this website which is sponsored will be clearly marked as such. Product links on this website are sometimes affiliate links which means that if you were to click on them and order something off the landing site, I will be getting a commission on the retail price. Do please note that this commission DOES NOT affect the retail price in any way.
Ambre Solaire Kids Sensitive Advanced Wet Skin Lotion SPF50: https://www.patchworkoftips.com/go/ambre-solaire-wet-skin-lotion-spf50/ (Amazon UK)
All Ambre Solaire Sunscreens: https://www.patchworkoftips.com/go/ambre-solaire-uk/ (Amazon UK)
Amazon Brand Solimo SUN Sensitive Suncream Body Lotion SPF50: https://www.patchworkoftips.com/go/amazon-solimo-uk-sunscreen/ (Amazon UK)
L'Oreal Paris Hydra Genius Hyaluronic Acid + Aloe Liquid Moisturiser https://www.patchworkoftips.com/go/loreal-hydragenius-uk/ (Amazon UK)
L'Oreal Paris Hydra Genius Hyaluronic Acid + Aloe Liquid Moisturiser https://www.patchworkoftips.com/go/loreal-hydragenius-us/ (Amazon US)
Bioderma Photoderm Max Family Milk SPF 50+ 250ml https://www.patchworkoftips.com/go/bioderma-milk-spf50/ (Amazon UK)
Bioderma Photoderm Range of Sunscreens: https://www.patchworkoftips.com/go/bioderma-photoderm-range/ (Amazon UK)
Please rate & share this article to help others. Thanks
You'll also like: