Last night I completed my move from Android to Windows Phone 8.1. One of the major hurdles I faced was transferring all my text messages from the Lenovo P780 unto the Nokia Lumia 730. With the launch of Windows Phone 8.1, Microsoft released an app called Transfer My Data which helps transfer contacts, sms and mms from any Symbian, Android, iOS, BlackBerry or Windows Phone to a new Windows Phone.
Unfortunately this app only works well for the transfer of contacts via Bluetooth. Transferring text messages and MMS is dependent on certain features which the android phone must have built in. My Lenovo P780 doesn't have these features thus I had to find another way out. During research I found out that the new version of Transfer My Data now allows you to backup and restore from SD card. I did a backup on the Lumia 730  and googled the backups file extension (VMSG).
The only app that could handle such a file is Lenovo's old Backup and Restore app which ships on Android 4.2.
So without further preambles, here's how you can import a VMSG backup file to your Windows Phone. NOTE: Seems like only Windows Phone 8.1 is supported.
How To Transfer SMS Backup From Android to Windows Phone 8.1
Download and Install Lenovo Backup and Restore version 2.0.159.0605.5c1a0(row) on your Android device.
Run the app and create a backup of all your sms then take note of the location of the backup. Transfer the backup file, which should have a vmsg extension, to the SD card of your Windows Phone running version 8.1.
Install and Run Transfer My Data app. Click on the three dots and select import from SD card. The app automatically starts scanning your SD card for all compatible backup files. This may take a while depending on how much content is stored on the SD card.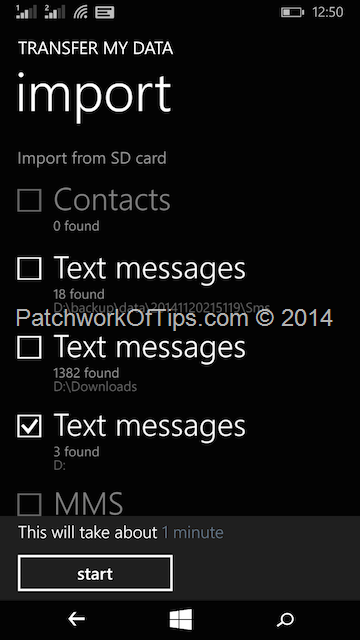 Select the specific backup you wish to restore and then click on Start. Wait a few seconds and your text messages will be successfully imported. Imported SMS maintain their respective threads.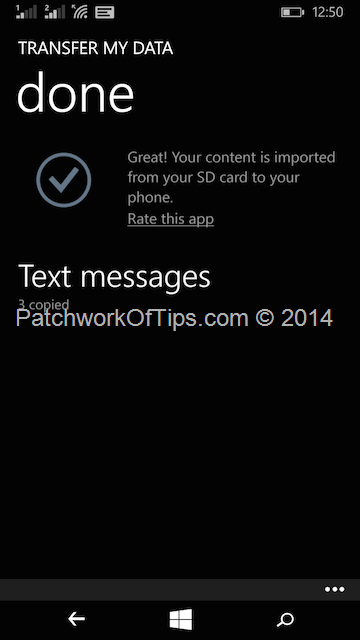 I ran the steps of this tutorial on a Lenovo P780 and Lenovo Yoga Tablet running Android 4.2.2 as well as on a Samsung Galaxy Note 2 running Android Kitkat 4.4.4. Thanks to Pharmtasy of Mobility Blog's Geek Group.
Hopefully it will work for each and everyone of you out there. Comments and feedback with regards to the whole android to windows phone sms backup and restore are welcome as always.
Have a great weekend y'all

Please rate & share this article to help others. Thanks
You'll also like: