Resolved: Mark As Read On Scroll For NextGen Reader
Quick Tip
For those of us who are used to the awesomeness of Greader Pro for Android, finding the right feedly client for Windows Phone 8.1 can be quite frustrating but amongst the lot of feedly supported RSS apps out there, NextGen Reader reigns supreme.
In my opinion NextGen has all the features that Greader Pro had and lacks with the exception of one important one which is the mark as read on scroll feature.
This feature on Greader allowed one to go through rss feed headlines as fast as possible.
The developers of NextGen Reader don't seem too concerned about this but there's a way around this.
Simply launch NextGen Reader and switch to the All Items tab and begin to scroll through your feeds. To mark all items above your current location, simply long click on a feed entry and the pop up below will appear. Select Mark above as read. That's all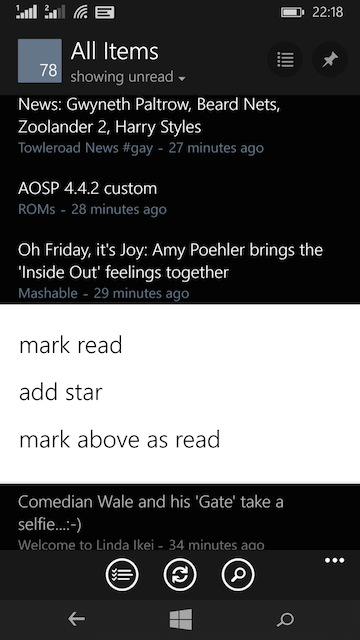 Please Kindly Rate This Guide/Review. Thank you
More articles you might be interested in....
» Tech Tutorials » Resolved: Mark As Read On Scroll For NextGen Reader