64bit processors on mobile and PC have been the rage since 2013/2014. Benefits of 64bit android processors over 32bit processors include a marked improvement in general performance and battery life as well the ability to get a device to go past the 4GB RAM limit imposed on 32bit processors. There's also the app compatibility benefit i.e some apps are built to run pretty well or only on 64bit processors.
Now it would seem that if your mobile device comes with a 64bit processor but runs a 32bit OS, you wouldn't be getting these benefits. The Oukitel K6000 Pro is one of such smartphones with a 64bit MTK6753 processor but 32 bit Android Marshmallow OS. Apparently they launched with a 32 bit OS then switched to 64 bit OS later on. If you were one of the first people to buy the Oukitel K6000 Pro, you are most likely running a 32 bit OS and you can't switch to the 64 bit OS without flashing the device.
NOTE: It's been over 3 weeks since I switched to the 64 bit OS and I really haven't noticed anything remarkable aside from finally being able to install BlackBerry's Hub +. If you wish to proceed, I highly recommend, you make a backup of your current setup should in case you wish to switch back to 32 bit OS down the line. See How To Backup – Restore Data With Stock Android System Recovery 3e.
Step 1
Click to download 64bit Android Marshmallow for Oukitel K6000 Pro, SP_Driver_v2.0 and SP_Flash_Tool.
UPDATE 1st December 2016: The firmware download link above is down. You can get it at Needrom.
Follow Step 2 and 3 of this guide (How To Flash Oukitel K6000 Pro With SP Flash Tool) to install the MTK Drivers. When you proceed to Step 4 of that guide you will be faced with this error message.
PMT changed for the rom: it must be downloaded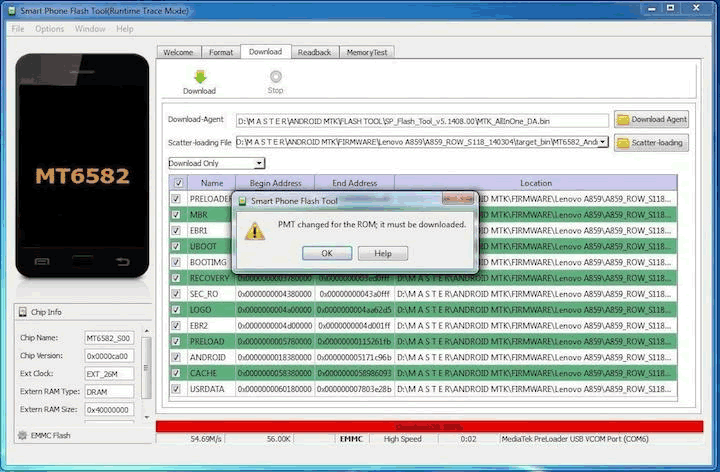 This error happens because of you're trying to switch between 32bit and 64bit OS. To enable you proceed with the flashing process, you have to format the phone first before flashing it.
WARNING: Once you format the phone, you will be faced with Invalid IMEI errors i.e your IMEI numbers will vanish and you will not be able to make or receive calls and in some cases use mobile data on your device. There's a fix for it though. See No Root Fix: How To Change IMEI On MTK Android Marshmallow Phones.
To format your Oukitel K6000 Pro, please follow this guide:[Fixed] PMT Changed for the rom: it must be downloaded in SP Flashtool. (Sorry I lost my screenshots for this guide when my macbook crashed 2 weeks ago)
Once you're done formatting your phone, you can now proceed from step 4 of How To Flash Oukitel K6000 Pro With SP Flash Tool.
That's all. If you've got any questions to ask, feel free to use the comment form below.
P.S: If you wish to switch back to 32bit ROM, simply download the latest ROM 1 at Needrom. Format your phone again then flash the ROM and restore your data and IMEI.
Also a big thank you to Oukitel's staff Joanna for guiding me through the process :)
Please rate & share this article to help others. Thanks
You'll also like: