Fans of the hit series Jenifa's Diary might have noticed that it hasn't been updated in a long time at IrokoTV. It has been stuck at Season 8. Looks like Funke Akindele Bello and her team have decided to maximize their profits by creating their own exclusive website and mobile apps where the show premieres first before being syndicated to the TV networks etc.
I've avoided subscribing to SceneOneTV where the show is hosted because the app description on Google Play Store leaves a lot to be desired. It makes no mention of offline downloads which is a big deal in these parts of the world with average internet connection speeds and reliability. Watching clips of the show on Instagram got me so nostalgic that I decided to sacrifice N600 to see what's up with the site and mobile app.
What follows is my quick review of the SceneOneTV service and android app, home to Jenifa's Diary, Boomerang, Industreet and many more.
Payment and Login Issues
I signed up and made payment via PayStack after which I got an email saying successful payment BUT I had no access to the website still. I decided to chat with their customer care representative who was able to check my account, verify payment and then allow me access to the site. Unfortunately while I was able to log in on PC, I wasn't able to do so on the android app. I had to contact customer care again who then reset my password from their end and granted me access.
I don't know if their customer service works 24/7 but I have to commend them sha. Dem dey try
Too Many Ads
This really had me super worried as I'm used to paying for android apps/services and not having to deal with ads later. Ads pop up once you launch the app, click on an episode, try to make a download, try to stream an episode etc. The ads are full screen ads. They stopped bothering me when I realized I could dodge them by going offline completely. Also considering the cheap subscription fee of N600 per month, it only makes sense that they would seek other ways to increase revenue. If ads galore is the price to pay to keep the subscription fee low, then so be it.
Maybe they should launch an ad-free subscription model for the wailers. lol
Standard Definition, High Definition Downloads & Awesome Player
The first feature I checked out when I logged into the mobile app was the ability to download videos for offline viewing as is available on Netflix, iFlix, IrokoTV etc. Simply load an episode and tap on the download button at the top right corner, select your preferred resolution and the download starts immediately. SD (Standard Definition) zaps less data than HD (High Definition) but is pretty clear. In fact clearer than IrokoTV (unless IrokoTV have fixed their compression technology since the last time I used them)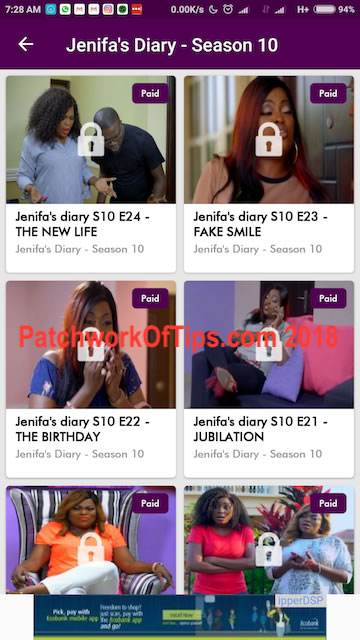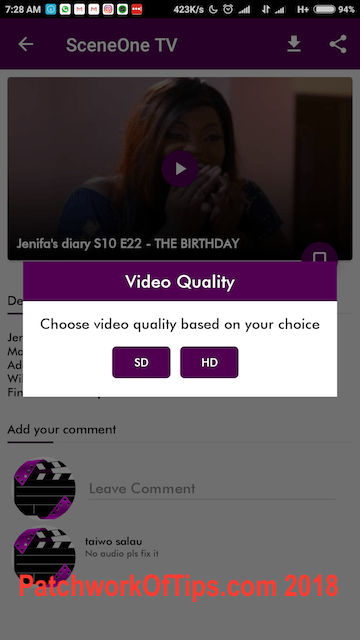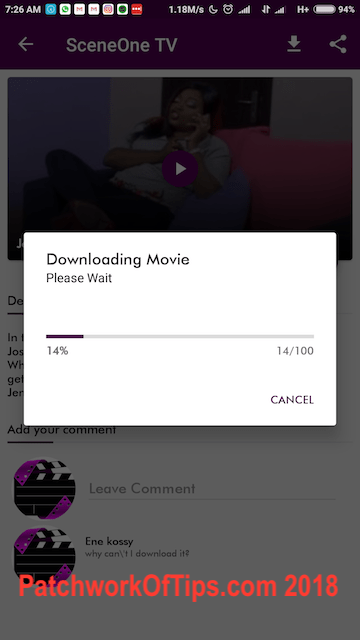 The mobile app, website and Google Play Store listing is filled with complaints like "No audio", "I can't download" but my experience was very very good.
The only major issue I ran into while downloading was that Episode 6 on Season 10 wasn't available so I had to stream it. On average, an offline SD download zaps like 120 – 177MB depending on the length of the video but for some reason, streaming in SD zapped over 300MB. I wonder if I tapped HD by mistake or they uploaded HD resolution for SD and HD streaming.
Unfortunately there's no pause/resume download option and this could probably lead to loss of data if the internet connection suddenly goes down during a download.
QUICK TIP: If you're worried about data for downloading, check out Etisalat Blaze On Data plan which gives you 1.5GB of data + 1hr internet access for just N200.
Videos take like 10 seconds to start. Unlike IrokoTV's app, the SceneOneTV app allows you to fast forward and rewind videos as well as adjust volume levels by swiping on the screen.
Moderate/High Battery Consumption
The app isn't optimized for battery savings so you will definitely find yourself needing to charge your phone/tablet frequently unless you have one of those large battery phones like the Xiaomi Mi Max 2. Reducing the screen brightness a lot + using wired headphones help to reduce the battery consumption rate sha.
Conclusion
They need to fix the app description in Google Play Store to get more people to download it. N600 monthly is a fair price to pay for the service. Here's hoping the app gets better over time.
UPDATE 24th January 2020: This app has not been updated since 2018. Downloads don't play at all and when you try to stream you experience issues as well. Today I ended my subscription and I don't plan on subscribing anymore until the app is revamped and made to work properly
Please rate & share this article to help others. Thanks
You'll also like: