Hope you were able to watch my review of Jarrow Formulas Glutathione Reduced Pills. If you weren't, click here to read it or watch it at the end of this post. In this video, I'll be going over things like dosage, timing, side effects I experienced and how to mitigate them. Enjoy!
Video & Transcript
NOTE: I forgot to add this in the video. DO NOT mix the powders in cold water. They will not dissolve properly at all. Always use room temperature water.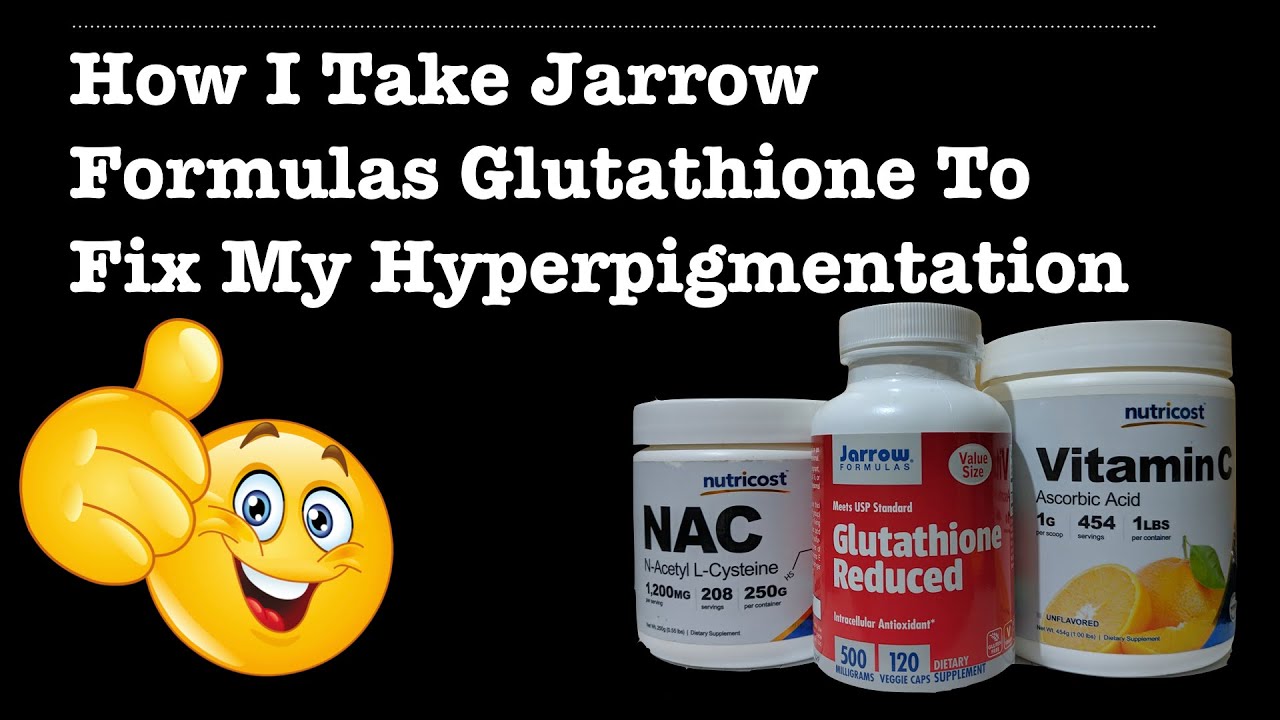 Glutathione Skin Brightening Regimen Components
My glutathione regimen includes 3 supplements; Jarrow's Glutathione, Nutricost's N Acetyl L-Cysteine (NAC) and Vitamin C powder. Vitamin C and NAC in some studies have been shown to help increase or maintain adequate glutathione levels in the body.
Dosage of Glutathione for Skin Brightening
My regimen has changed over the course of 7 months but one thing remains the same. For every gram of glutathione, I take double the dose in vitamin C and NAC.
That is if I take one capsule of Jarrow's glutathione which contains 500mg of OPITAC Glutathione (reduced), I take 1 gram of vitamin C and 1 gram of NAC.
Like I said in my previous video, I started with 4 capsules of glutathione daily and currently I'm on 2 capsules every alternate day.
I started with the capsule form of NAC and then switched to the powder form as it was cheaper. I currently use the 500g tub size.
WARNING: The pill presentation of NAC is most probably to make it tolerable as it stinks. To make things easier to swallow I mix the vitamin C and NAC powder with a low calorie sweetener. I used this but I'm currently experimenting with Sucralose powder.
What Time To Take Glutathione For Effective Skin Brightening
A quick look on the web shows most people who who have seen great benefits from glutathione recommending that one takes it on an empty stomach and that is what I do.
I'm currently on intermittent fasting so I take it before breaking my fast. I take it then wait a minimum of 1 hour to 2 hours before eating so that it doesn't compete for absorption with my meals.
Side Effects of Glutathione Skin Brightening Regimen
The only side effects I've noticed from this regimen is diarrhea due to the high dose of vitamin C.
This is the reason why I take the glutathione on alternate days at the moment. This allows me to take a powerful fibre supplement; psyllium husk on my days off. This supplement is very good for warding off diarrhea as it absorbs a lot of water forming bulky stools.
Still on vitamin C, there have been reports of increased risk of kidney stones if you take high doses of vitamin C so beware especially if you've had kidney stones in the past. See Can Vitamin C Cause Kidney Stones?
Make sure to take a minimum of 3 liters of water on normal weather days and 4-5 liters on hot weather days if you're going to supplement heavily with vitamin C.
UPDATE June 2020: My body seems to have adapted to vitamin C as it no longer gives me diarrhea despite taking 2 grams everyday.
Conclusion
Warning!!!!!
As is usual with this type of video/guide, please note that I'm not your physician so please kindly consult with yours before trying this regimen out. Glutathione, Vitamin C and NAC are powerful antioxidants and they sometimes block certain life saving medication from working effectively.
Links to every product mentioned are in the description box below and less I forget these powders come with small plastic scoops within for easy measurements.
Best wishes experimenting with Glutathione for skin lightening. Don't forget to please like, share, comment and subscribe to my channel if this has been helpful. Thank you very much.
Do have a nice day.
FTC Disclaimer: Any video on this website which is sponsored will be clearly marked as such. Product links on this website are sometimes affiliate links which means that if you were to click on them and order something off the landing site, I will be getting a commission on the retail price. Do please note that this commission DOES NOT affect the retail price in any way.
Products Reviewed & Mentioned
Please rate & share this article to help others. Thanks
You'll also like: