Rant First!
May 1st being workers day here in Nigeria was meant to be a day of relaxation for me but yours truly spent the better portion of it fixing his P780 smartphone. I woke up to see an OTA firmware update alert of 12MB for my Lenovo P780 which I quickly downloaded with glee but that was cut off abruptly when the update started giving me errors. Apparently in my bid to increase the amount of space on the device, I had deleted a crucial file needed for the upgrade.
In the end, I had to resort to flashing the phone via PC and that's where the drama began. I downloaded the appropriate file but the flash tool refused to load it. I found another update file which I downloaded and loaded successfully in Flash Tool but half way through I got a low memory alert. I had flashed the 8GB ROM on my 4GB device. My device was bricked.
Luckily for me, I tried the original and correct firmware once again a few more times and the flashing process went through fine and my phone was back to life but not without two issues.
My IMEI numbers had been wiped and both sim slots were showing invalid IMEI so I couldn't make calls on the phone at all. Also when I turned on the Wi-Fi, a useless Wi-Fi connection was listed there. NVRAM WARNING: ERR 0x10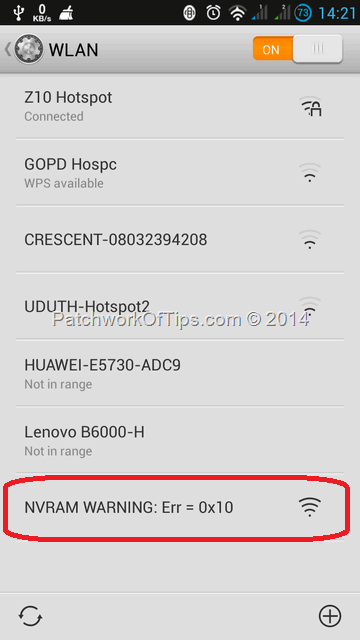 Should in case any of you comes in contact with these problems, here's how I managed to fix them
Rant over!
The new update takes the Build Number to P780_S124_ROW_140403. So far so good, the only visible difference I've noted is a change in icon placement in the SMS pop-up application. On the other hand battery life seems to be even better or I'm just being delusional. Time will tell. lol
Still no Android Kitty Kat in sight for the P780.
If you can't upgrade your Lenovo P780 business smartphone via OTA for some reason, you can download the full firmware for PC by clicking here. (NOTE: You'll need to register for an account with the forum. Just use Chrome browser as it will automatically translate the page for you. Also this aforementioned ROM link is for the 4GB ROW version. If you want the 8GB version of ROW, click here)
For tips on how to flash the P780, make sure to read How To Easily Install USB Drivers For Lenovo MTK Phones and How To Flash Lenovo P780 Firmware and Other Lenovo Phones
That's all folks. Comments and shares are welcome as always.
Have a great weekend.
Please rate & share this article to help others. Thanks
You'll also like: