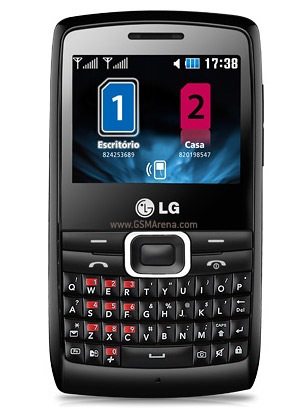 Almost 2 years after experiencing the joys of touting a dual sim mobile phone (Samsung GT-C3212 Review) and increasing my mobile productivity courtesy of BlackBerry's superb QWERTY keypad, I decided to upgrade my dual sim bar phone to a QWERTY version.
This upgrade was also fueled by the 2 day BlackBerry service interruption that struck Europe, Middle East and Africa on the 10th of October 2011. I was hoping to get a sturdy backup mobile email client for future lapses in Blackberry's services.
Of all the non-touchscreen dual sim mobiles currently available in the Nigeria, only two fit the bill;  Samsung Ch@t 322 and LG X330T. I finally decided to go with LG considering the freezing /low battery issues and poor GUI, I had experienced with the GT C3212.
The design on this device is pretty basic but effective with a microUSB port for charging the phone and using the earphones on the left side as well as volume control buttons on the right side.
I'll be starting off this review with a countdown of the top features of the LG X330T mobile phone after which I'll be talking about the pros and cons of the device.
NOTE: The LG X330 is the same as the LG X335 and LG X330T
TOP FEATURES OF LG X330T DUAL SIM STANDBY PHONE
Dual SIM Standby capability (GSM 850 / 900 / 1800 / 1900): allows you to actively make and receive calls on two lines at the same time.
2.3 inches (~174 ppi pixel density) Display
Memory: 80MB internal memory with 2G external memory included upgradable to 8GB via microSD slot.
Internet Connectivity: connect to the internet on the phone or on your computer via GPRS and EDGE.
Data Transfer via Bluetooth and MicroUSB V2.0
1.3 MP Camera capable of taking pictures up to 1280 x 1024 pixels in resolution with 176×144 video shooting capability
FM radio and FM recording: listen to your favorite radio stations and even record your favorite shows.
Call Recording: users can at will record all conversations that go on via the mobile phone.
MP3/eAAC+/WAV audio player and MP4/H.264 video player
Li-Ion 1100 mAh 3.7V Standard battery.
PROS OF THE LG X330T DUAL SIM MOBILE PHONE
Aside from the greatest advantage being its' dual sim active standby capability, the following pros apply to the LG X330
Auto SIM Switching: with this function you can automatically reply text messages and calls with the particular SIM that received that call or text message. No need to switch SIMs to reply that text or call
USB Charging: you can charge your mobile phone directly via your computer's usb port thereby making it no so necessary to carry around the AC adapter.
QWERTY keypad: if you're used to working long hours typing on a computer, you would love this keypad as it makes texting and instant messaging a whole lot easier and faster.
Long Life Battery: the LG X330T comes with a 1100mAh Li-Ion battery that charges fully in 2hours 10 minutes and after a few calls, music playback via the earphone and speakers and some average internet surfing, the battery held itself for 48 hours. For those who only make calls and send text messages with minimum music playback @ a low volume, the battery should go almost 3 days without need for a recharge.
Pretty Cool GUI for a cheap mobile phone. The Samsung Chat 322's GUI sucks big time.
The Conversation/Call recorder is one feature that I love and should come in handy when doing business over the phone. It helps prevent those moments of "I never said that" issues.
CONS OF THE LG X330T DUAL SIM MOBILE PHONE
Native Email Client Sucks: it can't handle large emails + images and I hate getting that "message too large" download error. I guess I was hoping to see something as simple as the BlackBerry's mobile email client but I was greatly disappointed .
Basic Music Player:  only supports MP3/eAAC+/WAV files and these files must be placed in the Sounds folder to be detected by the music player. Depending on the amount of mp3s stored on your device, the player takes forever to load. With over 700 music files, my player takes 1 min 15 seconds to load and start playback. Also the music player does not have the ability to file the music files according to Artist, Album or Genre.
No Multitasking: Unlike my Samsung GT C3212 where I could listen to music while using Opera Mini, this mobile phone only performs one task at a time. Once you launch a new task, the current one is shut down 'cause of insufficient memory. The closest thing to multitasking is that you can minimize the music player while you receive a call or send a text message. The music player also automatically pauses when you launch a java app, receive a call or launch the camera.
Slow Contacts Saving: Saving a new contact to the handset is pretty slow and annoying. Takes like 5-10 seconds
Native Browser Limited Downloads:the browser can only download files that are compatible with the media player ie MP3/eAAC+/WAV/MP4/H.264. Everything else throws up an "Unsupported format" error message.
Opera Mini is Limited to Version 4.3: the device supports Opera Mini but the recommended version for it is 4.3. Opera Mini 6 works on the device but can be excruciating slow in operation. Also opera mini downloads take a little while to initialize but the good thing is that you can download any type of file .
Buggy Auto Key Lock: this feature helps to prevent accidental dials but can be annonying sometimes. Despite deactivating it, it still happens after navigating the phone's menu.
TOP 4 APPS I USE ON THE LG X330T DUAL SIM HANDSET
After going through so many apps, these are the few that worked flawlessly with this dual sim handset.
Opera Mini and UC Browser: For better web browsing and download experience.
Gmail App: Makes checking my email easier but only works for Gmail account holders
GTMobile Lite: As a Guaranty Trust Bank customer, thus little app allows me to check my account balance, pay bills, recharge my cell phone credit balance and transfer money without having to set foot in the banking hall.
SHOULD YOU BUY THE LG X330T DUAL SIM CELLPHONE?
If you're on a tight budget of around N12,000 ($75) and looking for an active dual sim standby wireless handset with a QWERTY keypad, 1.3 megapixels camera, FM radio, MP3/MP4 player and internet connectivity, the LG X330T might just be right for you
Please rate & share this article to help others. Thanks
You'll also like: