I've never been a fan of Beauty Formulas because I rarely see reviews of their products plus quite a number of skin care "gurus" tag the brand as cheap and ineffective. My Instagram feed tends to get quite a number of skin care ads and Beauty Formulas is one brand that features a lot in these ads. Their New Skin Glycolic range caught my attention because I've been low key looking for something with glycolic acid plus at N850 – N1,000, it's quite cheap.
Beauty Formula New Skin Glycolic Range
The range comes with a facial wash, facial exfoliator, facial cleanser and hydrating gel. The range is touted as Paraben, Silicone and Colour Free.
As a form of introduction, each bottle comes with this introduction of sorts of the range: Glycolic Acid is a naturally occurring Alpha hydroxy acid (AHA) that works on the dead skin cells of the skin's surface. Optimized pH formulations allow the glycolic acid to deliver effective exfoliation. Combined with Lactic Acid and Salicylic Acid to create an active Hydroxy Acid complex to rejuvenate dull, lifeless skin leaving you feeling smoother, brighter and fresher.
My interest was just in the Facial Wash and Hydrating Gel.
If you're interested in testing this new range you can get it here if you live in Nigeria.
This is my 24hr review of the products. I'll be doing an update after a week. Hopefully it helps a lot in making it easy for my skin to shed the flaky dead skin that come on and off as a result of my use of Retin-A 0.1%.
Beauty Formula New Skin Glycolic Facial Wash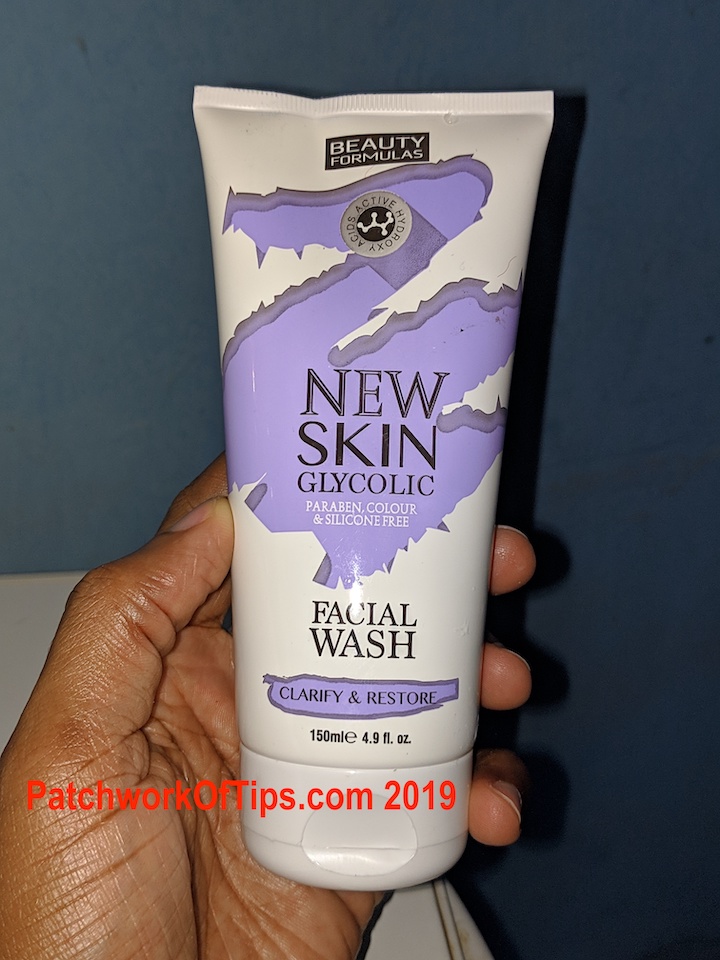 INGREDIENTS (COCTAB): Aqua (Water), Sodium Laureth Sulfate, Sodium Chloride, Glycerin, Coco-Glucoside, Cocamidopropyl Betaine, Disodium Cocoamphodiacetate, Sodium Cocoamphoacetate, Glycolic acid, Lactic Acid, Salicylic Acid, Parfum (Fragrance), Disodium EDTA, Sodium Benzoate, Potassum Sorbate, Hexyl Cinnamal, Linalool, Limonene.
PRODUCT DESCRIPTION: Beauty Formulas New Skin Glycolic Facial Wash delivers the active hydroxy acid agents direct to the skin to help remove excess sebum and soften any dry dead skin. Leaves you feeling cleaner and clearer. Wet your face and apply the wash working it into a lather as you cleanse. Rinse well with clean warm water.
There's no mention of the percentage of glycolic acid, lactic acid and salicylic acid in the formulation and they appear from number 9 on the list of ingredients so the percentages ought to be quite low.
The facial wash is colorless and a bit watery. The smell isn't nasty and doesn't linger for long. It doesn't foam a lot and sadly it doesn't leave that squeaky clean feeling which I love. It leaves this feeling of "hey you've still got cleanser on your skin" which I'm so not a fan of. This feeling however is markedly reduced if you follow instructions and rinse it off with clean WARM WATER.
For N1,000 you get 150ml of product which is so not bad at all.
UPDATE: It does foam pretty well especially when I use it at night. I noticed it doesn't foam much if I have way too much skincare product on my face which is the case every morning as I tend to layer on Cliganic's organic jojoba oil and La Roche Posay Cicaplast Baume B5 to reduce the harsh effects of Retin-A therapy at bedtime.
Beauty Formula New Skin Glycolic Hydrating Gel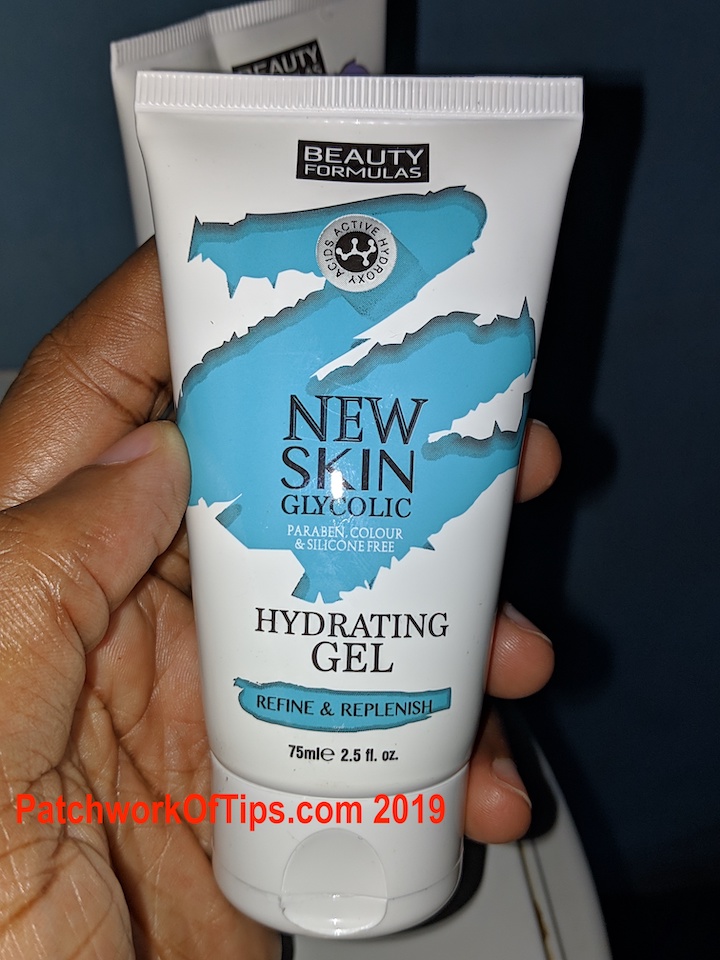 INGREDIENTS (COCTAB): Aqua (Water), Glycerin, Alcohol Denat, Hydroxyethylcellulose, Erythritol, Glycolic Acid, Lactic Acid, Salicylic Acid, Prunus Amygdalus Dulcis (Sweet Almond) oil. Helianthus Annuus (Sunflower) Seed Oil, Tocopheryl Acetate, Xanthan Gum, Parfum (Fragrance), Disodium EDTA, SodiumHydroxide, Imidazolidinyl Urea, Sodium Benzoate, Potassium Sorbate, Hexyl Cinnamal, Linalool, Limonene, Benzyl Salicylate, Alpha Isomethyl Ionone, Coumarin, Geraniol.
PRODUCT DESCRIPTION: Beauty Formulas New Skin Glycolic Hydrating Gel is light and easy to apply. Using a natural moisturizer combined with Almond Oil and Sunflower Oil, it provides lasting hydration. The active hydroxy acids help keep the skin feeling soft, supple & healthy. Apply morning and night to fresh, clean skin.
The product spilled in transit as shown below. It looks cloudy unlike the facial wash and is thicker with a gel like consistency.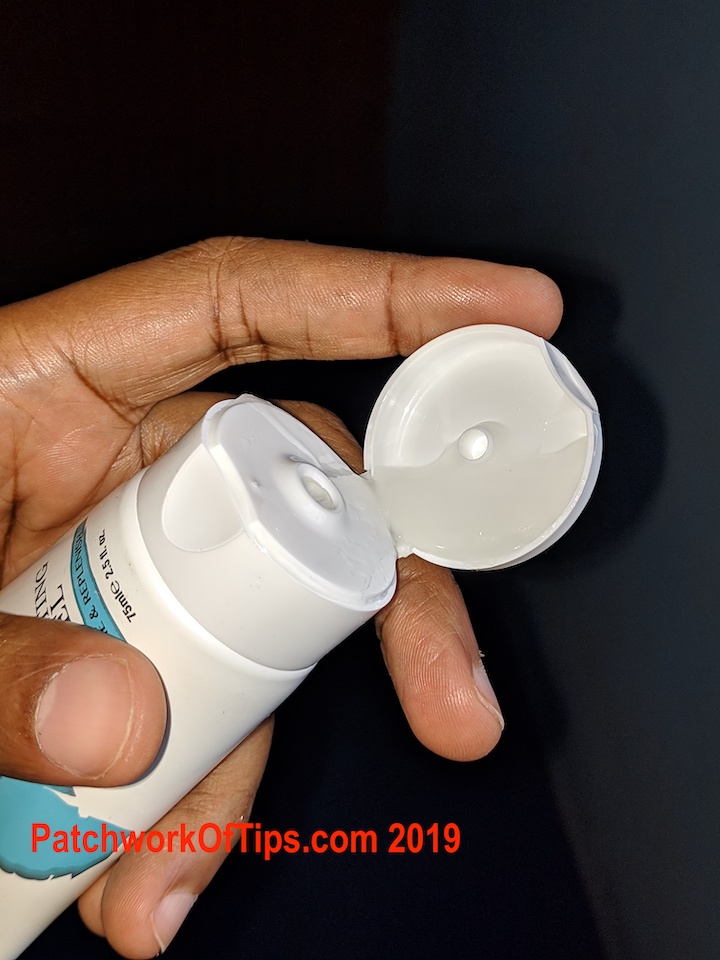 One thing I will say is not to be tempted to apply too much of this product or rub it in furiously as it tends to ball up leaving flakes everywhere. I noticed this when I applied the entire spilled portion on my leg.
My skin doesn't really feel hydrated after using it and I find myself reaching for my La Roche Posay Cicaplast Baume B5 at night. I apply it in the morning and follow up with my SPF 30+ sunscreen about 3 minutes after and it doesn't ball up.
NOTE: I have been on Retin-A for like 3-4 months now and my skin is still getting used to it thus it needs quite a high level of hydration. You might find it hydrating if you have "normal skin".
Please whatever you do, DO NOT apply this gel in the morning if you don't use a proper sunscreen of at least SPF 15. Alpha Hydroxy Acids tend to make the skin sensitive and prone to burning. Beauty Formulas doesn't include this warning on the packaging which makes me wonder if they are dense OR the percentage of the acids in the formula is scanty. Hopefully the later is not the case as these acids appear a bit higher up in the ingredient list unlike in the face wash formulation.
Oh by the way it doesn't sting on application despite my having skin sensitized from Retin-A use.
You get 75ml of product for N850
Both Facial Wash and Hydrating Gel do not carry an expiry date but have a 12 months period after opening symbol.
So that's about it for my 24hr review of part of Beauty Formulas New Skin Glycolic range. I sincerely hope it truly delivers and that it's just another The Ordinary in disguise. lol. As promised, expect an update after one week (or two weeks if work gets in the way).
UPDATE 31st August 1982: Sorry it took longer than promised. I will not be restocking both products for the following reasons.
I've decided to switch from the New Skin Glycolic Facial Wash to a daily cleanser with 1-2% salicylic acid or 2.5% benzoyl peroxide considering that I have weekly breakouts. If you don't have breakout prone skin, you can stick with it. It works fine and comes cheap.
The hydrating gel feels tacky and leaves a film on the face that I can feel when washing it off. Like it doesn't get absorbed. Also this product tends to make others pill a lot especially when used in large quantities.
Please rate & share this article to help others. Thanks
You'll also like: