Before the dollar rate went crazy on us, I decided to get a couple more power banks and increase my investment in the Xiaomi brand. I settled for the 16000mAh Xiaomi powerbank and the 20000mAh Romoss Sense 6 Plus. I'll be reviewing the latter first and the Xiaomi would follow soonest.
My 17 months experience with Romoss has been stellar and thus the decision to invest in yet another Romoss powerbank was a no brainer. See Romoss Sense 4 10400mAh Capacity Power Bank Review.
The design is pretty simple with the included LCD screen as the standout feature. There's a power button on one side and on another you have 2 output charging ports and one input charging port. One of the charging ports supports DC5V 2.1A while the other supports DC5V 1A. The input charging port doesn't support fast charging so the best charger you can use to replenish the powerbank is one with a DC5V 2A rating.
Note: The device doesn't ship with a wall adapter. In the package, you have a manual in chinese, 20000mAh powerbank and a usb charging cable which also supports data transfer.

The powerbank comes wrapped in a plastic. I removed it before taking the shots below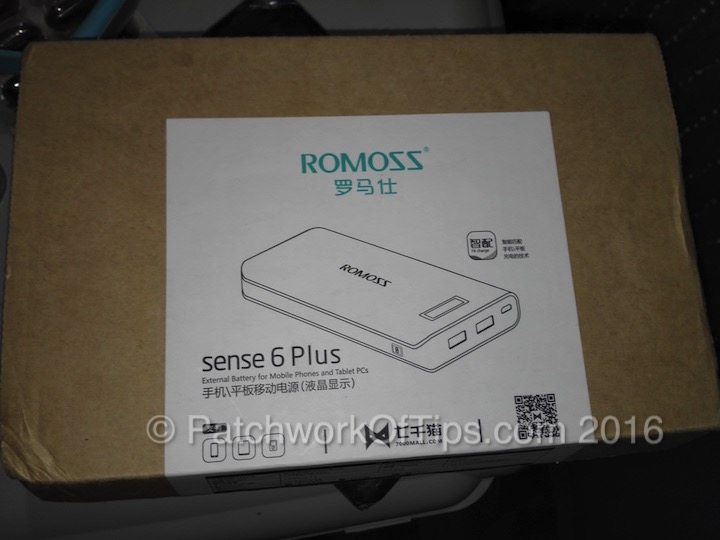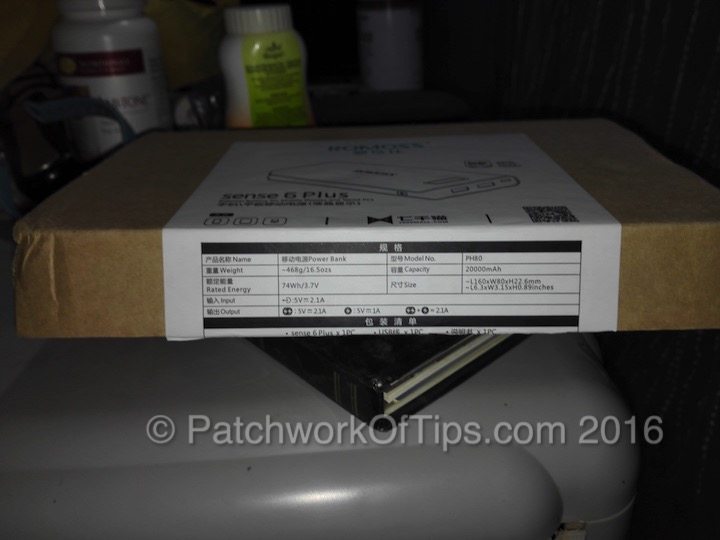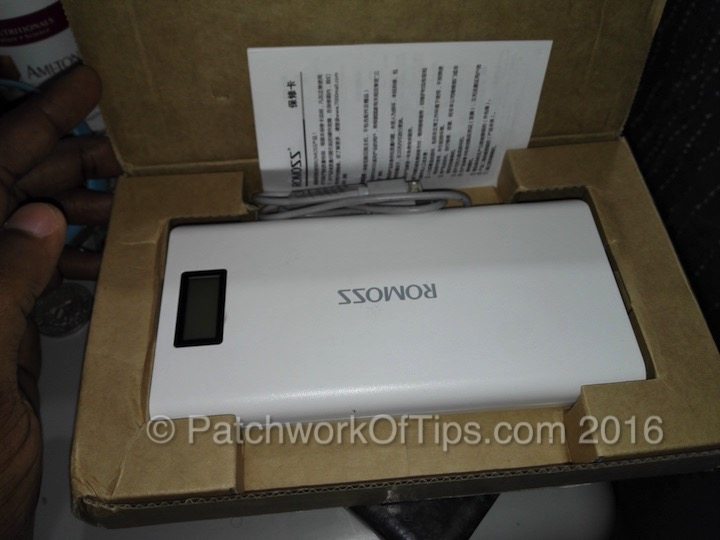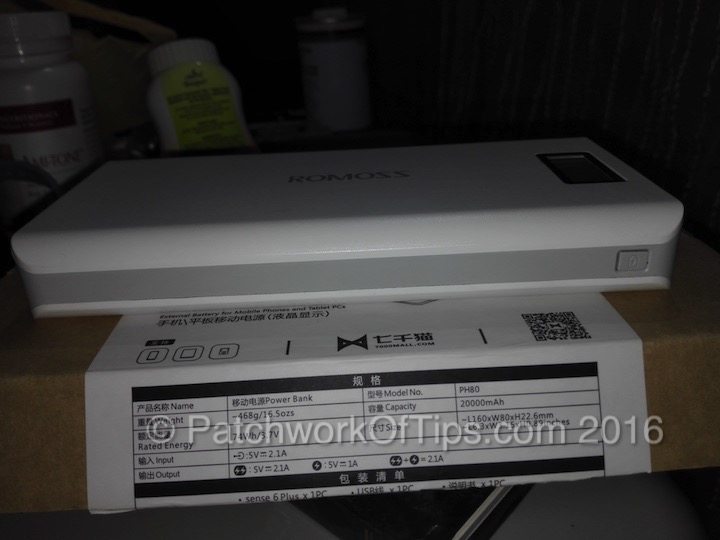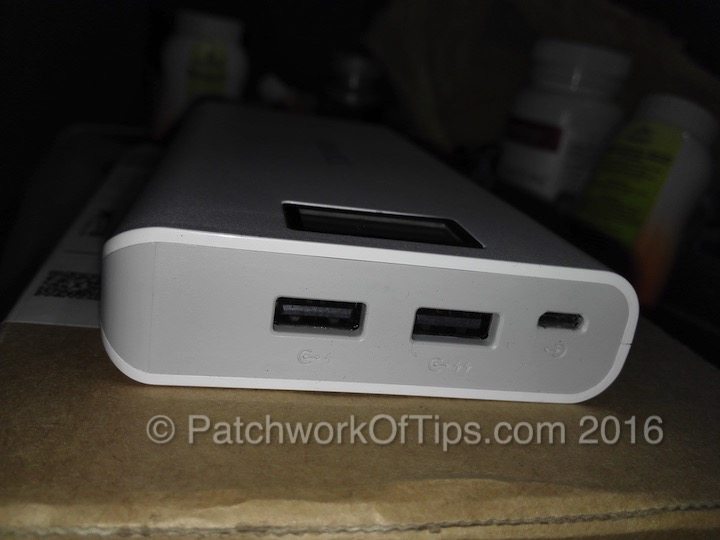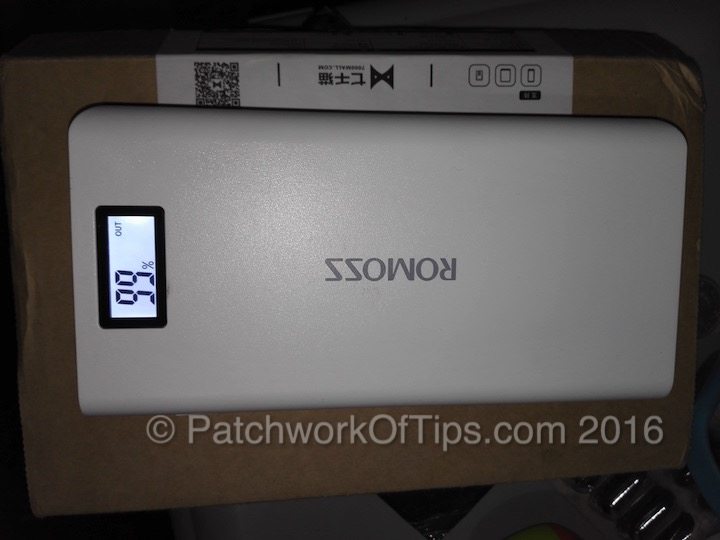 Pros Of The Romoss Sense 6 Plus Power Bank
LCD Screen: Makes it easy to know easy how much power is left in the powerbank instead of relying on LED lights. The LCD also shows the charging current levels based on which port you're charging from.
15000mAh available to end user: Powerbanks tend to lose power when charging devices so one doesn't get to use the complete power capacity to charge their devices. A remarkable 75% of the total capacity is available in the case of the Romoss Sense 6 Plus as it was able to charge my Xiaomi Redmi Note 2 five times before shutting down. Do please note that I charge my devices switched off to save power so if you charge and use your device at the same time, your mileage will be reduced.
Reliable 2.1A/1A charging: Some power banks claim 2.1A output charging but never deliver on that. the Romoss charges just as fast as my 2A and 1A wall adapters
Cons Of The Romoss Sense 6 Plus Power Bank
Considerable Weight: The device weighs close to 500g which is understandable given the battery capacity.
No Quick Charging: Unlike advertised on most sites, the Romoss Sense 6 Plus doesn't support fast charging. It doesn't charge completely in 6.5hrs using a 2A wall adapter. It will take 13.5hrs to charge the powerbank from 0% – 100% using a 2A wall adapter and probably double that amount of time with a 1A charger. Just make sure to get a reliable 2A wall adapter if you plan on buying this device.
No Wall Adapter included
No English Manual though it's not really needed
The 20000mAh Romoss Sense 6 Plus comes in two variants; one with an LCD and one without. The LCD version should cost you around $26 – $30 depending now where you get it. The one without an LCD comes with the normal LED lights and is readily available in Nigeria via Konga for N6,500 and I can 100% vouch for the authenticity.
NOTE: The authentic 10400mAh Romoss Sense 4 is also available if you're interested for N4950.
Questions and comments are welcome in the comment section.
Please rate & share this article to help others. Thanks
You'll also like: