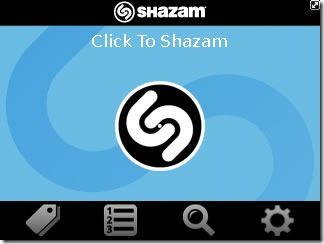 Ever heard a lovely movie soundtrack or heard a song in the mall and wondered who sang the song and how you can order for it stat? Well we all have and so have the guys at Shazam Entertainment Limited who in collaboration with 7Digital music offer BlackBerry users the ability to detect the artist and song title of just about any track in world.
Shazam Encore makes up 9 premium apps which Research In Motion is offering all BlackBerry subscribers worldwide in compensation for the not too recent 3 day lapse in service.
Its function is pretty simple: You launch the application, get close to any music source and Click to Shazam. Wait a few seconds for the app to grab a snippet of the music which it then sends to the server then returns the result: Name of Song, Artiste and Record Company.
Shazam further offers you options to share the track via the social media networks and also options to watch music videos of the song on YouTube if available and to listen/buy the track via 7Digital if also available.
I tested the app with Jennifer Love Hewitt's Barenaked, Diana King's Lies, Amel Larrieux All I Got, David Jordan's Place In My Heart and En Vogue's Riddle as well as VV Brown's Shark In The Water and it all detected them all. No word on how far back Shazam's database of music goes but I must say I'm impressed.
It doesn't work on Nigerian music though. I tried with Tiwa Savage's Love me Love me but no luck

.
The app has a tiny bug though that leaves the entire screen blue without an option to shut it down unless a battery pull is done. I really wouldn't know if this bug is exclusive to the BlackBerry Curve 3G.
You can download Shazam Encore app for BlackBerry for free via the BlackBerry Appworld until December 31, 2011 when RIM's compensatory offer closes.
Please rate & share this article to help others. Thanks
You'll also like: