WiFi Internet service isn't readily available is some parts of the world and sometimes we just have to rely on mobile data plans which come pretty expensive. The expense increases when one turns his/her mobile device into a wifi hotspot so as to access the web on a computer and the computer in turn decides to start downloading huge OS updates. Oops!
How To Monitor Mobile Hotspot Data Usage On Mac OS X and Windows PC
The Swiss guys at TripMode decided to fix this problem and launched Tripmode for Mac OS users last year. Basically TripMode, when activated (see upper left hand corner of screenshot below), serves as a firewall of sorts through which all requests for internet access must go through. If an app or service is not granted access, it will not be able to connect to the internet.
In this way, you can restrict mobile data usage to just the apps you want to work with on your computer.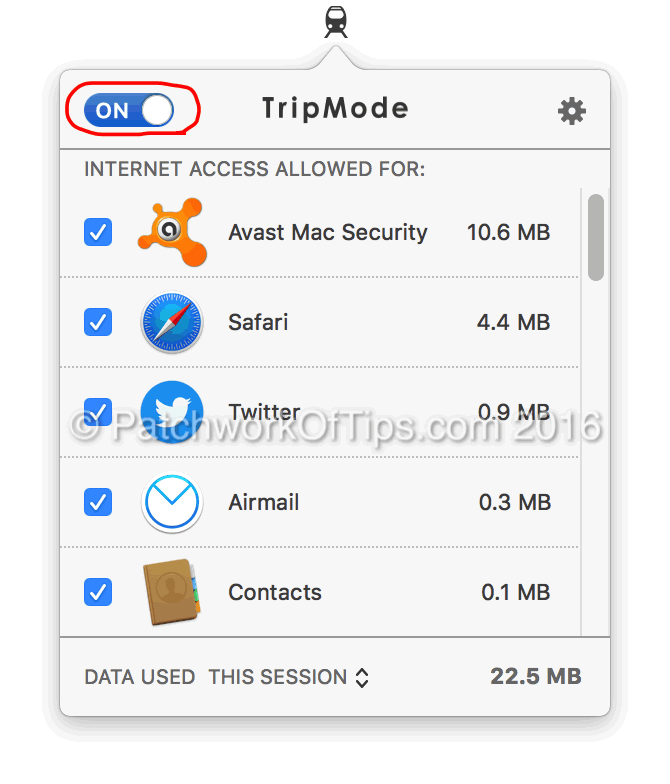 Unfortunately TripMode doesn't work 100% of the time especially if you have an antivirus like Avast for Mac OS installed as Avast while fully activated, serves as a gateway to the internet itself. See diagram below.

Here's what my experience with the Mac OS version of TripMode has been and continues to be like as par the image above:
If you leave Avast's functions fully activated but block the app in TripMode, all apps and services on your Mac will not be able to access the web at all.

If you fully disable Avast's functions and block it in TripMode, all apps and services on your Mac will have access to the web unless these apps and services are blocked in TripMode. Unfortunately in this scenario, some services still bypass TripMode, access the web and deplete your mobile data plan.

Finally my Macbook seems to consume way more data than reported by TripMode
The above has been my experience with TripMode for Mac OS X and I'm still hoping they'll get it right 'cause the $8 I spent on the app is………….. lol.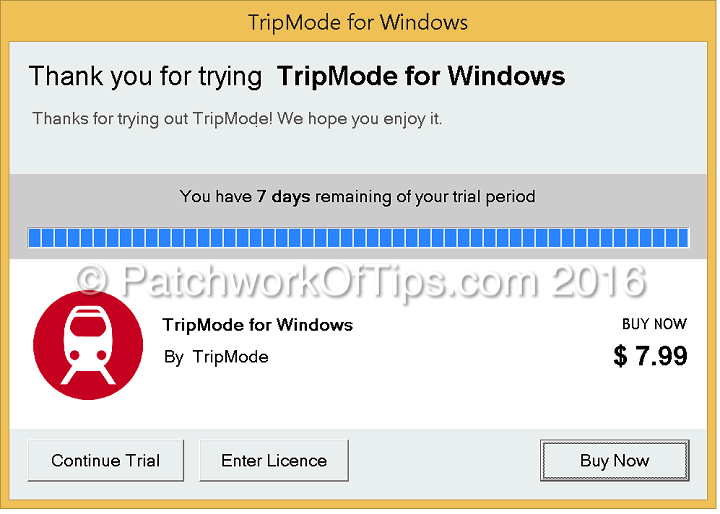 Now despite this issue with TripMode for Mac OS, they decided to launch a Windows OS version of TripMode on the 22nd of January, 2016. Fortunately the issue I had with Avast for Mac didn't arise for Avast Internet Security for Windows OS but there are two worrying bugs in the current version of the app.
Only data used per session can be accessed. Once you reboot your PC, TripMode data count is reset thus one can't keep track of mobile data usage for the day or for the month.
Sometimes apps that are allowed to access the web don't have access and need to be blocked and unblocked to restore internet access.
On reboot, one has to re-enable data access to work apps as TripMode resets all apps which were previously allowed internet access.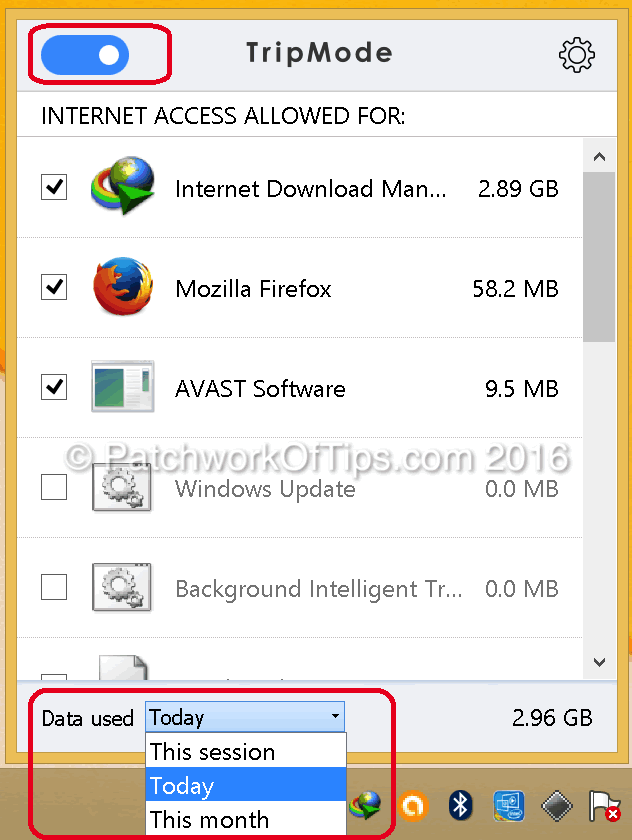 All grayed out and unticked apps have no access to the web and the colored, ticked ones have access.
The good news though is that it fulfils its principal function of helping you monitor your mobile data usage.Unlike its' Mac OS version, on my first trial after web surfing and downloading some stuff, TripMode recorded 2.96GB used and when I checked my mobile data balance, that exact amount of data was depleted.
If you're interested in trying out the various versions of TripMode Mobile WiFi Usage Data Monitor, they cost $8 each after a 7 day full trial period. Hopefully you won't encounter the problems I've highlighted above.
If you do try out the app, do please let me know in the comment section below what your experience was like. Thanks.
UPDATE 29th March, 2016: Trial Period has been extended to 30 days and bugs mentioned above have been fixed. The app has been quite effective and I've upgraded to the paid version after searching quite a long time for a coupon to no avail. lol
Please rate & share this article to help others. Thanks
You'll also like: