I wore contact lenses for like 4 years of med school. I started with RGPs (Rigid Gas Permeable) then upgraded to brown FreshLook ColorBlends which at one point got me the title of "El unico Nigeriano con ojos claros" lol.
I quit using them when I got back to Nigeria as sourcing them became quite difficult and expensive as the contact lens culture wasn't quite popular back then. While in Cuba, I always bought them from the United States through friends who vacationed there.
Anyway so I decided to give them a go again as my head is kinda looking too big with them glasses (keto diet wahala) and 'cause vanity (I look better without my glasses on). The search for the cheapest sources for contact lens led me to two sites. One in the United Kingdom and the other here in Nigeria

Vision Direct UK offers quite a wide selection of contact lens and glasses available on most reputable contact lens retail sites. What sets them apart are the following:
They offer worldwide shipping via DHL Express for just £9.98 for orders over £49. Orders less than £49 attract £12.98. Shipping to the USA, EU & Ireland costs way less though. Orders are delivered within 3 – 5 days as has been my experience.
Their prices are much cheaper than all the major contact lens dealers I checked out online. Trust me I did the maths. lol
They offer a 100-day guarantee for unused products. NOTE: They have to receive the products before they release the funds to you. They can refund to your bank account or to your Vision Direct account.
You can purchase any prescription of your fancy without having to upload your prescription or have them call your eye doctor as required by most major retailers.
I had an issue with the Biofinity contact lens I bought as you can see in the picture above and I sent them back and got a refund to my VD account which I then used to make another purchase.
NOTE: Please indicate your full name and order number on a piece of paper within the package when making returns as this helps them identify who returned what. My package took 1 month and 1 week to get to their office in Netherlands. NIPOST tracking sucks so I had to chat with Vision Direct to confirm that my return had been received.
If you wish to place an order with them, you can get 10% discount off your first order by using this promo code 1877924U when checking out.

Rewetting drops for contact lens aren't really easy to come by in Nigeria and that's what led me to the discovery of this gem situated right here in Nigeria. Day Spring Eye Clinic Nigeria is so into the contact lens business that their OPTICOM contact lens, DEWDROPS rewetting drops and REFRESH Multipurpose No-Rub solution are made exclusively for them by some firm in Korea.
Their contacts lens be it clear or colored go for N3500 a pair and last for 3 months. Do please note that they are not built to be worn for more than 10 – 12 hours a day as they are strictly daily wear frequent replacement lenses.
ChumaThomp who referred me to them was kind enough to send me a pic of his order (clear and colored contacts). He has been dealing with them for quite some time now with no issues whatsoever. Do please bear with me as the picture quality isn't the best.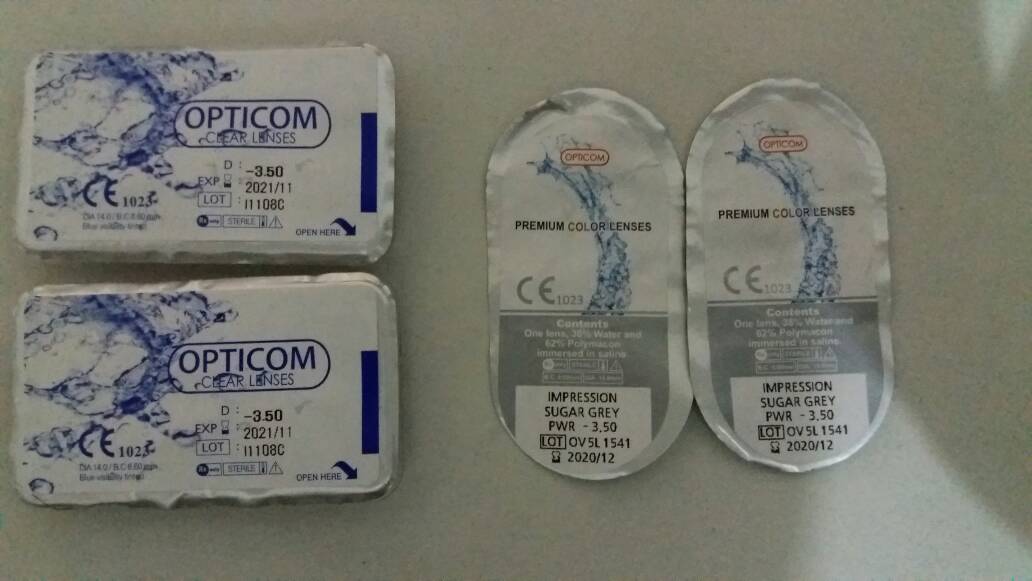 Below is my purchase. The Refresh Multi-purpose solution costs N3500 for this big bottle while the DewDrops rewetting solution costs N500 each. Compared to the EverClear Multi-Purpose solution I bought from Vision Direct UK, I feel so much better with Refresh.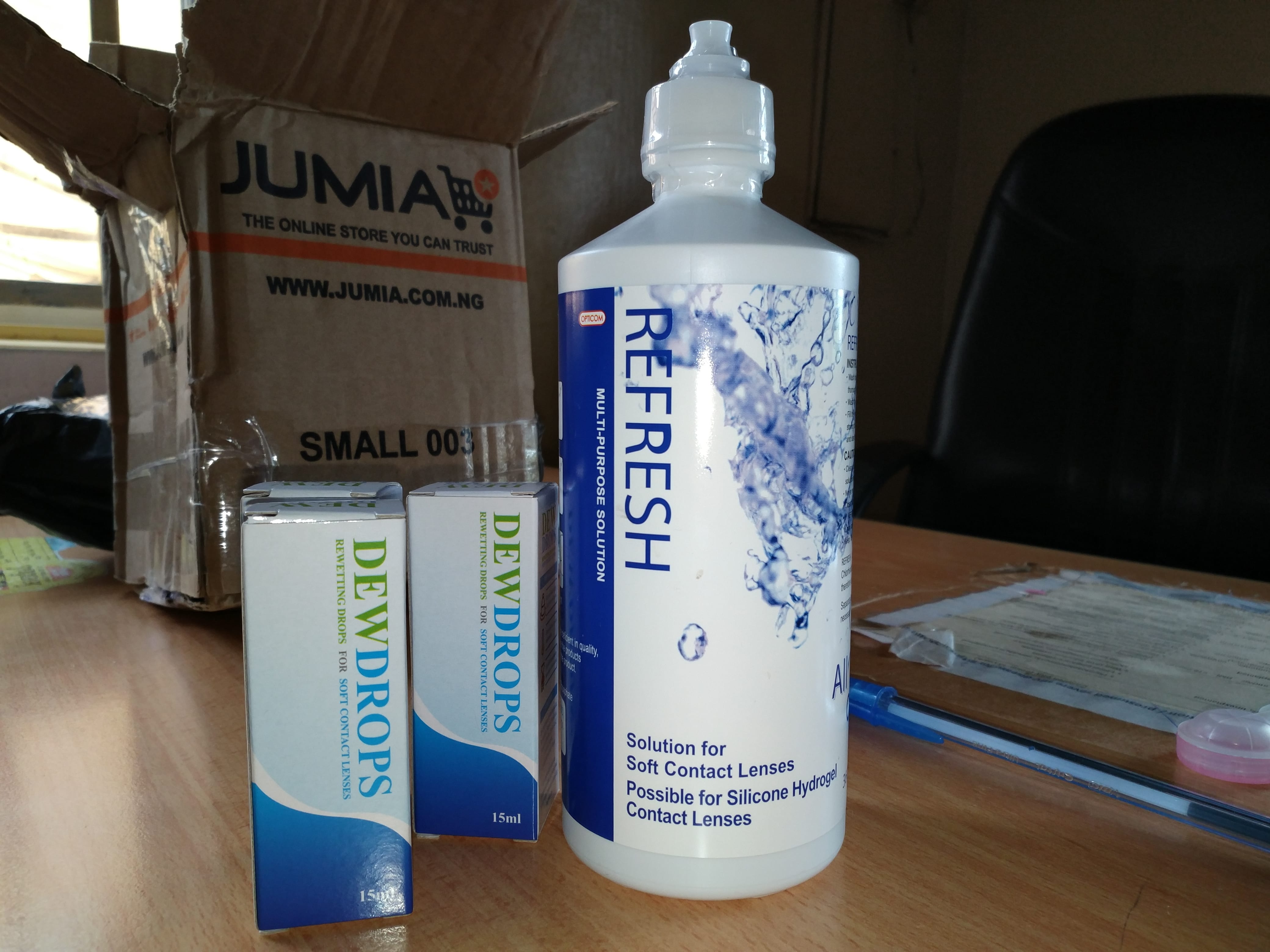 Depending on the condition of your eye, your wear schedule etc, DaySpring's contact lens might not be for you so you have Vision Direct as another viable option. I have been diagnosed with mild dry eyes, so I'm better off with contact lens with a low water content and high oxygen permeability.
When next I'm in Lagos I'll drop by their office myself to see if they have anything special for those of us suffering from dry eyes
CLICK HERE TO VISIT DAY SPRING EYE CLINIC.
So my fellow Nigerians, there you have it. Two viable and cheap solutions to your contact lens problems. Don't forget the 10% discount using this code 1877924U if you decide to give Vision Direct UK a trial.
I'm out but feel free to leave your comments and questions.
Please rate & share this article to help others. Thanks
You'll also like: