So 9 months later, I finally got to watch the most anticipated/hyped movie of 2017, The Wedding Party 2: Destination Dubai. I wish Nigerian filmmakers will behave like their foreign counterparts and make their movies available to watch or download online for a token fee immediately their run in the theaters is over. I don't understand why they delay so much.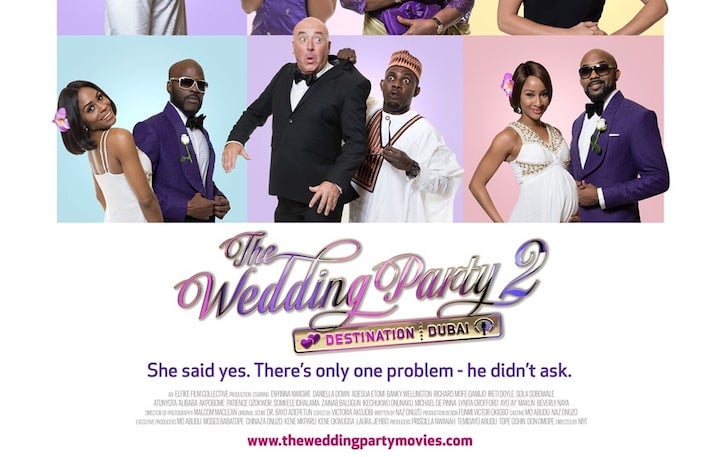 The movie was most certainly fun to watch mostly thanks to the likes of Sola Sobowale, Patience Ozokwor and Michael De Pinna (he was so well cast! I couldn't wait for his scenes. lol) BUT I would have to admit The Wedding Party 1 was much better.
Anyway, you can rent to watch or download the movie online now for just N500 via FilmHouse Nigeria. It's also available to rent on the Microsoft Store, Google Play, Amazon Prime Videos and iTunes from $3.99 but Filmhouse is the cheapest (Thank God they priced it well for the Nigerian audience).
To watch the movie, simply go to MyFilmHouse, search for the movie, click the rent button, pay with your credit/debit card and start streaming immediately. Bank Transfer is also available sha.
If you don't wish to stream it due to shoddy internet connectivity, you could also download the movie via their app. Click here to download the MyFilmhouse Android App.
WARNING: For some reason the app wouldn't play nice on my Xiaomi Mi Max 2. The movie just wouldn't download at all. Thankfully it played nice on the Lenovo Tab3 8 Plus.
Simply launch the MyFilmHouse app, go to the My Rentals app and all movies you've rented will appear there. Click on The Wedding Party 2. Click on Download and select your preferred resolution.
This is where the app gets things very wrong. Their HD 720p download is 2.09GB in size. They really need to work on optimizing their file download size. It's a complete waste of data for consumers on a tight data budget and waste of server bandwidth for MyFilmHouse. I ended up downloading the 480p version which was about 1.09GB but surprisingly was quite as a good as a 720p download (though still large in my opinion)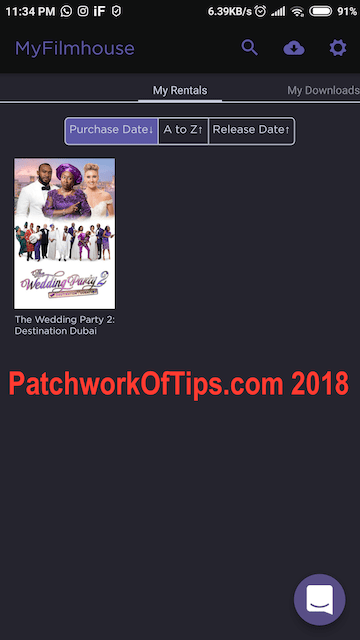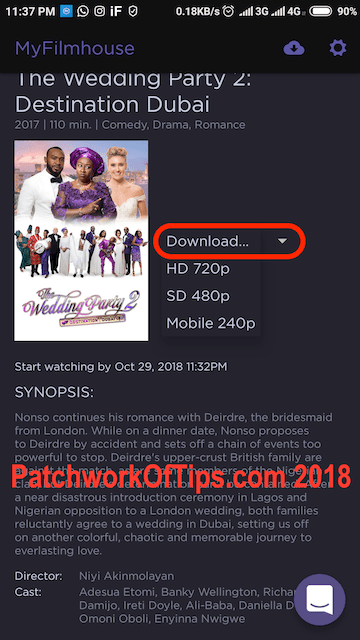 Once the download is complete, you'd have to go back to the main Wedding Party 2 page and press play to watch it. For some reason, you can initiate play from the download section.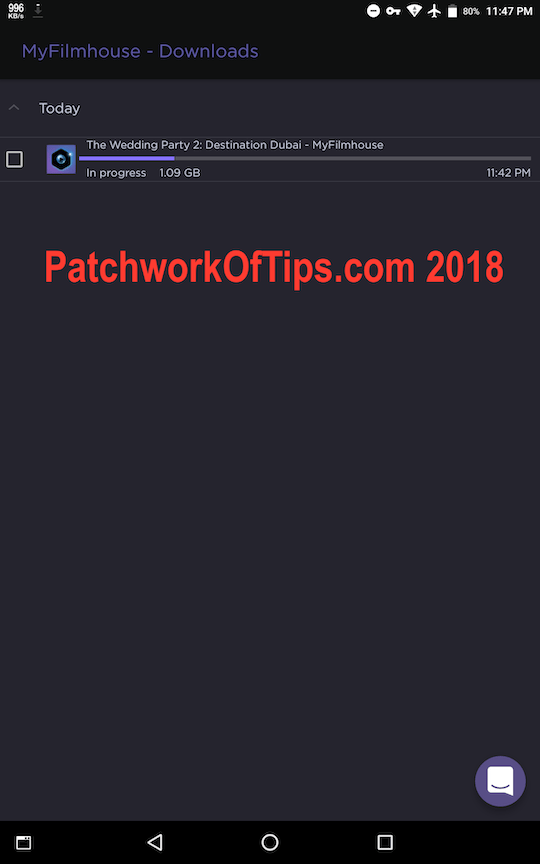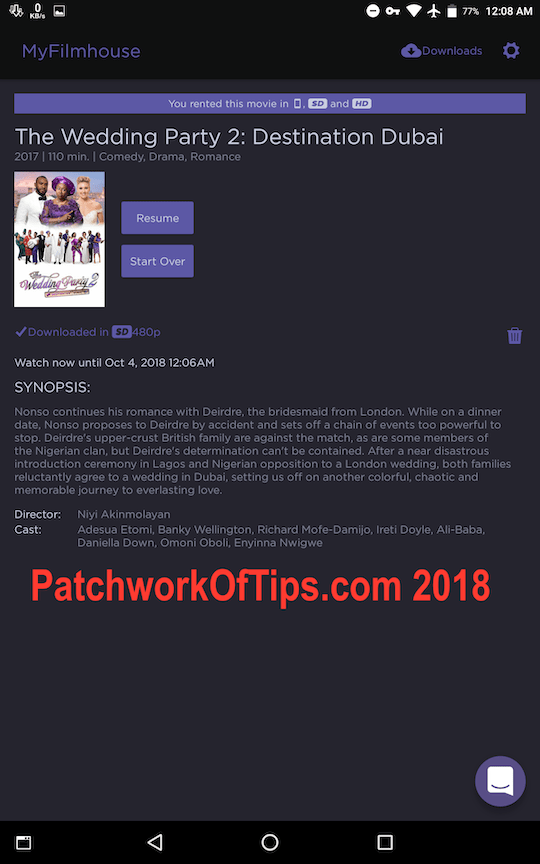 All rentals expire 30 days after download or 48hrs after you start watching them so be sure to utilize your N500 well.
I'm tots looking forward to more Nigerian movies being available this way for audiences that don't live in states with cinemas. The selection on Netflix and IrokoTV just isn't enough.
UPDATE December 29th, 2018: The app is presently annoying as f**k. I paid for a few movies and was unable to watch them on my phone and my tablet as I kept getting "Can't play this video" error prompts.
In the end I settled for streaming the movies on low resolution. If you wish to stream in low resolution so as to save data simple load the movie in Google Chrome for Android or Safari for iOS and tap the gear icon >> Video Quality >>426×238, 400kbps .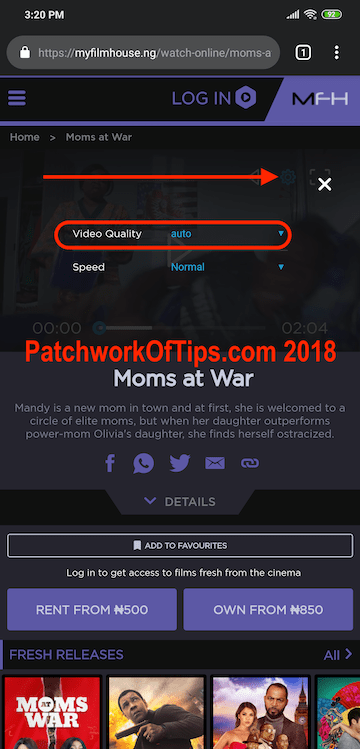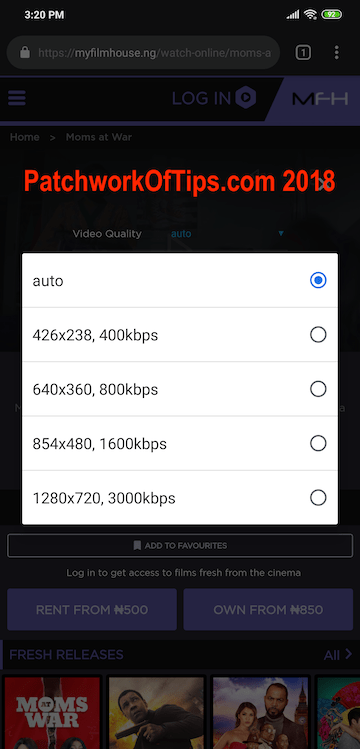 Unfortunately you can't change video resolution on your laptop. The option doesn't come up.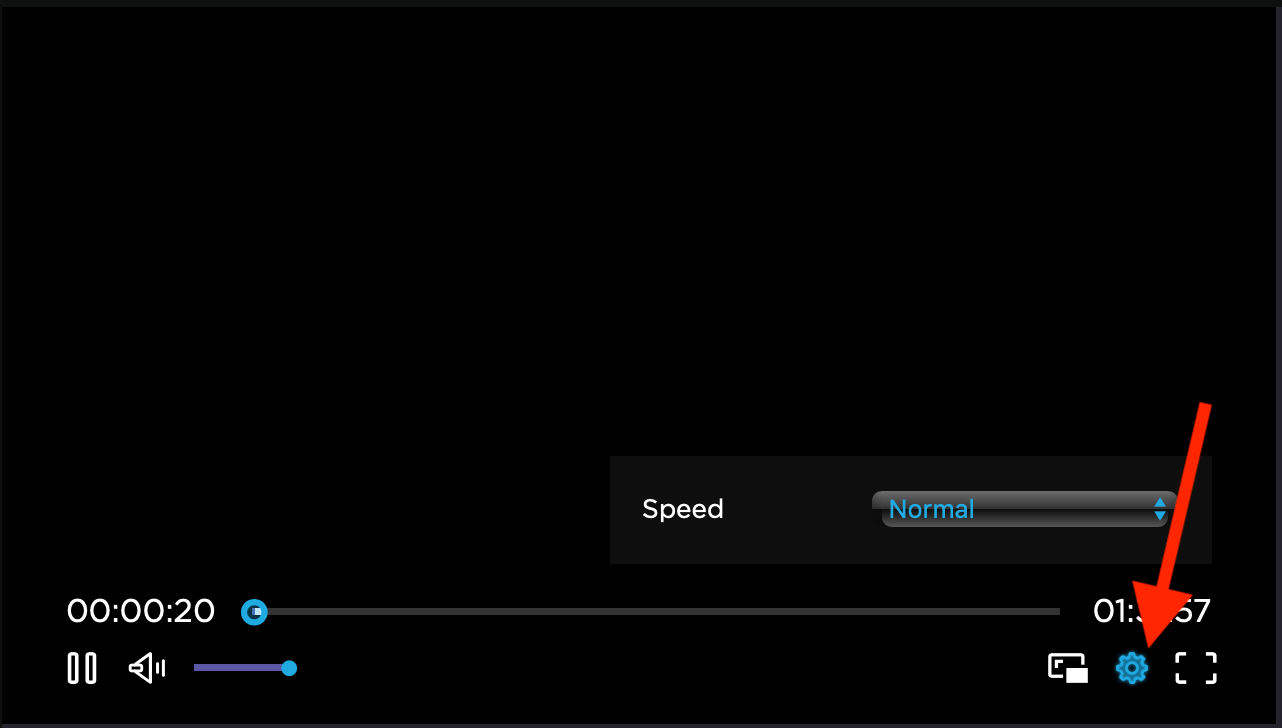 UPDATE December 31st, 2018: The following recent Nollywood releases have also been added to the MyFilmHouse platform and can be watched for N500 too.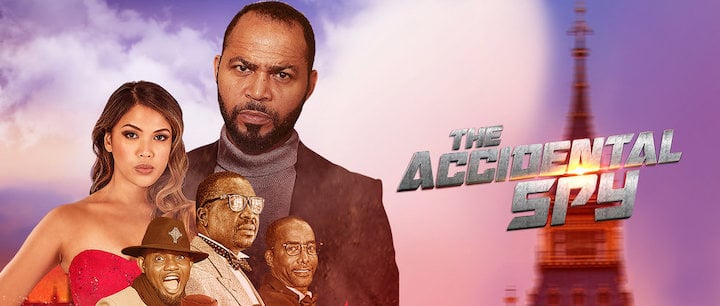 SYNOPSIS:
When IT specialist Emmanuel Prince gets blindsided by his cheating girlfriend, his world comes crashing down. While wallowing in his sorrows, his best friends encourage him to take a trip to America to "breeze out" and refocus his energy. In the meantime, Nigerian news outlets have been buzzing about a new experimental energy source invented by a Nigerian national studying abroad. "The Green Light Source" promises to provide natural sources of electricity to Nigerian citizens for next to nothing! This prospect, however, does not sit well with the Nigerian Power Cartels who are currently manipulating and abusing the energy system for their own personal gain. Unwilling to have their reign hampered by a meddling outsider, "The Chairman", as he is called, hires a professional hit man to kill the inventor before the unveiling.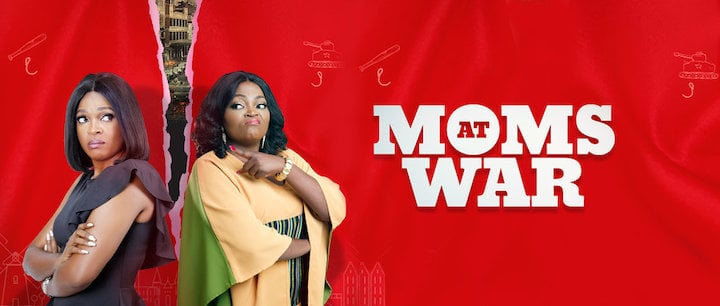 SYNOPSIS:
Moms at War is about two mothers who live in the same neighbourhood, but hate each other. One felt that the other was a village girl who just got into money and is not fit to be in society with them. But both their kids coincidentally attend the same school and in a competition, both emerge top of their class. Both mothers go crazy, doing all sort of antics for their child to emerge the winner. It's a story of friendship, sisterhood and bonding in spite of everything.
Personal Rating: 2.5/5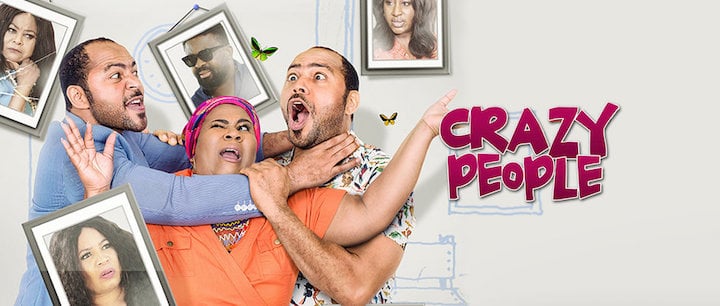 SYNOPSIS:
An actor returns to the industry after a one-year hiatus on a misson to track down and prosecute one person – his impersonator.
Personal Rating: 2.5/5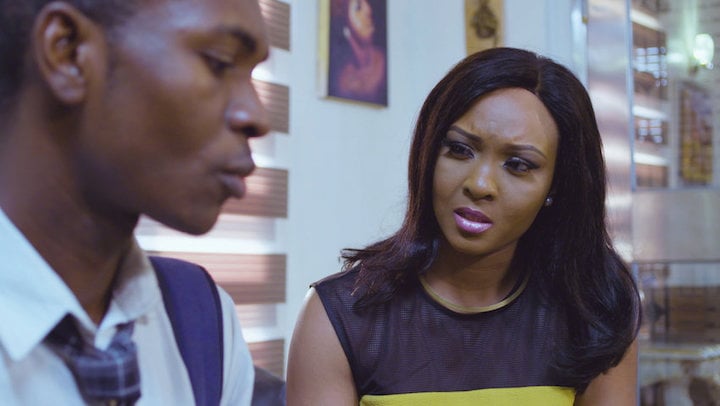 SYNOPSIS:
We Don't Live Here Anymore, rated 15+, is a dramatic tale of love, relationships and growing up. A scandal brews at Prominence High School that would not only redefine the fate of the two teenage boys involved but would shake the foundation of the people they love and the town they live in. In Prominence high school, two teenage boys, Tolu Bajulaiye and Chidi Egwuonwu find themselves embroiled in a high stake scandal that could alter the course of their future. With an impending expulsion at bay, Tolu's mother, Nike Bajulaiye a powerful matriarch, major donor to the school board, hard-fighting human rights activist realizes her son's future isn't the only thing at stake, but also hers. And with investigations underway and words threatening to get to the press, she consults Leslie Dikeh, a pragmatic and calculative lawyer with a strong penchant for winning. Her job is to clean the mess and help the Bajulaiyes get out without hurting their image. And with her brilliant mind comes a plan that resets the tone into what would become a battle of class, blackballing and a triggering society ready to punish anything besides the status-quo.
Personal Rating: 3.5/5
UPDATE January 8th, 2019: I just got an email from MyFilmHouse apologizing for issues I have with the last 3 movies I rented and as compensation they refunded my N1,500 and dashed me the 3 movies.
Apparently they are having issues with getting the app to be compatible across various versions of Android OS and various phone brands. Hopefully with time this will be properly sorted out.
Please rate & share this article to help others. Thanks
You'll also like: