As most of you already know I shop US and UK sites mainly via DHL Africa eShop. For items I can't get via the service OR for times when I need to use a gift card or have friends ship stuff to me I use Splendid Packaging.
Recently I was introduced to Heroshe and after 2 successful orders I'm hooked on the service.
The service is so good that I'm yet to find a better offer.
PROS OF HEROSHE SHIPPING SERVICE
The minimum shipping weight is 1 pound and costs just $5. This $5 covers customs duties, taxes, VAT, and clearing fees. There are extra charges for items like phones and laptops so be sure to checkout their pricing page.
NOTE: They round up weights so 0.7 pound = 1 pound and 4.2 pounds = 5 pounds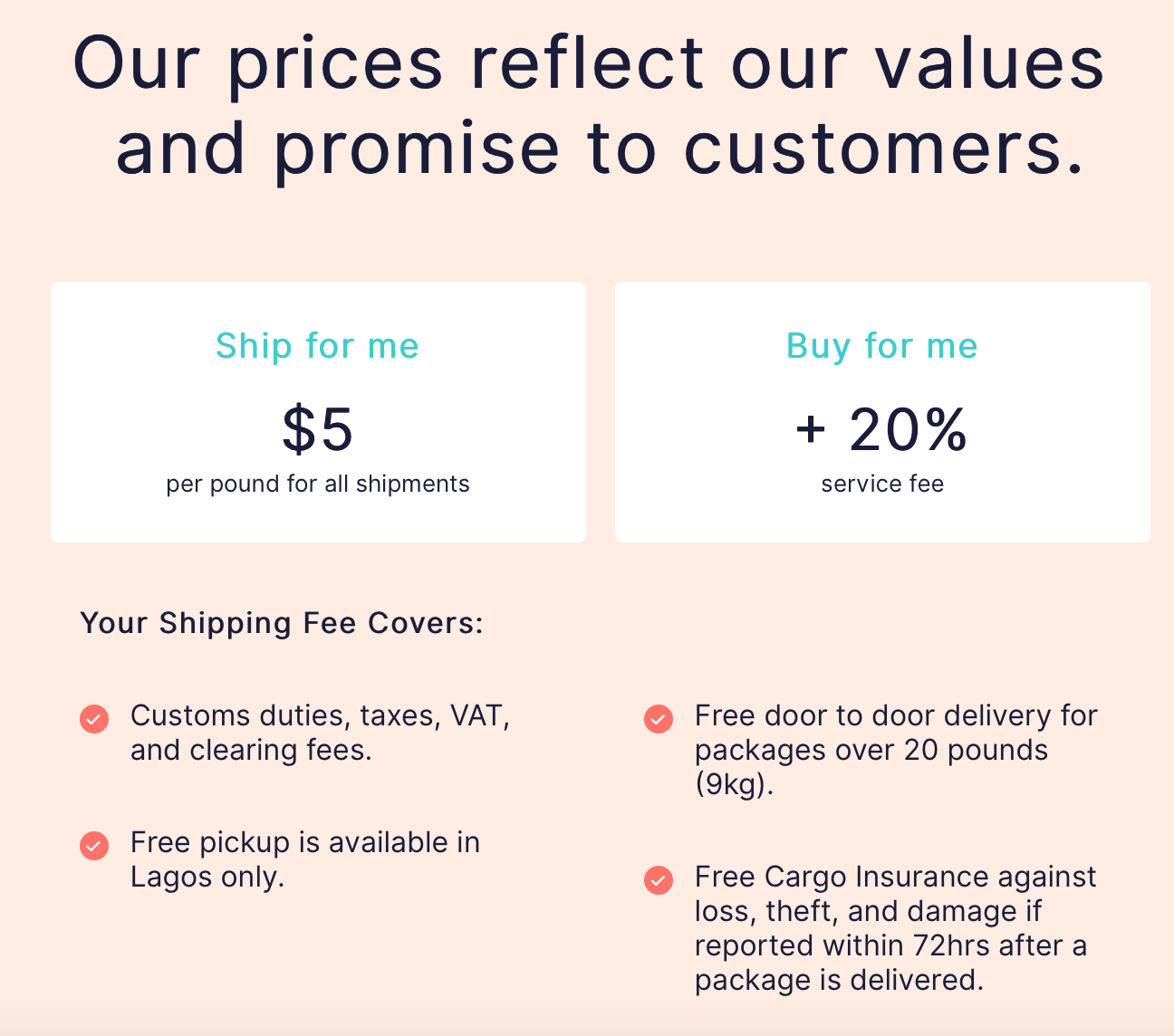 They offer a free pickup service in Lagos only. That is, you can choose to pay just $5 per pound and when your order arrives you go pick it up at their office in Ikeja. Home delivery option is available and costs $10 nationwide (Lagos included) but it's free for orders over 20 pounds.
$10 (N4,750) for delivery within Lagos is high to me sha. I personally entered bus and went to pick up my first order. It only cost me N1,000 transport fee and Lagos stress and tears plus trekking cause traffic.
I paid $10 for shipping my second order to Sokoto. They deliver via Fedex Redstar.

They offer a pretty nifty consolidation service that seems to cover up to 1 month (in my experience). That is to say you have shop from different websites and have them delivered to Heroshe US office. When all orders have arrived, you then ship out to Nigeria.
The beauty of the consolidation service lies in that you can sometimes pay less while consolidating than shipping one at time.
Example: I had 3 packages sent to Heroshe office over the period of one month at 2.4Ibs for $15(shipping), 0.7Ibs for $5 and 1.5Ibs for $10 respectively. If I ship out each package separately, I pay $30 BUT if I consolidate and ship them at the same time, I pay just $25 for 4.6Ibs.
Packages arrive at their office or your doorstep in 8 – 14 days.
CONS OF HEROSHE SHIPPING SERVICE
In my opinion Heroshe is able to offer such low shipping costs, by repackaging orders into envelopes. The problem with this is that liquid products might sometimes spill due to compression if they don't come in sturdy well sealed containers.
A little amount of my order spilled on two occasions but not enough to get me mad and asking for a refund sha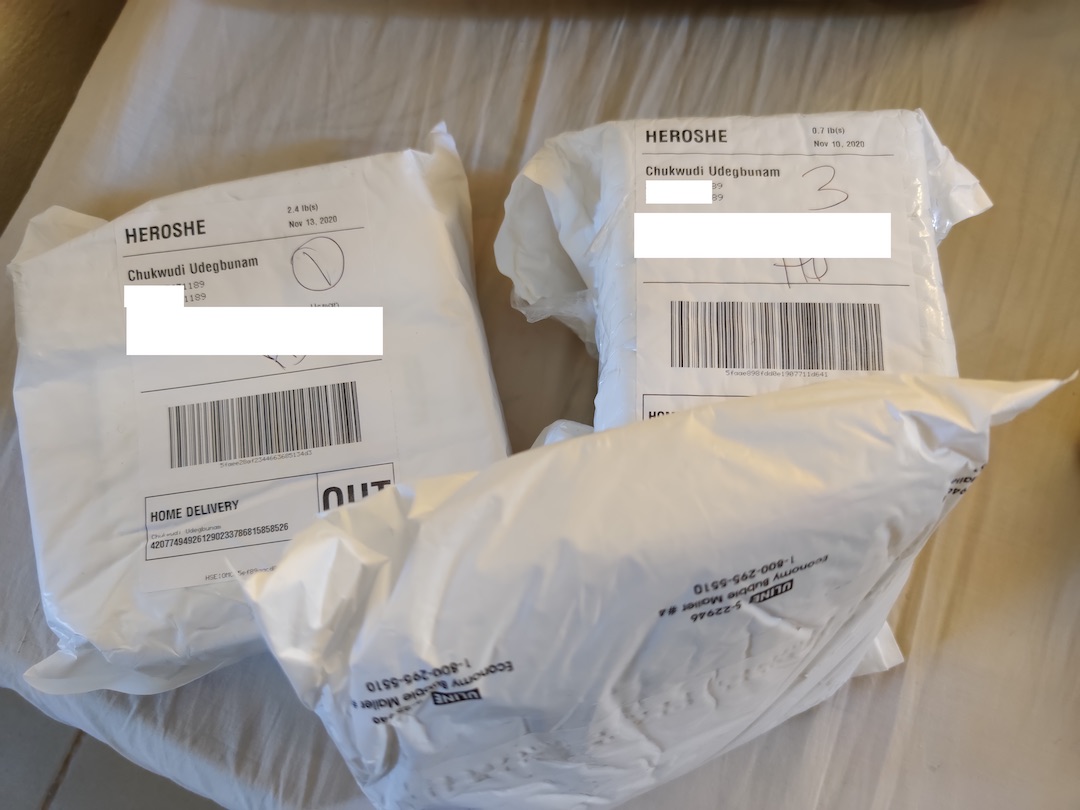 CONCLUSION
Heroshe is my current go to shipping service for ordering items from the US as I've not had an issue with them at all.
You can sign up and try their services by using this link https://www.patchworkoftips.com/go/heroshe/. Using this link guarantees you N1,000 in your heroshe wallet after you ship your first order. You can use the N1,000 against your next shipment.
Got questions? Leave them below in the comment section.
UPDATE 31st December, 2020
For those of you who don't know exactly how the service works, here's a summary. I've gotten a few complaints about not knowing how to navigate the platform.
NOTE: You need to know how to shop online to be able to use the service. If you don't know how to shop online, they can assist you for a fee.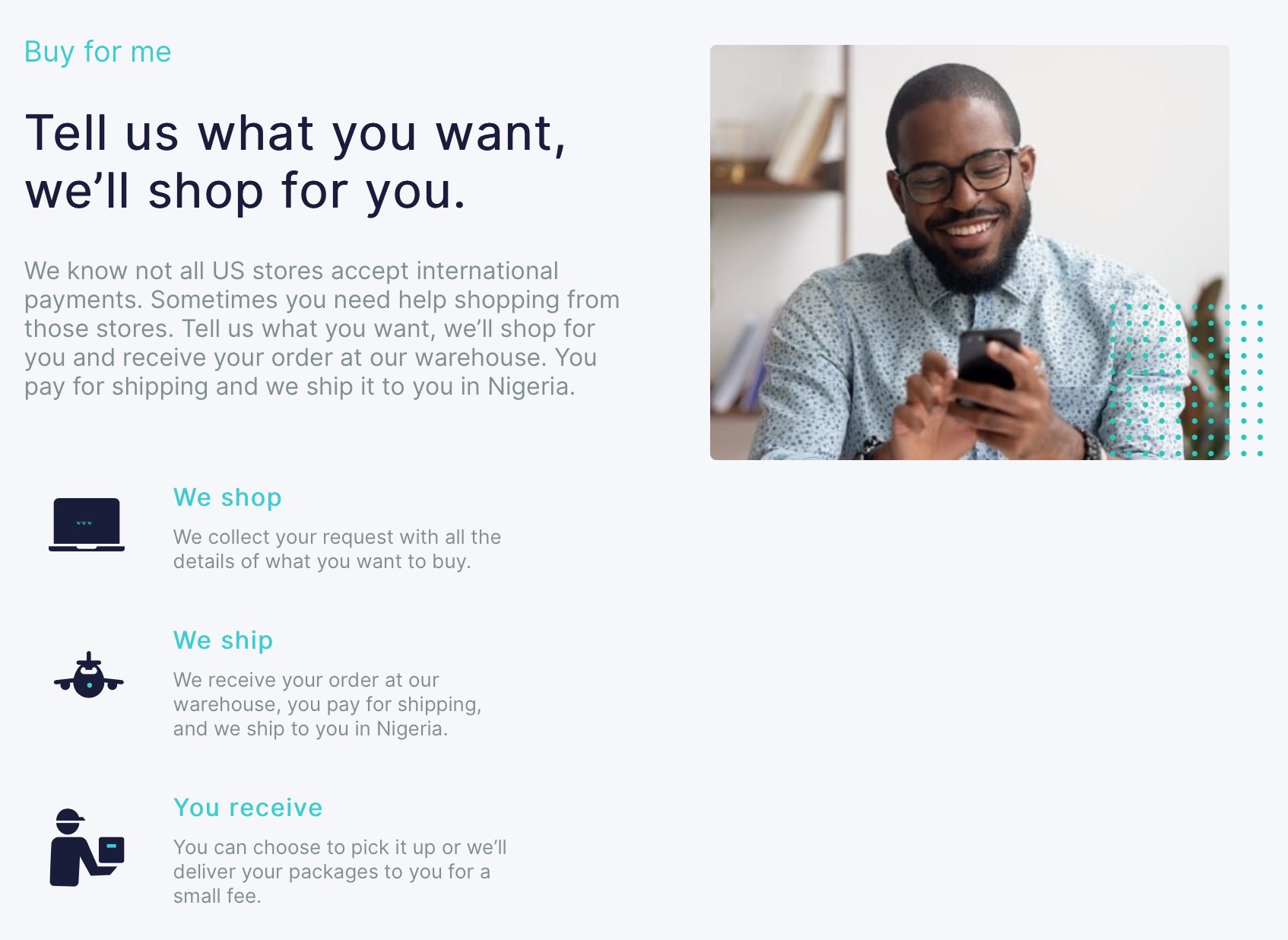 How To Use Heroshe If You Don't Know How To Shop Online
Simply sign up for the service and when you're logged in, scroll down to the Need help buying something section and click on the Submit an order request button to proceed.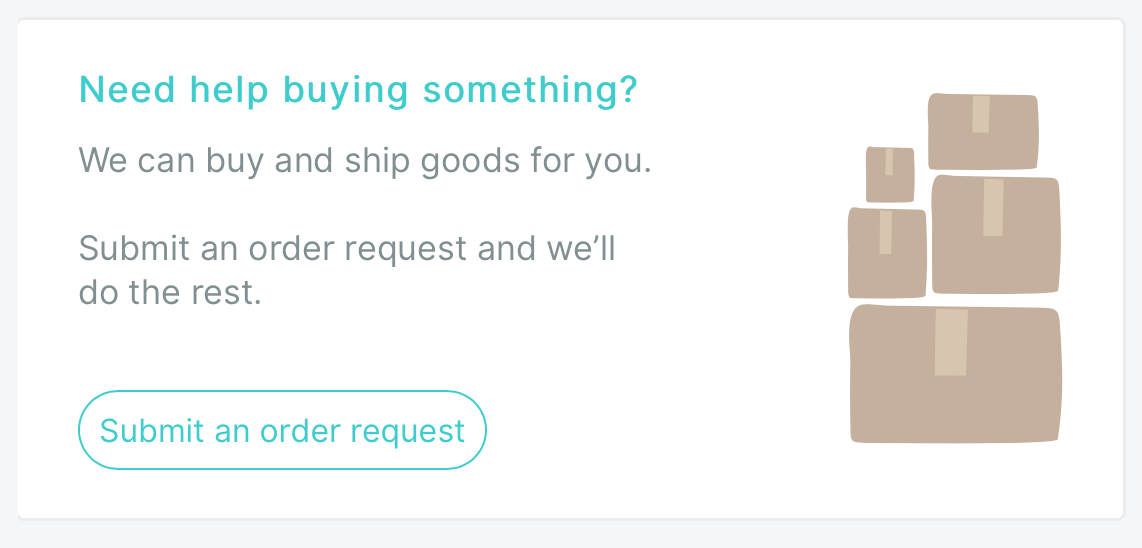 Fill in the links and details of the products you wish to buy. Don't forget to include size, color and quantity etc.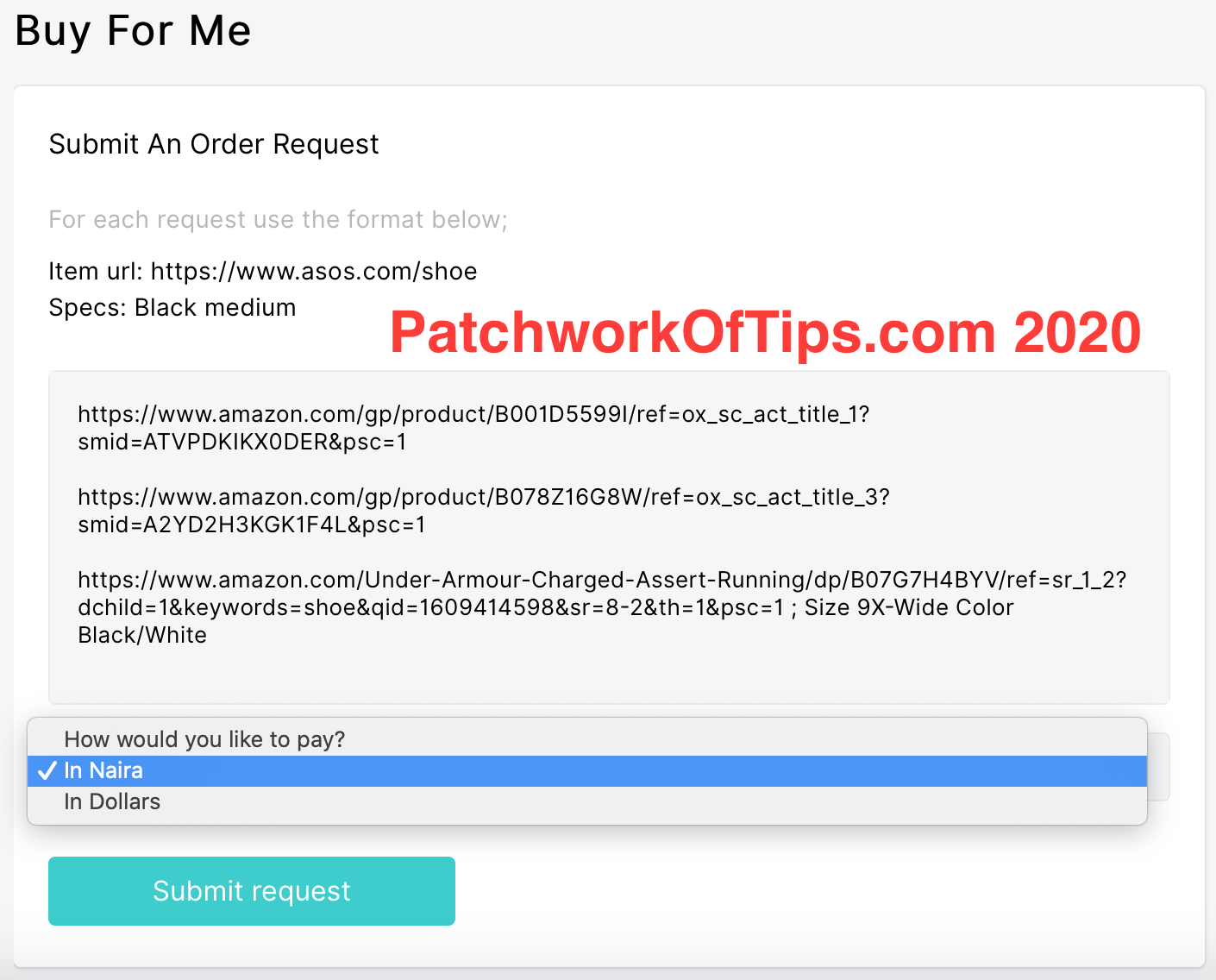 Select whether you wish to pay in Dollars or Naira then submit your request and wait for a response from them.
How To Use Heroshe If You Can Shop Online Unassisted
Sign up for Heroshe by clicking this link https://www.patchworkoftips.com/go/heroshe/.
You will be given a personalized US address that looks like the one below.
Use this address as your shipping address when shopping online. DO NOT MAKE any mistakes when entering this address to avoid misplaced items or items sent to wrong location.
When your order arrives Heroshe US Office, you will be notified in 24 hr – 72hrs depending on working hours. The email should look like this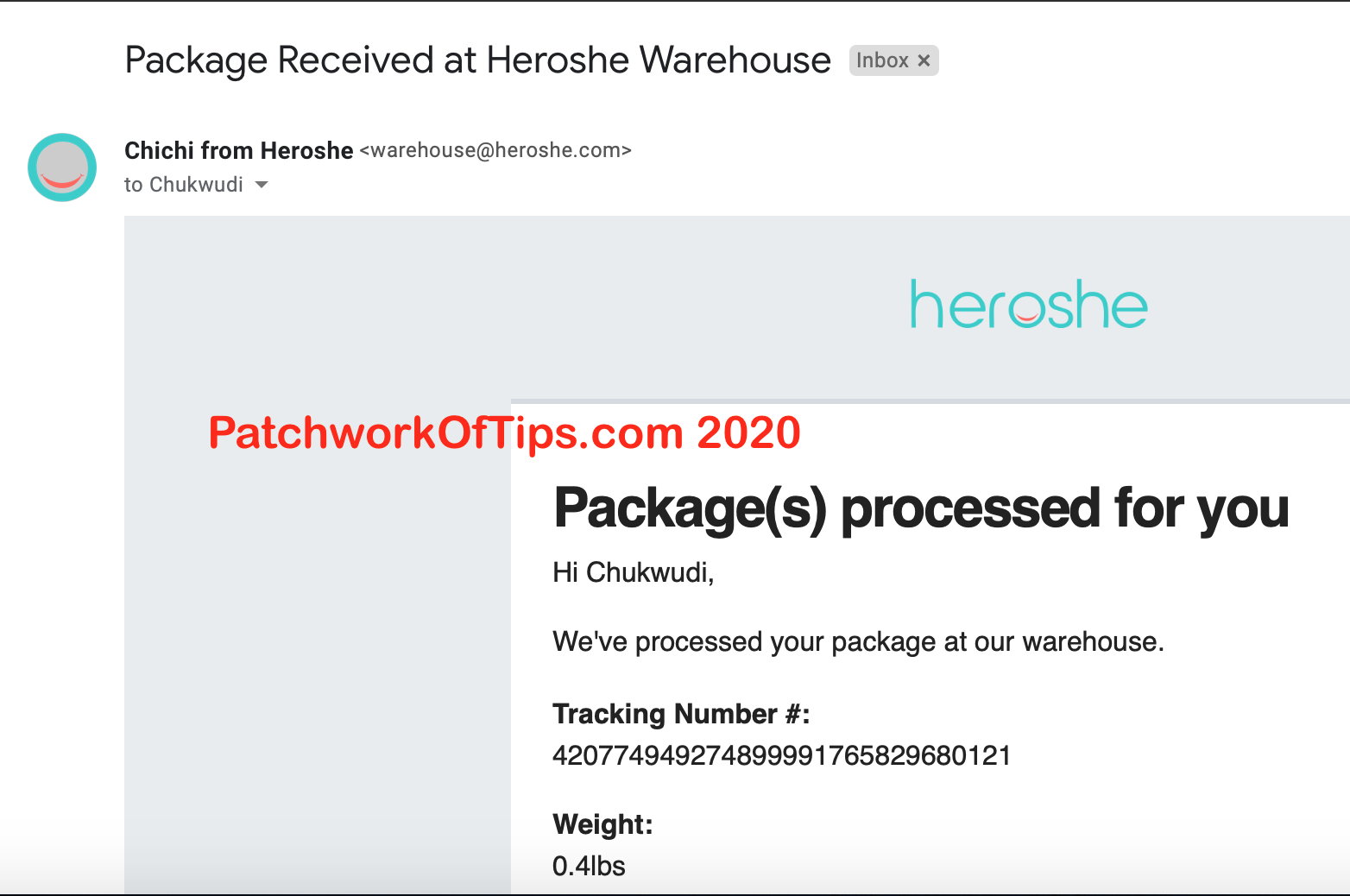 If you wish to ship to Nigeria immediately, simply click on the link in the email to make payment at once. If you're like me, just ignore the email and wait for all your orders from various shopping sites to arrive Heroshe.
Heroshe allows you to consolidate orders for free but I don't know how long they allow your items to sit in their warehouse for free. I ship out within 1 month MAX of my items being in their warehouse.
When all your orders have arrived, login to the dashboard, go to shipments, select all the orders you wish to ship to Nigeria and choose Merge Payments.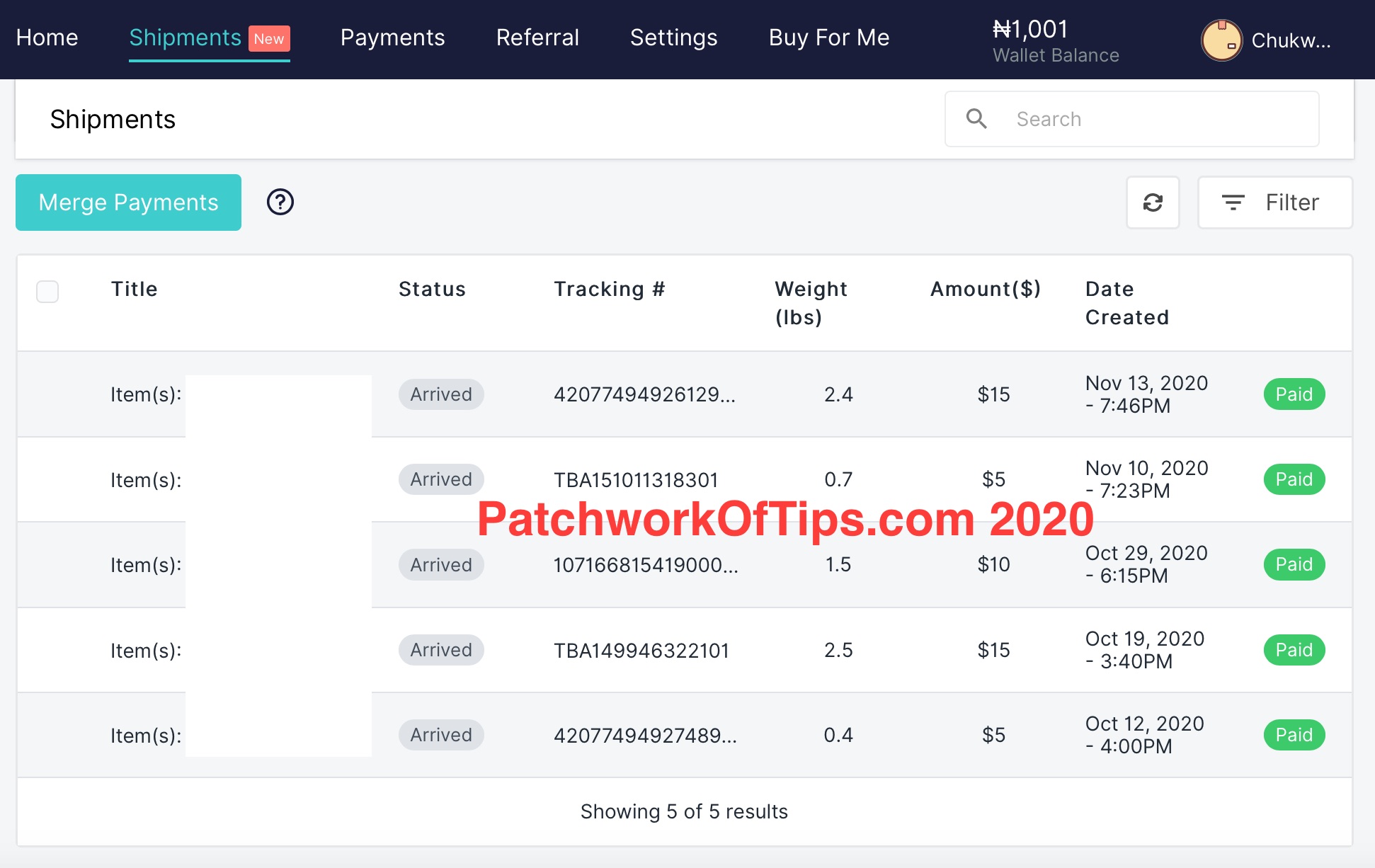 Once you've successfully made payment, you will get an email titled Your Heroshe Payment Receipt.
Orders are shipped out of the US only on Thursdays. Meaning if you make payments before Thursday, your order will be shipped on Thursday. If you make payment on or after Thursday, your order will be shipped the next Thursday.
You will get an email that looks like this when your order ships to Nigeria.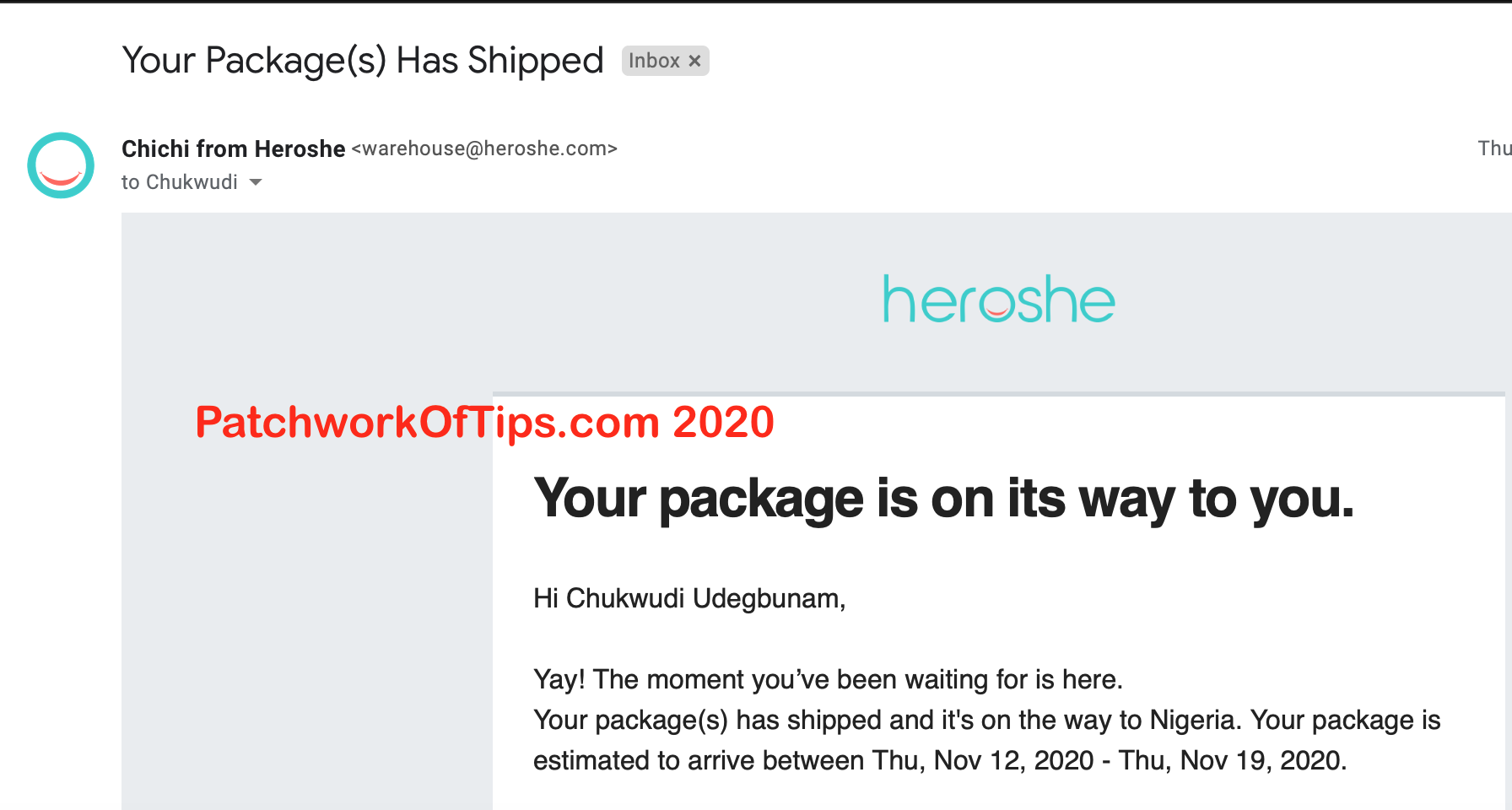 Heroshe can send you pictures of your items BUT only after they have shipped it out to Nigeria. That is, they ship your items on Thursday and you get pictures of your shipped items on Friday. I don't know why they do it this way. What if there are mistakes in the order from the shopping site?
NOTE: These pictures aren't sent automatically. You have to request for them after you've made payment.
I hope this helps you in navigating the Heroshe platform. Best wishes. May you have a pleasant experience using the service.
Click Here to Sign Up For Heroshe
Please rate & share this article to help others. Thanks
You'll also like: