I've been holding off updating my Bootcamp partition to Windows 10 'cause I was kinda scared of driver issues that could possibly make the system crash. Boot Camp 6 arrived around the 13th of August with support for Windows 10 and yesterday I finally decided to upgrade my Windows 8.1 PRO Boot Camp partition to Windows 10 PRO but Apple Software update wasn't forthcoming with Boot Camp 6.
Apparently it looks as though Boot Camp 6 is not compatible with Windows 8 on some systems. You'd need to be running Windows 10 before Apple pushes the update your way
Simply upgrade your Windows 8 installation to Windows 10. The process is quite easy. Just mount the ISO file and run setup. That's all. Read: How To Upgrade Windows 8 to Windows 10 On Parallels Desktop
Once you're done, run Apple Software Update and Boot Camp 6 Update for Windows 10 should be ready for you. The download is quite huge though at 1.2GB. Select the update and click on the install button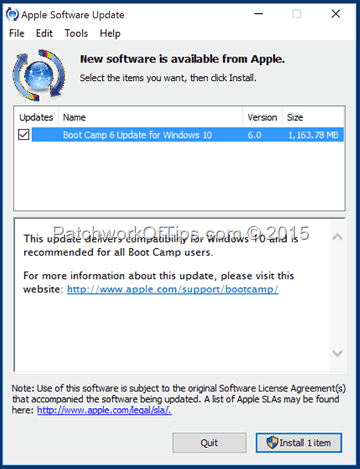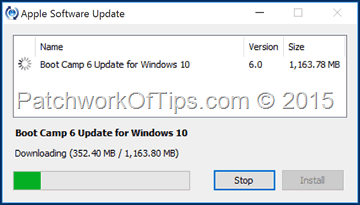 Once the download is complete, it will be automatically installed.
Reboot your computer and you're good to go

Please rate & share this article to help others. Thanks
You'll also like: