Xiaomi's MIUI 7 is still in beta phase and while it's widely expected to run on Android 5.1, it still runs on Android 4.4 on most devices out there. There is no Global Beta ROM for MIUI 7 on the Xiaomi MiPad for now but the chinese version is readily available.
I flashed the MiPad's Chinese Developer MIUI7 ROM yesterday and so far so good everything is running fine though I ran into some issues.
Issue No 1: Google Play Store stopped working. It kept crashing each time I launched it. Apparently flashing the chinese ROM to my device which was running the Global Stable ROM, wiped all Google services.
To fix it, I had to delete Google Play Store and reinstall it again via this app Google Installer. Google Installer is how Xiaomi chinese users install every necessary Google services on their devices.
UPDATE 16th October, 2015: This method is easiest: How To Easily Install Google Play Services On Xiaomi Devices
Simple install and run the app, scroll down to Google Play as circled in red below. When you click on the install button, you'll be prompted to install Google Services Framework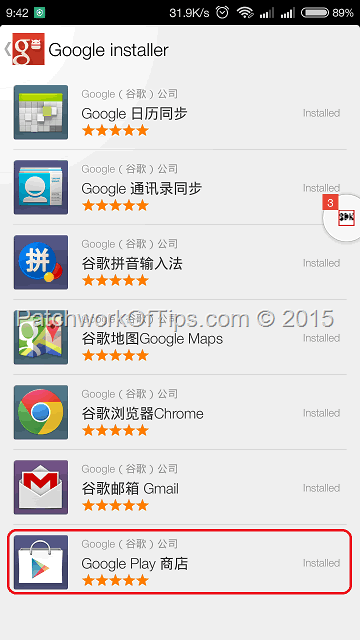 On the next page, you can install the necessary apps one by one or click the download all button circled in red at the top right hand corner. Doing so installs Google Play Store, Google Play Services, Google Services Framework and Google Account Manager.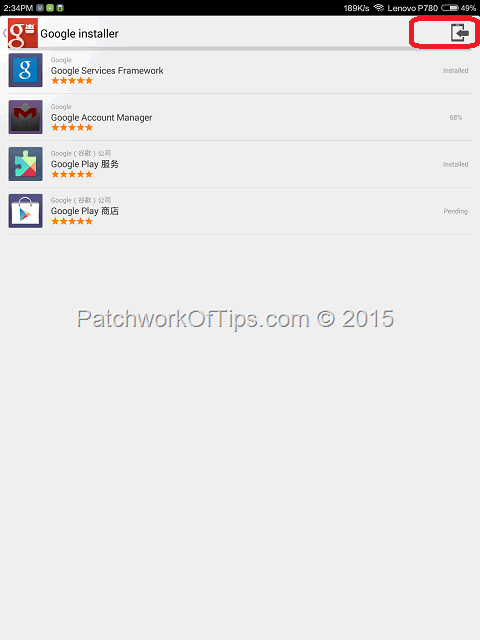 Once you've installed them all, Google Play Store should now run just fine. You'd have to setup all your Google accounts again.
Issue No 2: The chinese ROM only comes with chinese and English language packs. If you don't understand English well, DO NOT install. After installing this ROM, I learned the salient differences between Xiaomi's Chinese and Global ROMs.
Global ROMs ship with various language packs for different countries while the Chinese ROM ships with English and Chinese only
Google Services are not included in Chinese ROMs. You have to install them all via Google Installer.
Chinese ROMs especially the developer get updated a lot more frequently then Global ROMs
Chinese ROMs ship with chinese bloatware which in some cases cannot be uninstalled/disabled.
Personally I've decided to stick with the chinese ROMs.
How To Upgrade Xiaomi MiPad To MIUI 7 Developer Beta ROM
I WASN'T ABLE TO DO SCREENSHOTS SO PROCEED CAUTIOUSLY PLEASE. DO NOT FORGET TO BACKUP YOUR DEVICE FIRST.
Download the Chinese  Developer ROM from Xiaomi MiPad Updates, rename the downloaded file to update.zip and copy it to the root of the internal storage space. DO NOT PLACE IT IN A FOLDER. LEAVE IT AS IT IS IN THE ROOT OF THE INTERNAL STORAGE.
Shut down the MiPad.
Press and hold down the Volume + and Power button at the same time until the MI logo shows then release.
The device should boot into recovery mode. Using the volume + and – buttons, select your language of choice and use the Power button to confirm your selections.
Select Install update.zip to System One and select Yes when asked to confirm install update.zip.
Once the update is complete, select Reboot >> Reboot to System One (Latest) and your device will reboot to the new MIUI version
That's all. Enjoy.
Please rate & share this article to help others. Thanks
You'll also like: