Since I joined the fitfam train, I've gone through various fitness gadgets such as the FitBit One, Xiaomi Mi Band and Mi Band Pulse (1S) and most recently the TomTom Spark Cardio Music. The upgrade to the TomTom Spark came about mainly out of frustration with the faulty GPS tracking on my phones (Infinix Zero 3 and Oukitel K6000 Pro). They kept losing GPS signals during workouts thereby leading to unreliable data. Some say Android Marshmallow is to blame but I'll not be able to verify that now as I can't bear the burden on lugging around my phone while exercising (which is another reason why I went for the Music version of the TomTom Spark).
Acquired on sale for $175, I would say it's a good buy compared to other fitness gadgets I've used in the past but it has some major flaws which shouldn't be so at its market price.
The TomTom Spark Cardio Music features include GPS Tracking, 24/7 Activity Tracking, Built-in Heart-Rate Monitor, Audio Performance Feedback, Multisport Mode, Heart-Rate Training Zones, Water Resistance, Automatic Sleep Tracking, Goal Settings and 3GB of Music Storage/Playback.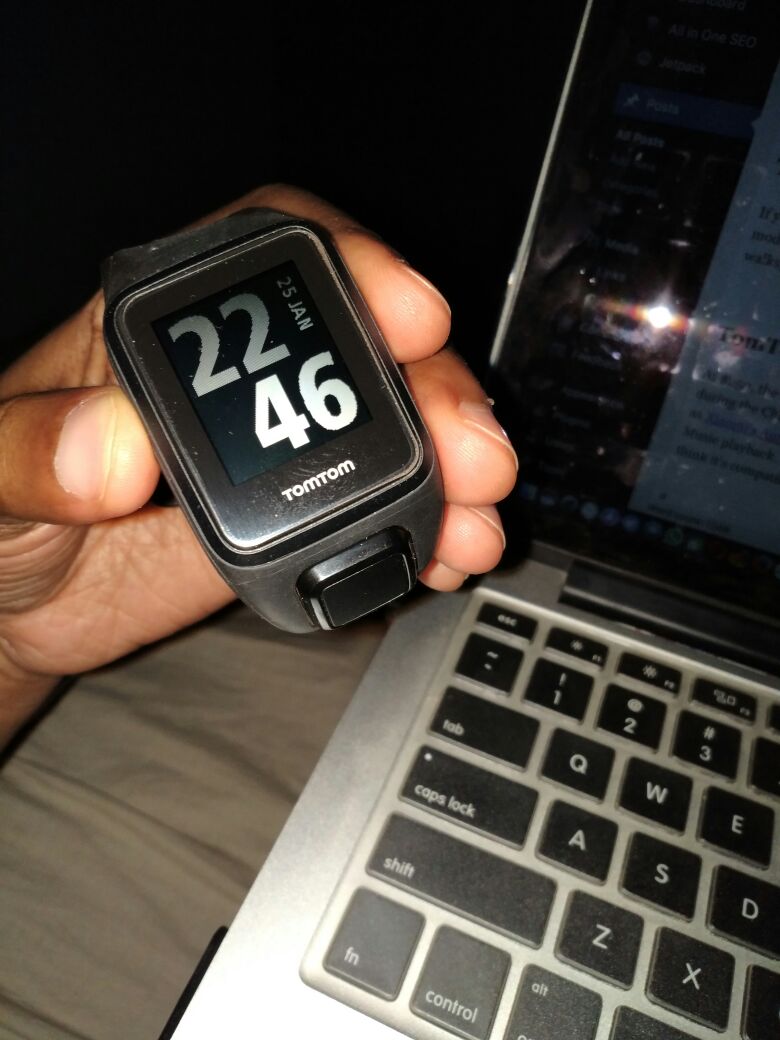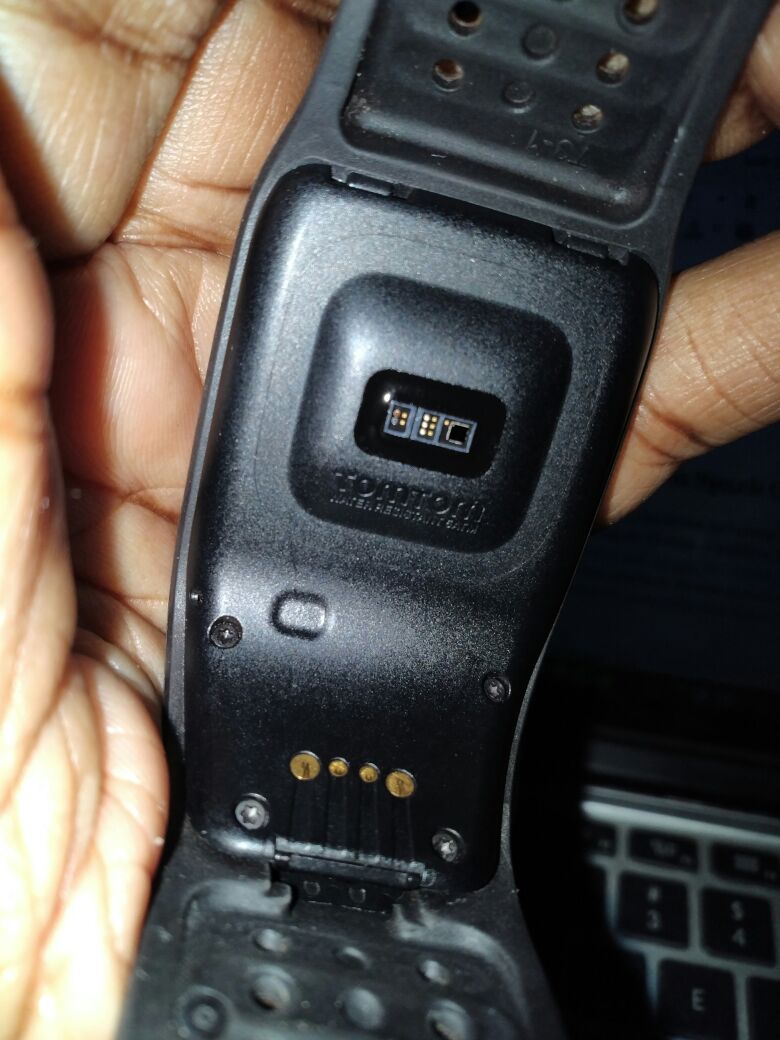 If you're looking for a reliable thorough review of this device, please watch TomTom Spark Cardio + Music REVIEW. I had it on repeat for a few days before I made my purchase.
I've been using the device close to 2 months now and the experience has been so-so majorly due to the battery life and lack of walk mode. Here are my 10 reasons why you might want to avoid getting the TomTom Spark Cardio Music.
TomTom Spark Cardio Music Battery life Sucks Big Time
TomTom officially rates the battery life as 3 weeks of Activity tracking OR 11hours of GPS OR 5hrs of GPS + Heart Rate + Music. In my usage, I can only work out with it in GPS, HR & Music mode for 2 and half hours before the battery drops to the minimum. I even charged it one night and left it for a week sitting on my desk and the battery lost over 80% of its charge without doing anything.
TomTom Spark Cardio Music HR monitor Is Kinda Useless
The heart rate monitor's tracking results aren't used in the calculation of calorie burned for some activities such as Running, cycling, swimming, treadmill or indoor cycling. The device apparently bases its calorie calculations during these activities on metabolic equivalent of task tables (MET or simply metabolic equivalent). Why pay so much for such a device when there are trackers in the market that cost way less and use the same MET tables. Even some fitness apps like 5K Runner make use of MET tables.
The heart rate monitor in my opinion is only helpful when you want track your heart rate zones during workouts.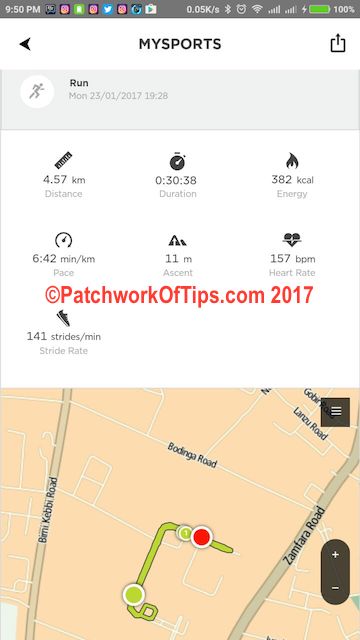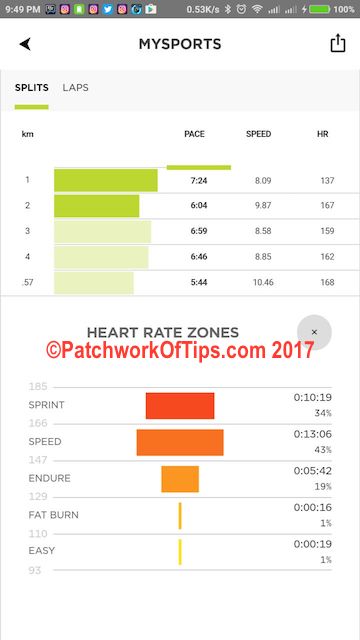 Finally there were a few times when the heart rate monitor went berserk, i.e it was recording 50 beats per minute while working out intensely and I'm no athlete. Even after cleaning the sensor, it stayed misbehaving.
TomTom Spark Cardio Music GPS Tracking Can Be Buggy
The TomTom Spark makes use of some technology called QuickGPS to enable you get and lock down a GPS connection really quick but it sometimes doesn't work as you can find yourself staring at the damn watch for like 3 to 5 minutes before it picks a GPS connection (Don't know whether to blame that on the weather but the weather is always clear when I workout).
I tend to run the same route everyday and on a few occasions the GPS tracking has been completely off either adding more kilometers to my mileage or removing some kilometers. Even the map is off on these few occasions.
TomTom Spark Cardio Music Isn't Music Friendly
The watch doesn't allow you to just drag and drop your music then play them. It requires you to set up a workout playlist on iTunes or Windows Media Player which you then sync to your device using the TomTom MySports Connect App. No playlist, no music for you.
The device is quite picky when it comes to bluetooth headphones and it seems to only officially support pricey ones. My LG Tone HBS-730 works fine with it BUT unfortunately it can't control the volume of the music well. I end up running with just one ear in as the music is too loud and gets in the way of me hearing traffic etc as well as giving me a slight headache from time to time.
There has been various requests for TomTom to release an on device volume control in subsequent OS updates but it's like they really can't be bothered with that as they have headphones to sell.
UPDATE 31st February 2017: I've been able to solve this problem by getting testing the cheap Xiaomi Mi Sports Bluetooth Headset. Apparently to get volume control your headset must be running Bluetooth 4.1 and above. The audio quality isn't that great but it's good for the price range. If you've got the money you could just shop Amazon for more expensive headsets. Just make sure they are running Bluetooth 4.1 and above. I'm not sure if Bluetooth 4.0 works too as the Mi Sports runs 4.1.
TomTom Spark Cardio Music Sync Is Annoying
Especially after an OS update, you have to pair the device to your phone all over again and that takes a couple of trials before it starts working normally again. For those of you on Android Marshmallow, you need to have GPS turned on as well before the watch will connect to your phone.
The watch can only sync to your phone. There's no support for Watch -> PC/MAC sync when using the provided charging and data transfer cable. You can only sync your run data via a phone.
TomTom Spark Cardio Music Is Prone To Scratches
The LCD has no gorilla glass protection so it's in your best interest to get a screen protector for it. By the way, the screen isn't a touchscreen. You control the device using a trackpad by the side. Very primitive something, but you get used to it after some days.
TomTom Spark Cardio Music Has No Walk Mode
If you're more a walker than a runner like me, the TomTom Spark is not for you as it doesn't have a dedicated walk mode. Some say you can use the Freestyle Mode to walk but I don't trust it. If you plan on doing mostly walks, just get yourself a cheap tracker like Xiaomi's MiBand or a FitBit.
TomTom Spark Cardio Music Is Expensive
At $250, the device isn't cheap at all. I was lucky to get mine for $175 and some were even luckier at $150 during the Christmas holidays. If you're on a budget you might want to check out other alternatives such as Xiaomi's Amazfit PACE GPS Running Smartwatch which also comes with GPS, HR monitor and Music playback. Be sure to read the reviews and watch some on YouTube before purchasing it. I don't think it's compatible with iOS at the moment.
TomTom Spark Cardio Music Charging Point Is Tricky
You need to be very careful when connecting and disconnecting the charging cable to the device as it can be quite tricky and stiff. The accessories for this device don't come cheap so I find myself shaking in fear each time I force plug in the charger.
After a while though you'll get the hang of it.
Quick Tip: Quite a number of users have complained that the strap breaks easily and the consensus is that this happens when you pull out the watch from the strap frequently so what I do is charge the device with the strap on. I only pull the watch out of the strap when I need to give it a thorough cleaning.
What I Like About The TomTom Spark Cardio Music
Though it seems like I loath the device, the one feature that makes me love it is the Interval Training Mode which helps me run and walk at the same time as they say this mode of cardio burns way more calories in less time than just running or walking alone.
If you're planning on buying the TomTom Spark Cardio Music and you've got more questions, feel free to leave a comment below.
Please rate & share this article to help others. Thanks
You'll also like: