It's being 3 weeks since I took delivery of the Oukitel K6000 Pro. The useless 5MP front facing camera and loudspeaker volume issues aside, the experience has been wonderful. I got it for $150 (insurance included) from Everbuying and it's still on sale for interested parties.
The main specs as follows.
5.5inch 1920 x 1080 pixels, 2.5D Arc capacitive touchscreen with Dragontrail 2 glass protection.
CPU: 64bit MTK6753 Octa Core, 1.3GHz
GPU: Mali-T720
Android 6.0 OS , 3 GB RAM + 32 GB ROM (26GB available to user)
Dual SIM card dual standby
Dual Cameras, 5MP front camera, 13MP back camera with dual LED flashlight and auto focus
Support FDD LTE/4G/3G/GPS/Wifi/Bluetooth
Networking:2G: GSM 850/900/1800/1900MHz, 3GWCDMA 900/2100MHz, 4G: FDD LTE: 800/1800/2100/2600MHz
Fingerprint sensor
6000mAh non-removable SCUD Li-Po battery with MTK Pump Express Flash Charging
The package is pretty simple and we some very good information here on how well it will perform for games. You get the phone, user manual, warranty certificate, usb cable, 5V/7V/9V – 2A wall adapter, OTG cable, free silicone case, screen protector, SIM slot pin. No ear phones included.
Click to enlarge images
Pros Of The Oukitel K6000 Pro
Over-The-Air Updates: One major complaints from Oukitel users is the lack of functional OTA software update deliveries. I had already made up my mind that this would be the case of the K6000 Pro too but I was pleasantly surprised when I checked and got an update notification on turning on the device for the first time.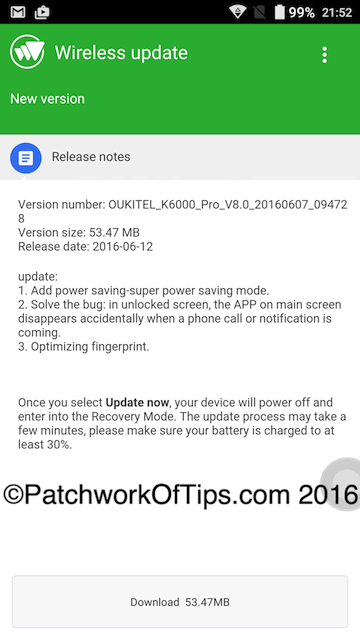 Nice 13 MP Back Camera Output: Interpolated to 16MP and coming with an F/2.0 aperture, the camera does deliver some clear shots.
Click to enlarge images
Excellent Battery Life: Just like the Oukitel K4000 Pro, the K6000 Pro doesn't disappoint in the battery department.The K6000 Pro offers double the battery life of the Infinix Zero 3. Playing videos with earphones, in airplane mode and with brightness at 50 % consumed 90% of the battery in 14 hours.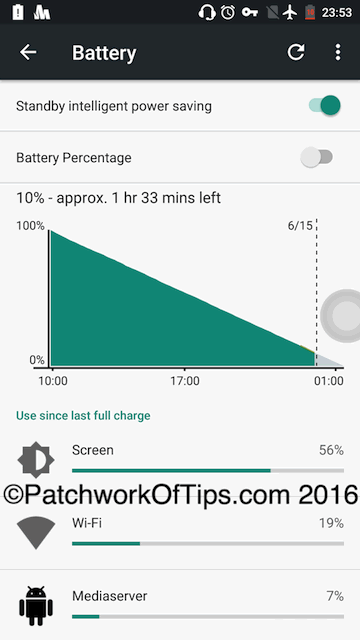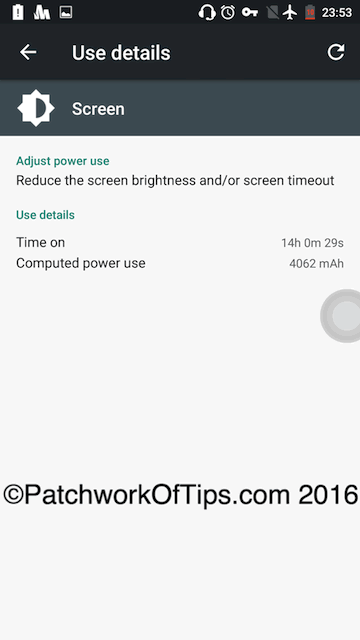 Regular social media chatting, web browsing, calls and SMS, emails and other regular day to day mobile usage activities with brightness set to the lowest depleted 76% of the battery for a screen on time of almost 8 hours with 3G Only data turned on. The device should be able to hold for almost 9 hours before hitting 10%. This result may be better for you though as the mobile network data service wasn't so good during testing.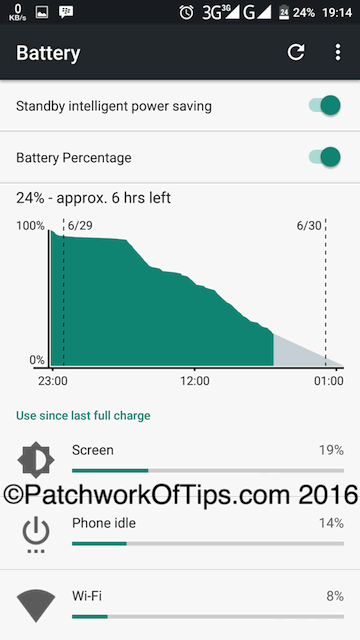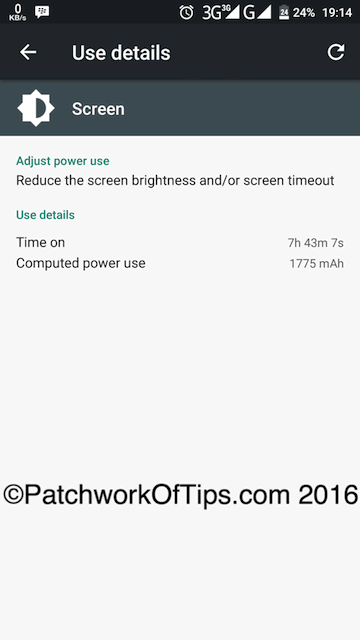 Same scenario above but played out on a stable Wi-Fi connection, delivered a screen on time of almost 12 hours.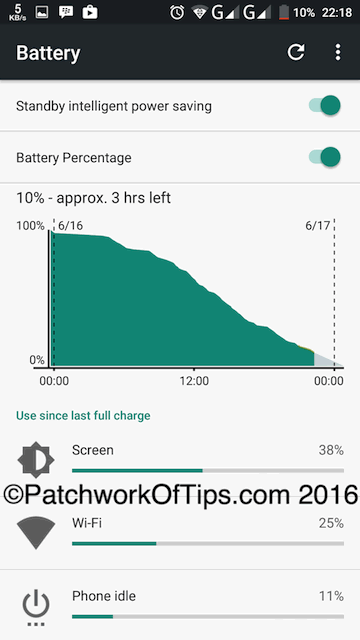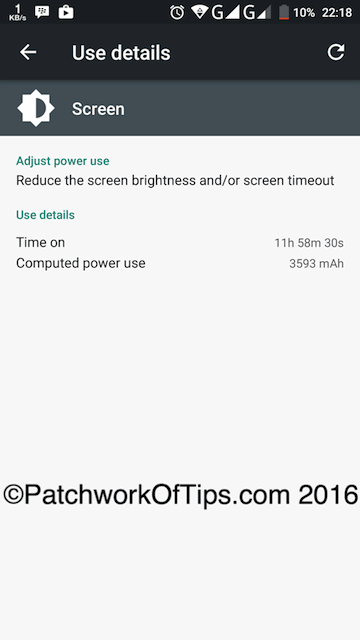 UPDATE 20th July, 2016: You can increase the battery life by 2 hours by installing Greenify Beta. Check out How To Increase Battery Life (SOT) On Android Marshmallow by 2 Hours
Stunning FHD Display: The display is quite bright with sunlight legibility being a little bit better than I experienced on the Infinix Zero 3. At the lowest brightness setting, the display is still quite legible for indoor use and that helps save battery. Unfortunately Adaptive Brightness is quite buggy at the moment so I basically have to manually tweak the brightness settings each time I step outdoors.
Stable Performance: Just like on the K4000 Pro, performance on this device is easy breezy and way better than on the Infinix Zero 3. Lags are very rare and apps tend to stay in RAM for long before being shut down. The device runs on vanilla Android Marshmallow 6.0 with just a few tweaks like the launcher and gesture controls such as tap to wake and lock amongst others.
Multitasking is quite limber too. I ran a quick gaming test with Asphalt 8 Airborne and I have to admit the device struggled a bit in high definition mode. I had to take it down to mid levels for optimal play.
The fingerprint sensor works pretty fast though I feel it's not located in an accurate spot for accurate access. My fingers sometimes misses it.
Flash Battery Charging: The hardware is quipped with MediaTek's Pump Express charging technology. This coupled with the 5V/7V/9V – 2A wall charger ensures that your device is fully charged in 3 hours (switched off). This flash charger isn't readily available in the market so endeavor to use and maintain it well less you end up with a 5V – 2A replacement charger and say 5 – 6 hours charging time.
Ultra Battery Saving Mode: This was added in the last OTA update and enables you stretch out the battery life further by only activating Calls and SMS only.
OTG Reverse Charging and Data Access: I was able to access my 32GB and 64GB USB flash drives using the included OTG cable. The Oukitel K6000 Pro supports reverse charging which means it can be used to charge other devices. I haven't been able to test this yet as the devices I tried it with support reverse charging too and as such were charging the K6000 Pro instead of the other way around.
I'll try it on another device which doesn't support reverse charging and update this review later. I'm really interested in seeing how that OTG key works.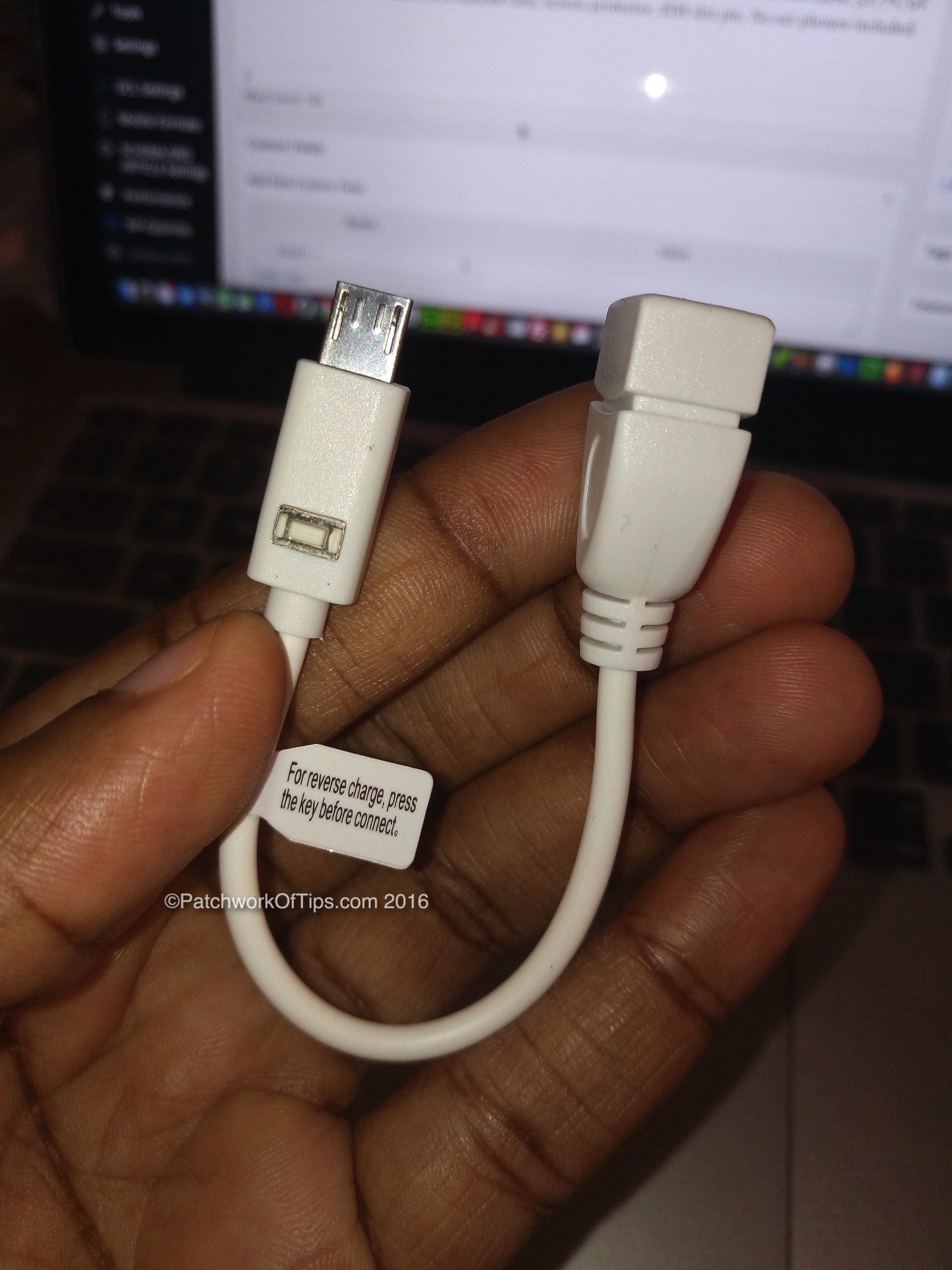 UPDATE 20th July, 2016: So I finally tested the OTG cable with my LG bluetooth earphones and it works. You simply connect your device to the phone using the OTG cable, press the button and charging begins immediately.
Not to worry, I tested it with a regular OTG cable and it worked just fine.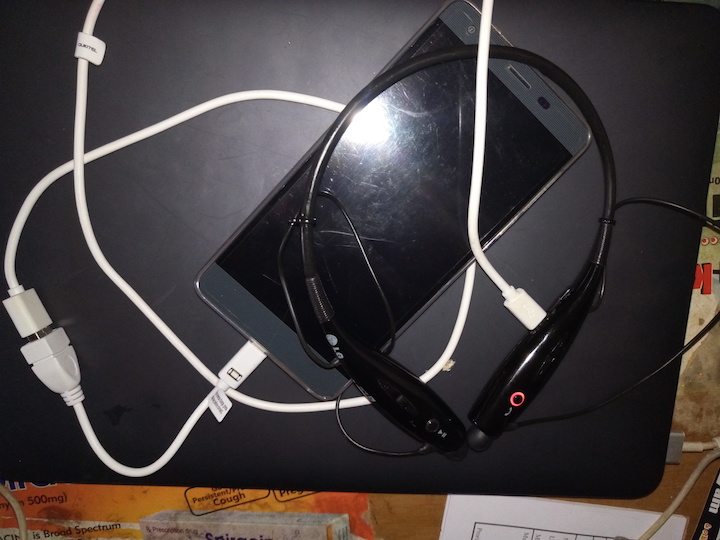 Cons Of The Oukitel K6000 Pro
Front Facing Camera: This is the most annoying thing about the phone. It simply SUCKS and as such I won't be posting samples.
Bizarre Sound Output: The speakers suck when playing music and answering calls but not when watching YouTube videos. I tried tweaking the volume settings via MTK Engineering Mode but that made things worse as it started sounding like one of those annoying chinese phones with ridiculously loud ringtones.
No LED Notification and No Backlit Navigation Buttons: This seems to be regular with their devices for now. Hopefully this changes in the nearest future.
No Dedicated SD Card Slot: If you need to use an SD card, you'll have to sacrifice SIM Slot 2. Personally I have decided to stop using SD cards as a security measure thus I'll only be buying devices with at least 26 GB of end-user internal storage. I haven't felt the urge to insert an SD card since I started using the device.
No Call/SMS Spam Protection: Google decided to restrict these features to only Nexus and Android One phones running Android Marshmallow. Worthy alternatives are TrueCaller, TrueMessenger and Contacts+ apps.
Conclusion
Oukitel's K6000 Pro is one device I might just hold on to long term if Oukitel fixes the camera output. As it is I'm already eyeing the upcoming Oukitel U13 Pro which promises a 5.5 inch FHD display with 3GB RAM, 64GB ROM, 13MP front camera, 16MP back camera, Fingerprint Sensor and Infrared sensor. No word on the battery capacity and processor yet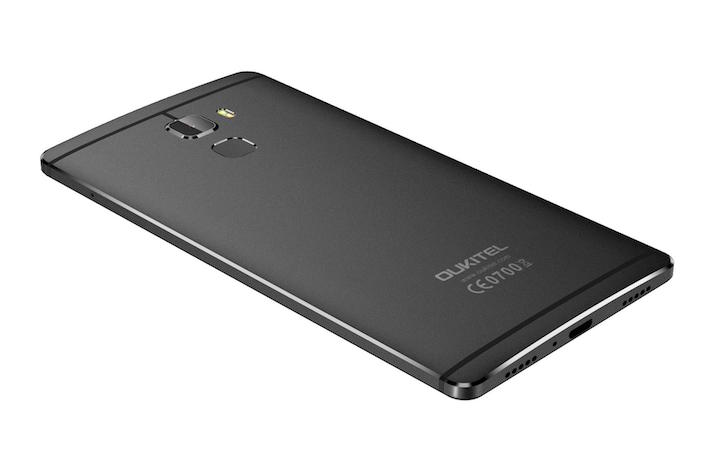 If you've got any questions about the Oukitel K6000 Pro, don't hesistate to leave a comment and I'll get back to you asap.
Have a great weekend ahead.
Please rate & share this article to help others. Thanks
You'll also like: