The YouTube for Android app (and I'm guessing that of iOS too) has really come a long way. One doesn't really need apps like TubeMate and Vidmate for downloading and watching YouTube clips without an internet connection. Like most video streaming services out there, YouTube has activated an offline option which makes it so easy to download videos and not just videos but playlists too.
The unfortunate thing is that it's so convenient now that I spend way too much time on YouTube with some wondering how I can sustain such a habit data wise. lol
Anyway let's get right to it.
NOTE: YouTube Add to Offline service is only available in some countries like Nigeria. See country availability listing here.
How To Download YouTube Videos
Simply make sure you're running the latest YouTube app, open a video, click on the download button as shown in the image below and you'll be asked to select a video quality of your choice after which the download begins.
If the download button is crossed out as shown in the second image, the video cannot be downloaded.
NOTE: That's right people. Not all videos can be taken offline especially music videos. You'd probably need a YouTube Red subscription for such videos (YouTube Red isn't available in Naija yet sha).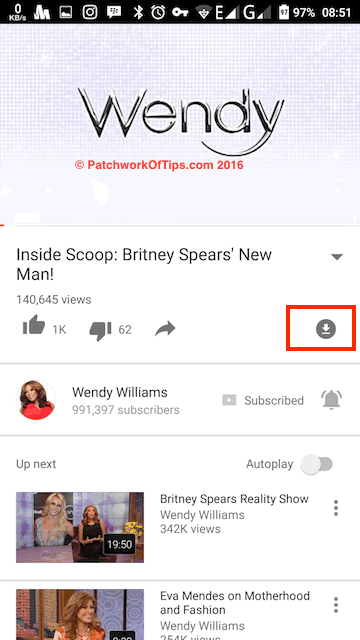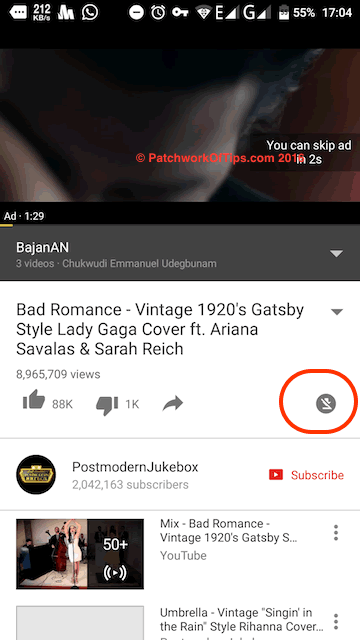 To access your offline videos, simply switch to the Account tab as shown below. By default, if you're not connected to the internet, once you launch the Youtube app, it goes straight to Offline videos tab.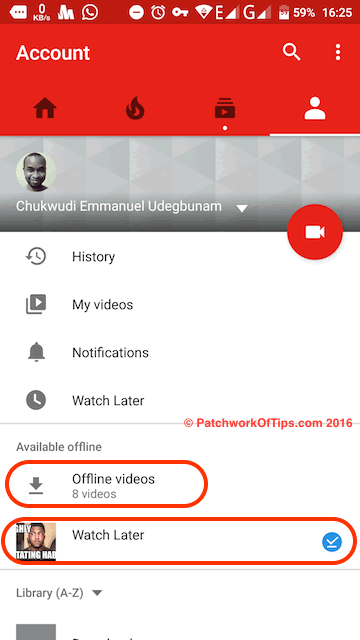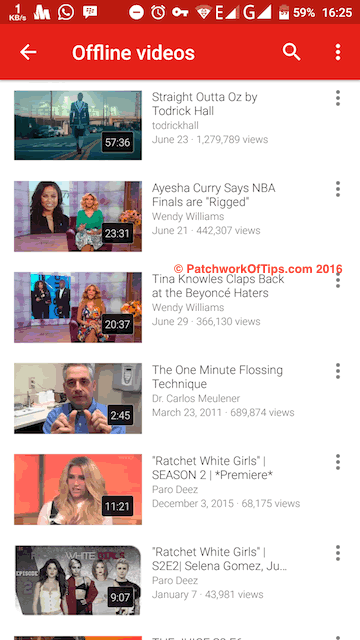 How To Download YouTube Video Playlists
When I'm really too busy to watch a YouTube video, I simply click on the Watch Later button or add them to Playlists for when I'm ready to download them.
To download Playlists or Watch Later videos, simply go the Account tab of the YouTube app, open Watch Later and click the download button at the top.
All the videos in your playlist will automatically start downloading in the background and afterwards can be accessed under Available Offline section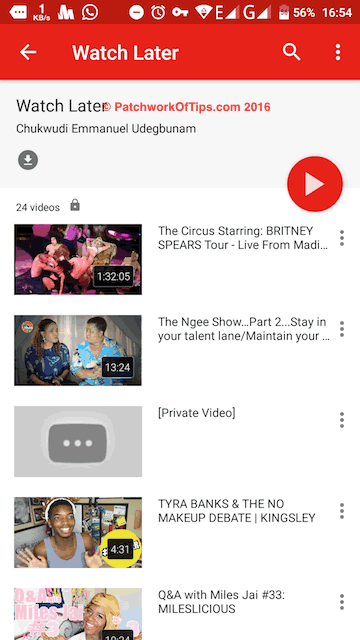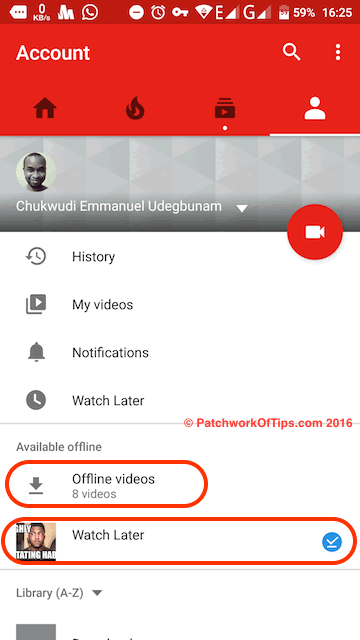 How To Save Time and Data Downloading YouTube Videos Offline
YouTube gives you the option to download Low, Medium and HD quality videos each time you click the download button. To automate the process, you can set a fixed video quality for all your downloads.
I personally set it to 144p which I'm quite comfortable with.
Simply go to Settings >> Offline >> Video Quality then choose your desired resolution for all future YouTube video and playlist downloads.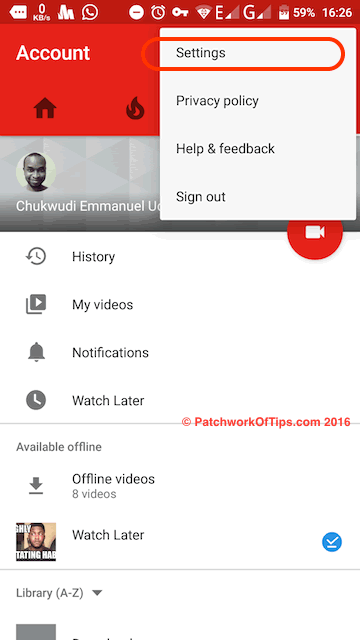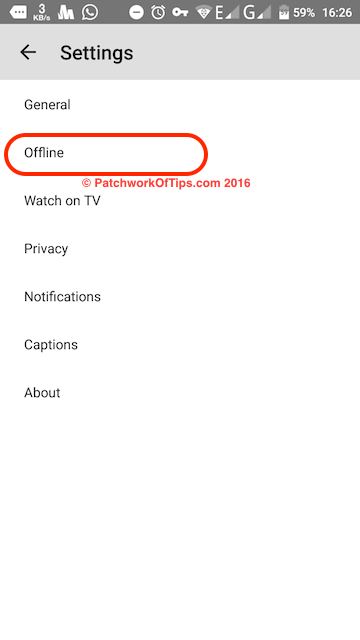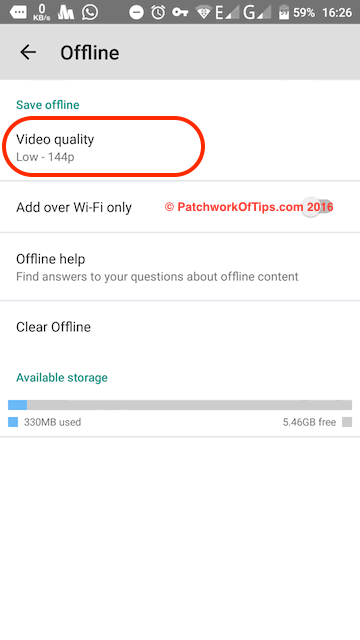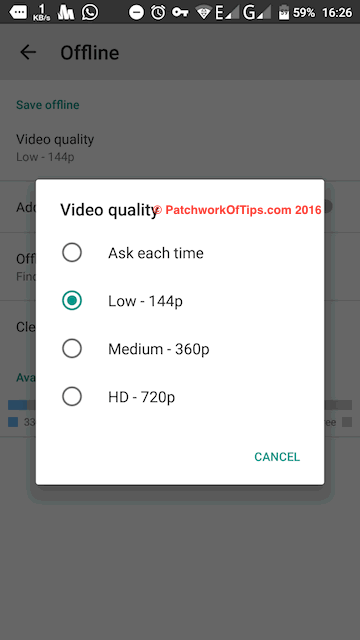 How To Delete Offline YouTube Videos
Simply go to Settings >> Offline and hit  Clear Offline. This will wipe every single video you've downloaded for that YouTube account.
To delete videos one by one, one way to do it is by clicking the blue icon and selecting remove from offline videos as shown below.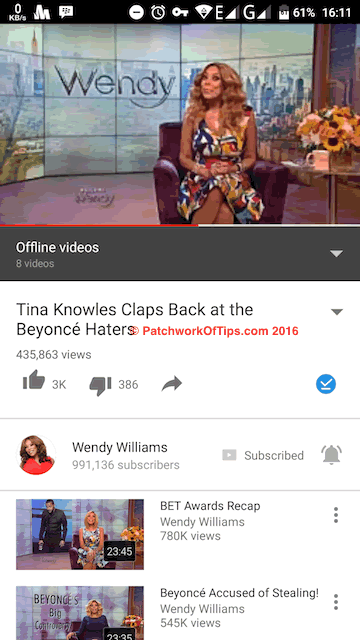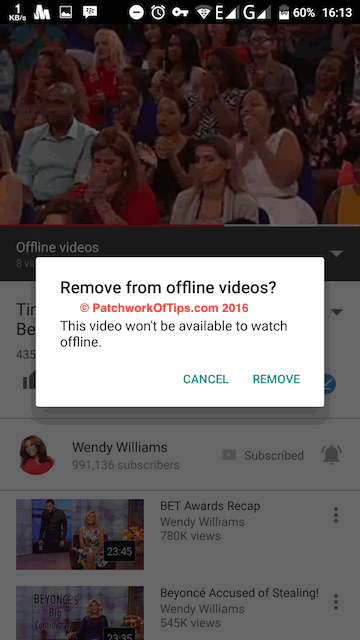 Another way is to go your Offline videos list, click on the three dots beside the video listing and select Remove from offline videos.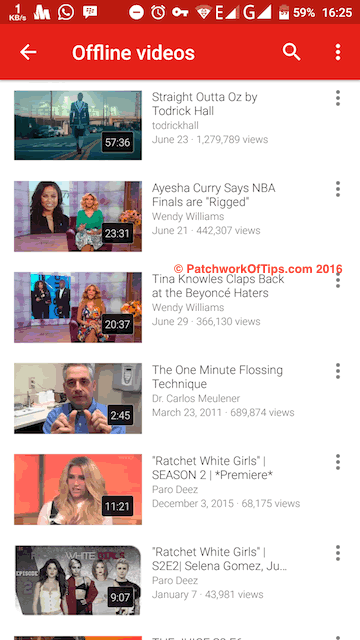 One more thing I love about the new YouTube for Android app is the ability to switch accounts and retain your offline videos between switches. It really helps as I have multiple google accounts and don't keep track of which one I'm logged into when saving a video for future viewing.
Offline videos are stored in your phone's default storage location so if you want the YouTube app to store offline videos on your SD card, you have to set your device's default storage settings to SD card.
Con of the YouTube Add to Offline Service
Finally you can play your videos offline for 48 hrs only. According to their official page, "Videos can be played offline for up to 48 hours. After that, you'll need to reconnect your device to a mobile or Wi-Fi network every 48 hours to allow the app to check for changes to the video or its availability. If a video is no longer available for offline playback, it will be removed from your device during the next sync."
What this means is that after 48hrs, some token attached to the video expires and has to be renewed again by connecting to the internet after which you can continue playing offline again for another 48hrs. YouTube DOES NOT automatically delete the video from your device UNLESS the status of the video changes i.e It is marked private, deleted or made unavailable for offline viewing.
Happy Youtube Offline viewing! :D
Please rate & share this article to help others. Thanks
You'll also like: