Internet data plans in Nigeria have gotten cheaper but with that comes an increased demand for HD downloads which frankly speaking zaps quite a chunk of data. Are you a heavy downloader of HD movies, music, apps, softwares etc? Are you a YouTuber or IGTV vlogger looking for cheaper data to upload HD or 4K videos to the web without breaking the bank? This post is most definitely for you so keep reading.
Below are the data plans I use each time I need to download heavy content off the web. They've also come immensely helpful ever since I started vlogging on Youtube. With these plans I can sometimes upload 4K videos to my Youtube channel without worrying about how much hit my wallet would take.
WARNING: If you have a problem with staying up late at night a.k.a 12am to 5am, then most of the information below doesn't apply to you though there's another option that's cheap but not so cheap in my opinion depending on what your usage is. Keep reading.
For best experience, make sure you have a 4G LTE compatible phone or modem which supports all networks
Glo Night and Weekend Internet Data Plans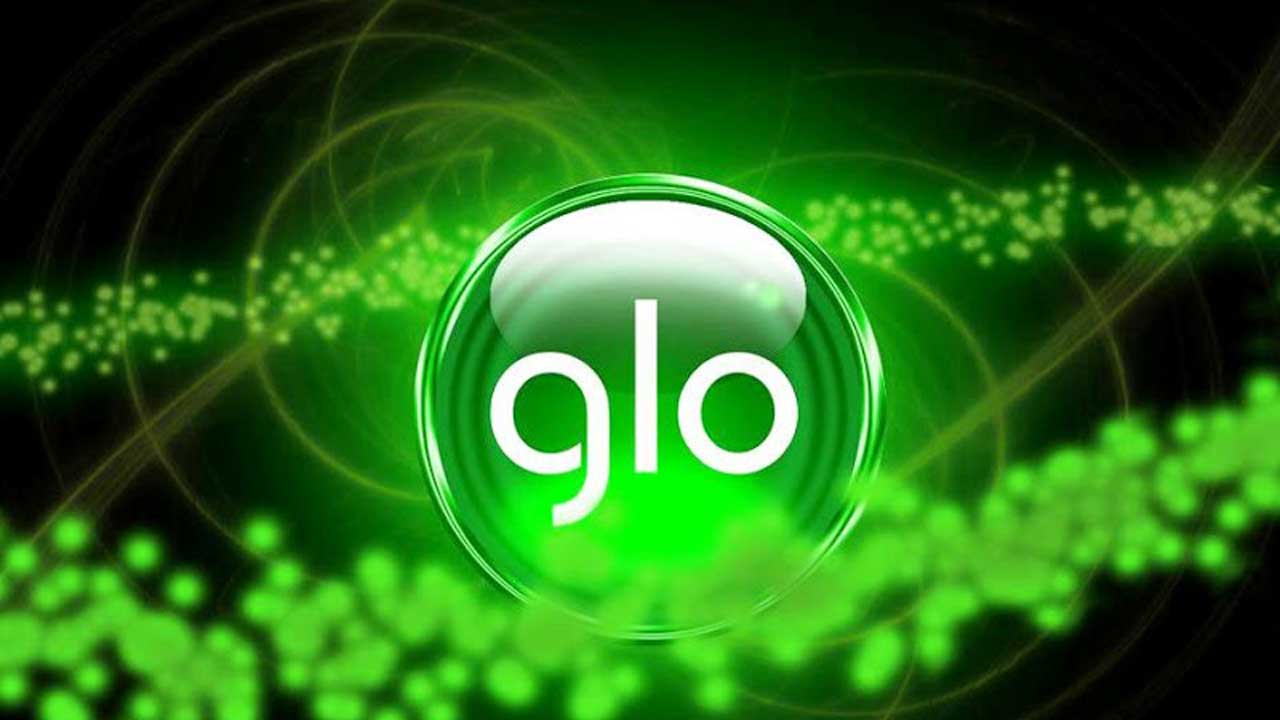 Under this particular plan, you're offered 5 options.
N25 for 250MB from 12am to 5am – 1 day validity
N50 for 500MB from 12am to 5am – 1 day validity
N100 for 1GB from 12am to 5am – 5 days validity
N200 for 1.25GB from 12am to 11.55pm – SUNDAYS only
N500 for 3GB from Saturdays 12am to Sundays 11.59pm
Personally I prefer the third option. On average I spend N500 for 5GB of data for each session but like I said previously, you'd have to be awake to enjoy it (or just fire it up, queue your downloads and go to bed). I prefer this option as it works 7 days a week unlike the 5th option that works just on weekends.
The fifth option is for those of you that don't mess with your beauty sleep. lol. You get 3GB of data which lasts all weekend for just N500. There's a hidden bonus within though. If you're a Youtuber or huge offline YouTube content consumer. For each subscription of N500, you get 2.5GB of data to splurge on Youtube only. So you're in essence getting 5.5GB of data allowance for N500
The major problem with the 2.5GB Youtube data is that, it would be available for use between 1.00am and 5.30am and will only work as long as your main data plan is current and valid. What this means is that if you were to finish the main 3GB of data on the plan, you immediately lose access to the 2.5GB Youtube data offer. This is why I don't fancy the plan at all.
You can subscribe multiple times to these plans though there's a limit of 5 concurrent subscriptions.
To subscribe to the N100 for 1GB night plan, simply dial *777#, Select 1, 1, 1, 7, 3 as shown below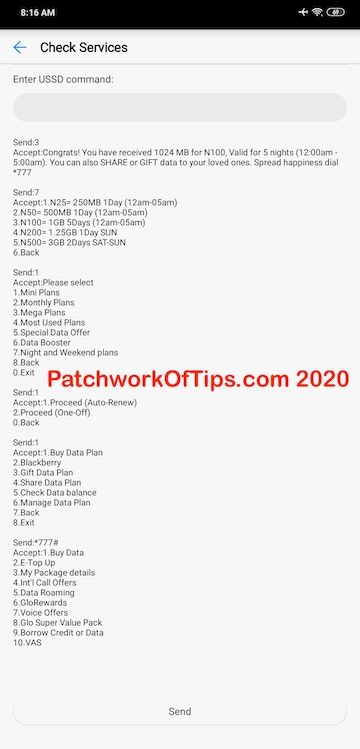 You can also subscribe via HSI Portal. Simply click on 4G and 3G Mobile, scroll down to Night_100 and tap on click to buy. Confirm your purchase and you're done and ready to browse away.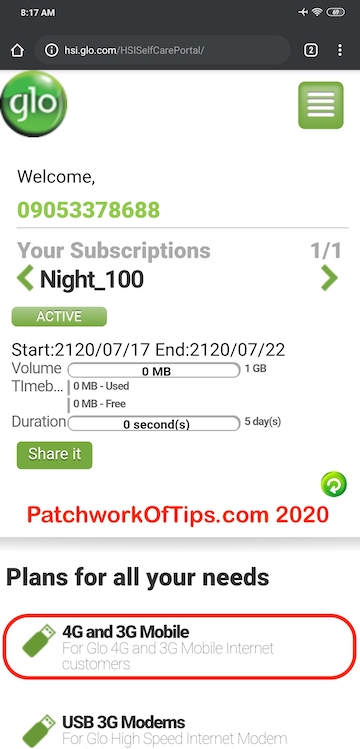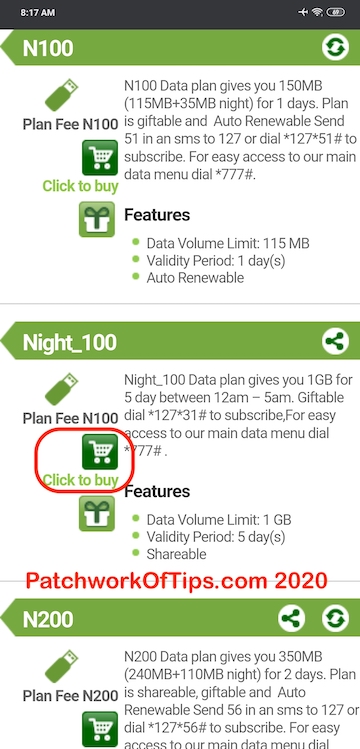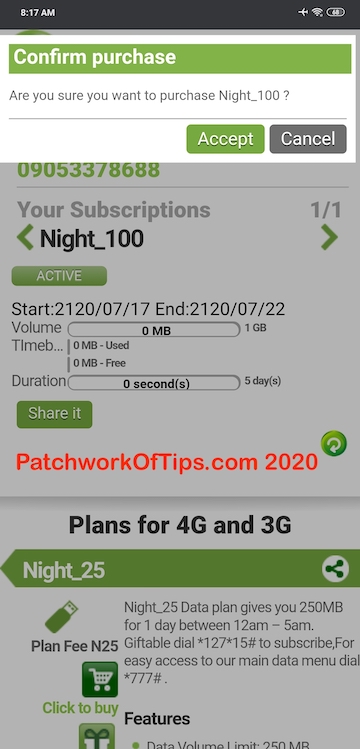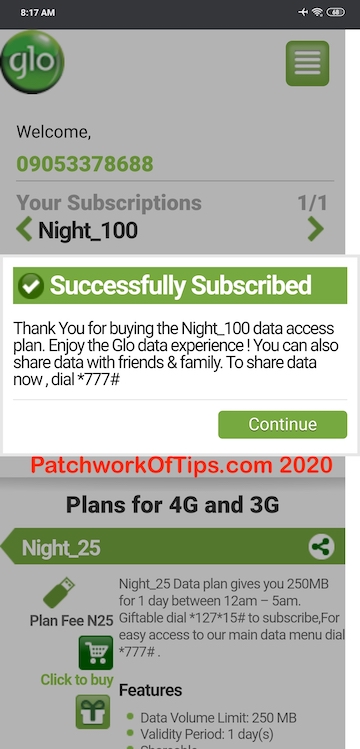 NOTE: To check data balance, check HSI Portal or send info to 127 via SMS. You cannot see the data balance for the Youtube Data Offer. Yet another reason why I don't like the N500 Weekend plan.
Airtel Night Internet Data Plans

Unfortunately this plan is quite tedious to use and I only use it when Glo is messing up and I'm in a location with very strong Airtel 4G LTE connection and high data speeds. It requires migrating to SmartTRYBE 2.0 to enjoy it.
To migrate simply dial *312# and select Migrate.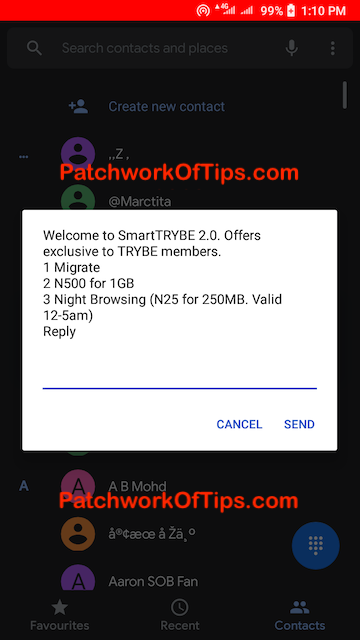 If you've already migrated, select the 3rd option to get 250MB of data for just N25. This data is valid for one day only from 12am to 5am. I find it tedious because it requires multiple subscriptions to hit 1GB of data for N100.
Airtel Nigeria says the plan can only be used once per night but I've managed to subscribe to it up to 4 times in one night.
NOTE: Airtel doesn't offer a way to check data balance for this night plan so you have to figure out a way to monitor the data usage depending on what type of device you own.
Do you know of any interesting night time data plan offers from the likes of MTN Nigeria and 9Mobile Nigeria? Do please kindly share with us in the comment section down below.
Thanks guys. Have a great weekend.
UPDATE 17th July 2020: MTN Nigeria sucks in most locations for me so I can't really rely on them for data BUT if they work for you check out this recent post on getting 2GB of data for N200 everyday: Revamped MTN Night Life – Get 2GB for N200 Everyday. What I love about this plan is that it runs from 11pm to 6am. I'm so jealous!
Please rate & share this article to help others. Thanks
You'll also like: