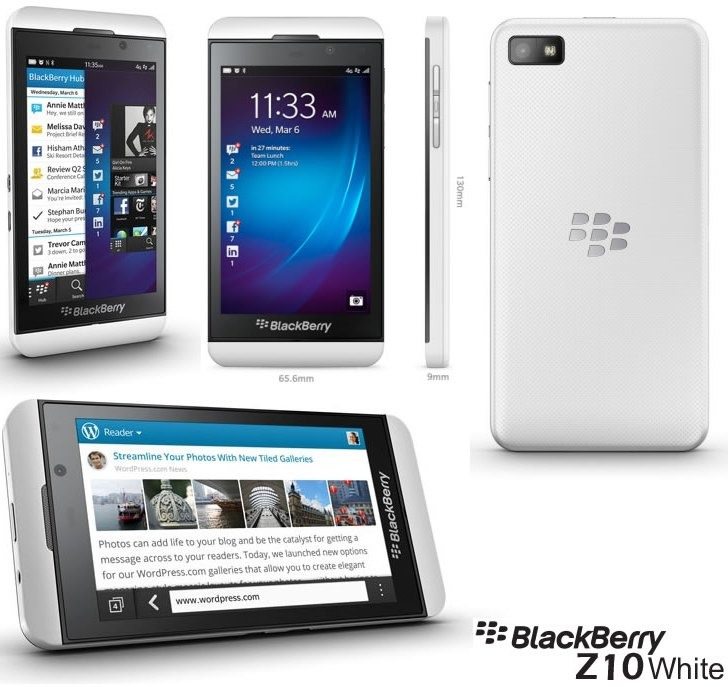 For all those that have been stressing my life to review the new flagship device for BlackBerry Canada, here you go oh! *lol. just kidding* Reviews can be so exhausting thus the delay. Anyway, I think I've used the device long enough to be able to make an authentic assessment of it. This review will be based on the white non-LTE (3G) version being sold in most parts of Africa with the model number STL100-1.
Click here for full phone specifications.
Listed below are the key features:
21Mbps HSPA+, Quad band HSPA+ 1, 2, 5/6, 8 (850/900/1900/2100 MHz), Quad band EDGE (850/900/1800/1900 MHz)
4.2″ 16M-color WXGA (768 x 1280 pixels) capacitive touchscreen TFT
Dual-core 1.5 GHz processor, 2GB RAM, Adreno 225
BlackBerry 10 OS; advanced on-screen keyboard; Office document editor
BlackBerry Hub with extensive social networking connectivity
BBM with video chat and screen sharing
8 megapixel auto-focus camera with face detection and Time Shift; LED flash, 2MP front facing camera
Full HD (1080p) video recording at 30fps; 720p recording with front-facing camera
16GB storage, microSD card slot; built-in Dropbox and Box integration
Wi-Fi 802.11 a/b/g/n, 2.4 GHz / 5 GHz, Mobile Hotspot
Bluetooth 4.0 Low Energy
NFC
standard microUSB port, microHDMI
3.5mm audio jack
GPS receiver with A-GPS
Li-Ion 1800 mAh battery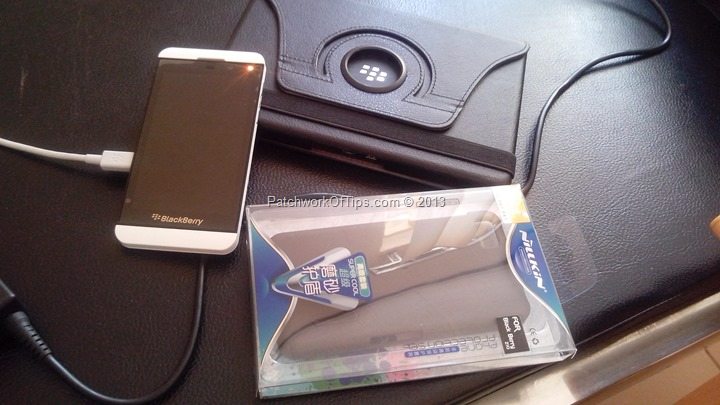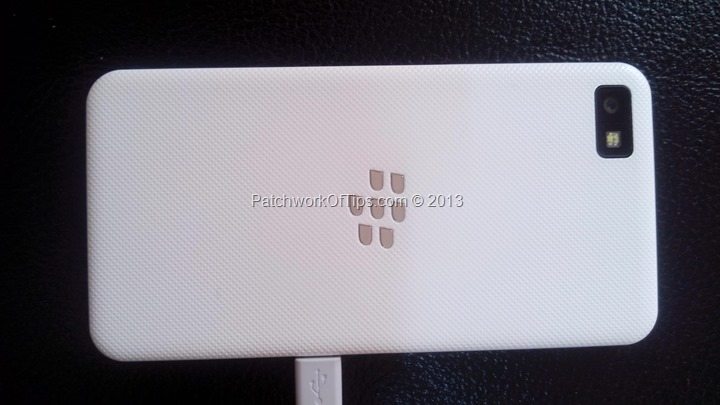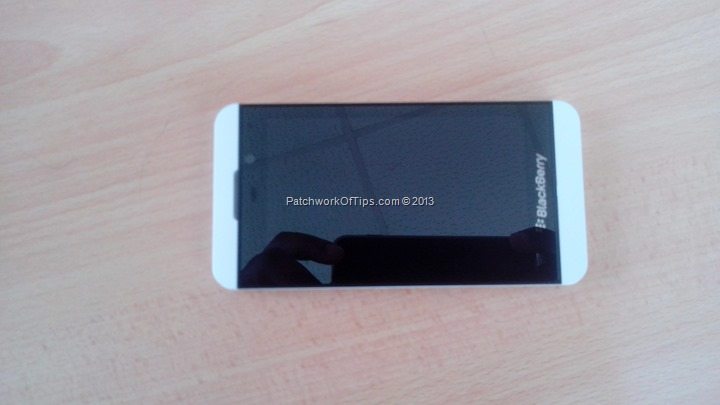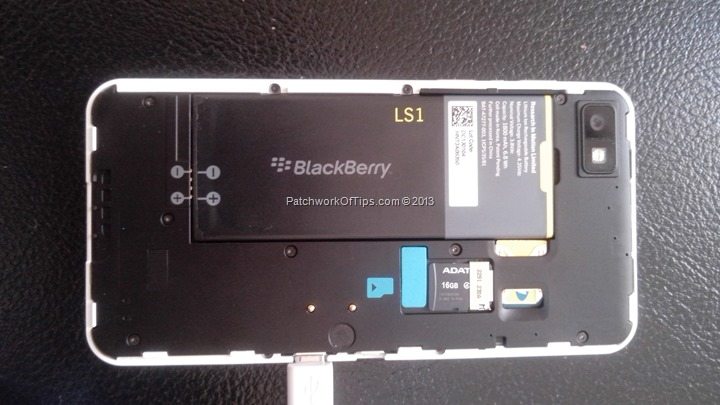 The packaging is pretty simple and comes with one two pin and one three pin plug as well as microUSB cable and a one piece headset, all white.
In terms of hardware, the Z10 is made of solid plastic with a patterned back/battery cover that allows for easy grip and virtually no visible scratches. The edges are rounded. This plastic cover unfortunately doesn't offer protection to the 8 MP camera lens and LED flash found at the top left corner of the back of the device.
The front of the Z10 is free of any buttons as it features a gesture based navigation system. At the top corner lies the earpiece, the ambient light and proximity sensors, as well as the 2 MP front-facing camera and the status LED which blinks in certain situations such as unread messages, low battery, or on going charging with device switched off. Just below the BlackBerry logo at the bottom of the screen, lies the microphone pinhole.
The power key can be found at the top along with the 3.5mm audio jack and secondary microphone. Just like on the Playbook, the power button isn't prominent enough IMO as I have issues finding it in the dark. There's a little slit at the bottom of the device that makes opening the battery compartment easy. If I'm not mistaken, the loud speaker lets out sound through that slit.
On the right side of the device, you will find the volume rockers with the voice command button in between. The volume keys also enable users to skip and fast forward music tracks while serving as camera shutter keys.
The microUSB data transfer + charging port as well as the microHDMI ports are found on the left side of the Z10.
NOTE: The review below is based on OS Version 10.0.10.738. Things might have improved with OS Version 10.1 which is yet to be released officially for the Z10. I'm so what of scared to try out the leaked version.
BlackBerry 10 OS
Heavily based on gestures with minimal hardware operation and 2GB of RAM on a dual core processor, the Z10 runs fluidly well without lags except for when launching some converted android apps. Allow me to say that the BlackBerry 10 has one hell of a learning curve and requires a lot of patience. I got the hang of it after 2 days if I remember correctly. The power button allows you to lock, restart or shutdown the device, while the volume rockers and voice control button control the music app, dictation system and serve as camera shutters.
Setting up the device is pretty swift and unlike the Playbook where you have to run a software update before you're granted full access to the device, one can skip that step. Do make sure to have a working and stable connection though for BlackBerry ID setup.
Default apps include BlackBerry Messenger, Twitter for BlackBerry, Facebook for BlackBerry, Docs To Go, DropBox, Box, Print To Go and Newsstand. Applications can be organized in folders and each folder supports a maximum of 16 applications.
You can watch the BlackBerry 10 OS in action by downloading these short clips: Getting Started – BlackBerry Z10, Touch Screen Gestures – BlackBerry Z10 and BlackBerry Flow – BlackBerry Z10.
The OS has issues with USB storage mounting and I hope they fix it soon in OS 10.1. Read How To Fix USB Storage Not Mounting On BlackBerry Z10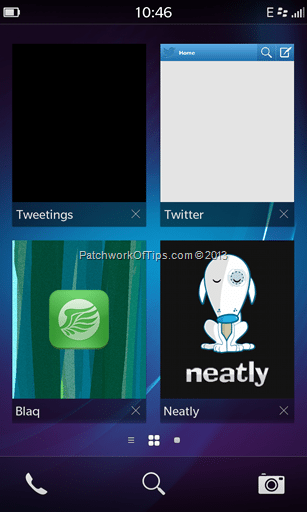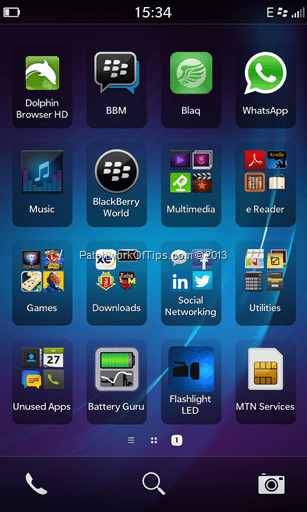 BlackBerry Hub
This is the main highlight of the new BlackBerry 10 OS. It's like a revamped version of the normal blackberry inbox but with added features. From the Hub, which by the way is accessible from anywhere on the phone simply by swiping up and right from the lower bezel, you can send and reply emails, SMS, BBM pings, whatsapp messages, twitter DMs and mentions, Facebook comments and status updates as well as viewing your call history and listening to your voice mail.
Download this short clip: BlackBerry Hub- BlackBerry Z10 to see the Hub in action.
Cons
The BlackBerry Hub has frozen on me twice and I had to reboot the phone to get it working again. While working on this review, I discovered that one can restart a frozen hub by swiping from the top right corner of the bezel to the center of the screen five times in quick successions.
When you send out a twitter message, you can't return to the center of the Hub until the message has been delivered so if your network is lagging, you either wait it out or cancel the tweet.
Setting up Print To Go has been pretty frustrating for me while the Twitter app is a hot mess compared to the twitter app for BlackBerry 5,6 and 7. It doesn't cache tweets nor support multiple accounts or refresh in the background amongst many things. In fact, it is an android port. I've since bought Tweetly, Blaq and Neatly and only Tweetly and ported UberSocial cache tweets.
Still on the integrated twitter app in the hub, you can't mention tweeps by searching for their twitter handle. You MUST know their actual name and that makes the whole experience exhausting.
With BlackBerry Messenger, most of the issues I had with it can be found at this post – Six Good Ol' BlackBerry Features That I Miss On BlackBerry Z10. Also links in status messages can not be clicked at all
The search feature doesn't work well at all. A message could be staring you right in the face and when you run a search for it, it doesn't come up …… even in Search all fields mode
There's no dedicated email app outside the Hub for when the Hub freezes on you

BlackBerry Appworld
The apps available via Appworld have increased immensely since the launch of the Z10 though most of them are android ports which in my opinion would probably kick ass if BlackBerry would just update the damn runtime to Android 4.0. Probably taking a cue from Google Play, they've implemented incremental app updates instead of those annoying full updates that gulp mobile data Also you can set updates to occur only when you're connected via Wi-Fi.
You can now install apps to your BlackBerry directly from the desktop browser though purchases must be completed on device for paid apps before the download begins. Downloads can be paused and resumed at will.
Finally the appworld now accepts Nigerian debit cards as I've successfully used my GTB Naira MasterCard and UBA Africard on it.
NOTE: Do not make the mistake of trying to buy an app without having sufficient funds in your account. Once the transaction is denied, you will start having issues with that card in Appworld. Such was my experience with my GTB Naira MasterCard.







Keyboard
I've never been a fan of touchscreen keyboards as I once found them clumsy (I later found out I was judging based on the resistive touchscreen experience. Gosh). Having experienced it a bit more on the android platform in the form of SwiftKey, I was really looking forward to what the Z10 had to offer and it really did impress me with its contextual auto-correction, next-word prediction, and personalized learning engine that gets to know the way you type
Predictions were mostly on point and all one needs do is swipe them up from the keys to the text field. Pretty neat stuff. You can see it in action in this video. BlackBerry Z10 Keyboard.
I only wish the numbers/symbols and what have you, were accessible via the main keyboard instead of having to switch to the second interface to access them. That most definitely slows me down when I'm typing.
Here are a few BlackBerry 10 keyboard tricks
Holding down the space key for like 2 seconds, hides the keyboard
Holding down a key for a sec, capitalizes the letter or shows you foreign characters
You can activate up to three languages at a time and switch effortlessly between languages as you type. Makes typing in English and Spanish at the same time easy for me.
Swiping up with two fingers from the lower bezel, pops up the keyboard anywhere on the phone and doing the reverse hides it.



Calls and Phonebook
The phone application gives you access to your Call History, Contacts, voice mail and of course the Dial pad. Call quality on the Z10 is very okay and you have the option to adjust the call audio to Bass Boost or Treble Boost. You can auto-answer and hang up calls by bringing the Z10 out of the holster or putting it back in. When connected via a Bluetooth headset, you can set all calls to auto-answer. The regular call features like call forwarding, call waiting, call blocking and show/hide my number are all available.
Transferring my contacts from Android was easy breezy using Gmail. Just add your email account and activate contacts and they will automatically be synced.
Cons
You can't record calls
You can't search contacts using the Dial pad and even when dialing known numbers in your phone book, there's no autocomplete feature
There are issues with syncing contacts to Gmail. Please read How To Sync SIM – Local Contacts To Gmail On The BlackBerry Z10.



Web Browser and Connectivity (BIS works on the Z10)
I'm hooked on Opera Mini and don't care for default browsers on smartphones but one of the things I love about the new blackberry browser is that it makes sharing easy. Downloads can now be resumed if interrupted and there's a reader mode that allows you to view your web pages without unnecessary clutter like ads etc. The browser by default is set to load mobile versions of web sites though one can enforce desktop versions via developer tools options in the settings menu. It supports adobe flash and I can play my YouTube videos in it without a fuss.
Unfortunately, users still can't save web pages on it.
After all is said and done, I don't use the default browser regularly. Instead I use SkyFire 'cause it's the next best thing to Opera Mini in terms to speed of page loads on a slow internet connection.
Opera is yet to release an Opera Mini for BlackBerry 10 and there's been no word from them with regards to that and none of the geeks has been able to successfully port the android version.
With regards to connectivity, you've got HSDPA and Wi-Fi. Unlike previous blackberry models, the BlackBerry Z10 supports both regular data plans and old blackberry data plans which leaves me wondering why the hell they introduced BlackBerry 10 data plans in the first place. The only difference I hear is that even when you've exhausted your data allowance on the BB 10 plans, you can still ping and email until your expiry date.
Just like the old BlackBerry plans, traffic on the new BB10 plans are still routed through BlackBerry servers so for now, one is better off sticking with the old plans.
Simply subscribe to your good ol' blackberry data plan and set your APN to blackberry.net with no username/password and you're good to go
NOTE: I'm on the MTN Nigeria network. I don't know if the old blackberry plans will work on the Z10 for other networks. You can access the various data plans available on Blackberry 10 at the links below


BlackBerry Bridge
The only feature I care about when using Bridge is the ability to access the web on the Playbook using my existing blackberry data plan and that still works. Unfortunately access to your blackberry emails, contacts, SMS and some other personal information is no longer possible with the Z10. Using the File Manager app on the Playbook, you can view your Z10 files and finally the Z10 can very well function as a remote control wireless mouse and keyboard for your playbook.
Audio and Video Playback
By default, the Z10 supports the following audio and video formats: 3GP, 3GP2, M4A, M4V, MOV, MP4, MKV, MPEG-4, AVI, ASF, WMV, WMA, MP3, MKA, AAC, AMR, F4V, WAV, MP2PS, MP2TS, AWB, OGG, FLAC. For other formats like FLV, webm and what have you, one would have to drop some cash for video players in the appworld like KalemSoft Media Player. One thing I can say for sure is that the audio reproduction quality of the Z10 is top notch and even better than what is obtainable on the Playbook tablet.
While playing music, you can slide the album art down to access the current list and jump directly to a new song instead of using the previous and next track buttons
The video player is just a basic one that allows you loop the video, edit it or share it. The video editing feature allows you to alter the length, brightness, contrast, rotation, volume with an option to cancel all changes.
Cons
Personally I don't like the video player at all 'cause colors are bit too saturated for my liking and bumping the screen brightness up to 100% to make it look better is such a battery drainer. My THL W6 kicks ass when watching videos at 0% screen brightness.






Camera
The camera on the Z10 is hands down the best on any BlackBerry phone (except for the Q10 of course. lol) It comes with Time Shift Mode, Normal Mode and Video mode. Since I don't really do much of videos, my camera is set to time shift mode which enables me to take a shot and go back in time to select the best shot with the best facial expression. I do a lot of selfies with the Z10. Unfortunately in time shift mode, you can only modify the scene and aspect ratio. Zoom and Flash don't work in that mode.
The 2MP and 8MP front and back cameras allow for shooting HD videos though at resolutions of 720p and 1080p respectively.
Cons
You cannot modify the resolution of the pictures and videos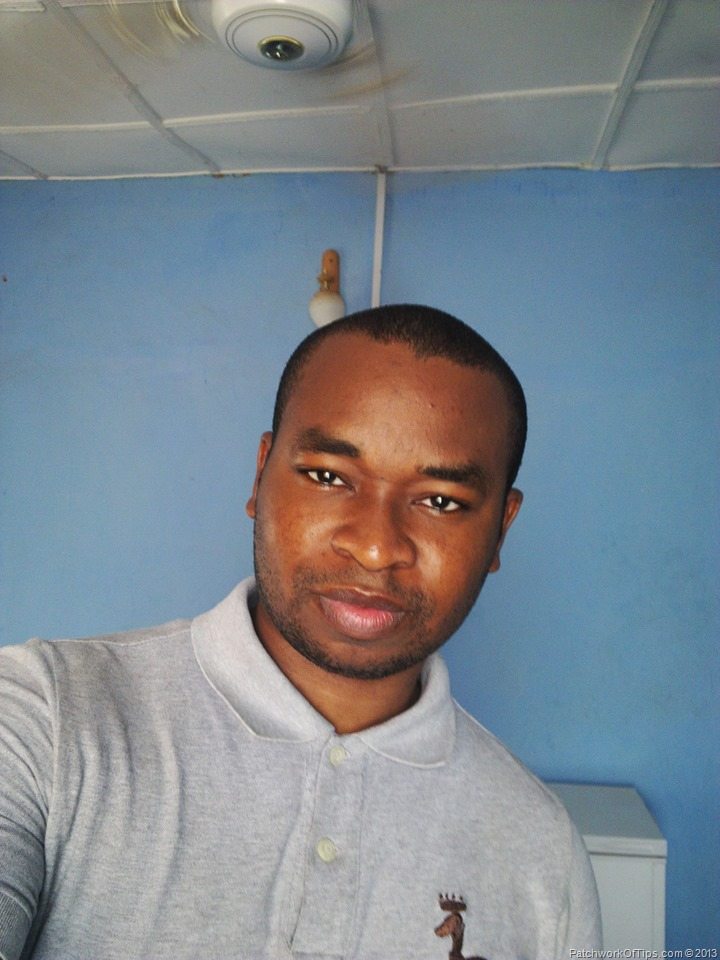 Battery Life
The guys are GSM Arena have done that already as shown in the capture below. Personally I used the phone for like 2 weeks, drained the battery completely and charged it fully again before running the test and I was able to get 9 hrs of video playback in airplane mode with screen brightness set at 50%.
Battery life on the Z10 is said to have markedly improved with the latest OS update so I highly recommend you update the OS as soon as you purchase the device. One thing I can say for sure is that whenever the network is pretty stable and responsive, I can get past 12hrs comfortably with emails, browsing on wi-fi, gaming (I play games a lot on it), social networking and some downloads.
Using the factory shipped charger, charging time is roughly 3hrs 7mins from ground zero with the device switched off. With the premium rapid charger that comes with the playbook, you should be done charging in about 1hr 40 minutes.
Unlike a few claims circling the web that they had issues charging their device after the battery was drained completely, I drained mine and charged it back to life without any drama. It auto shutdowns when battery is totally drained and automatically powers on when it charges to like 5%.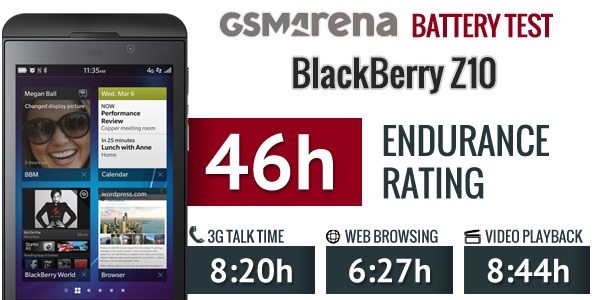 Issues With The Old BlackBerry Devices Fixed*
With the new OS 10, you can now shut down and restart your device without the need of removing your battery and when you shut down, it shuts down completely.
It takes a lil over 1 minute to complete its booting cycle.
You don't have to reboot your blackberry phone after each and every app update or app deletion.
Like I said before, the device is pretty fluid and responsive and in general you don't have to deal with that stupid spinning hourglass/clock.
Unfortunately, once you put in a battery, the device starts to boot as experienced on older devices
So guys, there you have it. My own review of the BlackBerry Z10. Should in case I left something out, do please leave a comment below and I'll address it asap.
In conclusion, if the BlackBerry Z10 was amazing at video playback and had a dual SIM variant with a huge battery capacity, I'd be ditching my android phone in a flash. lol
#DazzAll
Please rate & share this article to help others. Thanks
You'll also like: