I've never been a fan of the Zain-Airtel Nigeria network 'cause I've basically never found one genuine reason to add them to the list of telecommunication networks I belong to. Their ever changing name is enough to put me off as it sends out a clear message: "We are so not ready for business!"
In the past I've written posts on subscribing to Glo Internet Plans, Etisalat Internet Plans and MTN Internet Plans. Recently a visitor asked why I had none on Zain-Airtel Internet Subscription Codes thus I decided to take time out to create this one

.
Please note that in my experience, Globacom Nigeria offers the fastest internet connectivity in Nigeria at the moment. I've heard quite a number of folks testify to the fact that Airtel's internet speed kinda sucks but it's all about personal experience. For some, Airtel's internet connection is simply fantastic.
How To Get Airtel Internet Settings For Your Mobile Phone and USB Internet Modem
Setting up Airtel's Internet service ain't difficult at all. There are five ways of going about it.
You can call the Airtel Customer Care on 111 from your Airtel line and they will guide you through the setup.
You can visit any of the Airtel Nigeria offices in Nigeria and have the customer care reps setup the internet service for you.
In the comfort of your home, you can send an SMS with the words  "internet<space> phonebrand<space>model" to 232. Example "internet nokia N96". As soon as the settings have been sent to your phone, you accept, install or save them and if asked for a Pin, please use '0' or '0000'.
You can send the settings to your phone via Airtel's DMC Page. You can read more about using that feature @ How To Get Airtel Nigeria's WAP-MMS-Internet Settings Delivered Straight To Your Mobile Phone.
If you are a techie person, you can configure the device yourself using the settings below: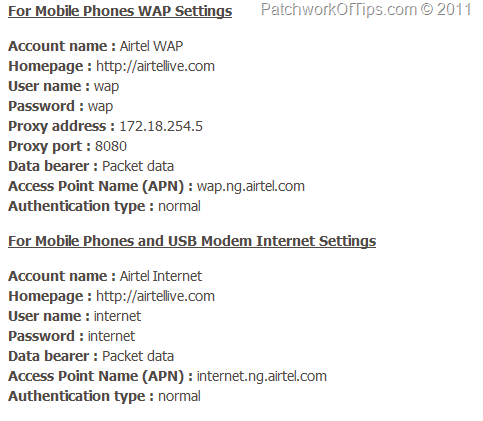 NOTE: If after using options 4 and 5, you still can't connect to the internet, try texting Internet to 232 to activate full internet service.
You can get the latest official Airtel data settings by clicking here.
How To Subscribe to Airtel Nigeria's Internet Browsing Plans Using Subscription Codes
Airtel Nigeria has internet data plans for both Mobile Handheld/Smartphones/iPad customers and Data Card Customers. Both plans are freely interchangeable that is they can be used the other way round on either devices.
To subscribe to a particular plan, simply browse through the plans listed below, select the one that fits your budget, load the correct amount of credit to your phone or data card and then dial the corresponding USSD Activation Code for your plan.
All android plans are valid for 30 days and work on any device including Modems and Mobile WiFi devices.
| Plan | Data | Price | Validity Days | Code |
| --- | --- | --- | --- | --- |
| ANDROID 1.0 | 1.5GB | N1,000 | 30 | *496# |
| ANDROID 2.0 | 3.5GB | N2,000 | 30 | *437# |
| ANDROID 2.5 | 5GB | N2,500 | 30 | *437*1# |
| ANDROID 3.5 | 7GB | N3,500 | 30 | *438# |
| ANDROID 4.0 | 9GB | N4,000 | 30 | *438*1# |
Time Based 30 – gives you unlimited access to the web for 30 minutes while Time Based 60 lasts for 60 minutes. In my experience I was unable to check how many minutes I had left so I suggest you start counting right from the very minute you get a conformation that your plan has been activated.
Night 120 countdown is presumed to start once you connect to the internet after 12 midnight.
Plan Name
Data Allowance
Price
Code
TIME BASED 30
 30 Minutes – Unlimited
N300
439*3#
TIME BASED 60
 60 Minutes – Unlimited
N500
439*4#
NIGHT 120
 3 hours – Unlimited

Usable between 12am and 5:59am.

N1,000
481*2#
UPDATE 3rd November 2016: Airtel's data allocation can be quite funny and annoying sometimes in that they bill you a double rate i.e you buy a 3GB plan but the data gets exhausted after 1.5GB has been consumed.
Well, if you need REAL 3GB of data for just N1,500, use the code *435#. A customer care rep gave me the code and I've measured the data consumption rate and it's normal. No double billing here. To check your data balance for this particular plan, you need to dial *123*9#. Hopefully this plan will continue working as is for a long time
UPDATE 19th November 2016: Looks like more and more peeps are getting shut out of the Airtel N1,000 for 3GB blackberry data plan which works on Android is you're able to change your IMEI to that of legacy blackberry device. If you're one of the victims, just get the 3GB of data for just N1,500 as shown above. It still works. With Etisalat Nigeria announcing a shutdown of their blackberry services, it won't be long before Airtel's BlackBerry service follows suit unless BlackBerry Ontario does something about it just as they were able to get Whatsapp to stay working till June 2017.
More Airtel Nigeria data plans are available here. I only highlighted the common ones above
To check your remaining internet data plan balance, simply dial *140#
Please note that failure to subscribe to a data plan would result in being charged at PAYU rate of 5Kobo per Kilobyte. This 5Kobo per Kilobyte rate also applies to all those who finish their data allowance and fail to re-subscribe to another plan.
Hopefully this info would help all you Airtel Fans

.
Please rate & share this article to help others. Thanks
You'll also like: