Looks like MTN has decided to offload "leechers" on their network in a bid to improve their internet services as they've just revised their data plans leaving the cheapest plans out of the mix. Subscribers now have to pay as much as N7,000 to access 3GB of monthly internet data.
I bet you that it won't be long before Globacom Nigeria and the rest follow suit and when that happens, the Nigerian populace that love their cheap internet would have no option than to get a BlackBerry device.
Update 2nd June 2016: Following the loss of tons of subscribers due to the clampdown by the NCC, MTN has been releasing and cancelling mouthwatering data plans left right and center. So far so good no plan seems to be fixed in stone except for the few listed in the table below.
To access any other existing data plans on the MTN Nigeria network, you would have to dial *131*1# from your MTN line
Update 4th October, 2016: Just like Globacom Nigeria, MTN Nigeria has officially launched its 4G LTE service in areas in Lagos, Abuja and Port-Harcourt. Unlike the exorbitant prices they announced months back for their LTE services, the existing 3G data plans would remain and work in 4G LTE mode if a 4G LTE enabled phone or modem is used. Your SIM must also be 4G LTE compatible.
4G LTE enabled phones and modem must have Band 7 (2600MHz). To check if your mobile phone and SIM card are 4G LTE enabled, simply text 4G to 131. You can check to see if MTN 4G LTE services has been launched in your area by going to http://www.mtnonline.com/4G.
MTN Nigeria Internet 4G LTE Data Plans – October 2016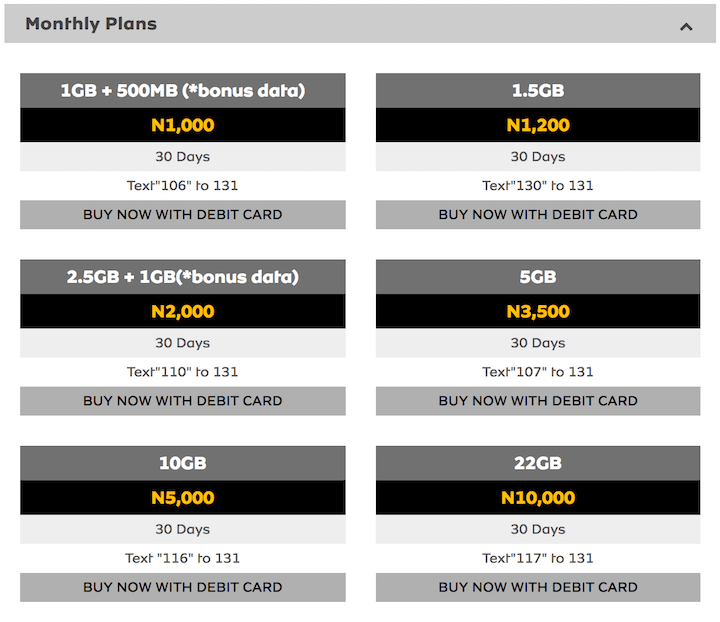 Out of bundle tariff of 5K per KB remains
Note: (*bonus data) will be available for use from 1:00am – 7.00am ON MTN DEAL ZONE.
Or simply dial *131# to activate any of the data plans.
These plans are subject to change as Globacom has slashed down their data plan prices massively in readiness for stiff competition. I feel MTN might leave these plans as they are and ride the storm with the launch of their LTE service.
If you've experienced the 4G LTE service, do please let us know in teh comment section below what your experience was like. Thanks.
Please rate & share this article to help others. Thanks
You'll also like: