UPDATE 10 July 2013: I can now confirm that it doesn't work on non blackberry devices out of the box. To get it to work on android devices, PCs etc, you have a buy a regular data plan as well. I subscribed for their 10MB for N100 a day data plan and have been browsing freely ever since on my PC.

Quick Notice: If you have excellent Etisalat reception in your area, you might want to check out these offers of 1GB data allowance for N2,000 and 2GB data allowance for N3,000. Click here for more details.

If you're not interested, just continue reading to get the info you need below.
The ads have being popping up everywhere and the gist is that Airtel Nigeria now offers unlimited blackberry data plans to customers who dial the USSD code *440*16#. Unfortunately some have realized that this isn't so as dialing that code only gives you 2GB of data for N1500 and not unlimited data. Also another USSD code is making the rounds offering as much as 4GB of data for the same N1500 by simply dialing *440*161#. This particular code is being spread by Airtel Nigeria via text messages such as that which is shown in the capture below and shared via Whatsapp.
Some folks have tried it and gotten this message instead.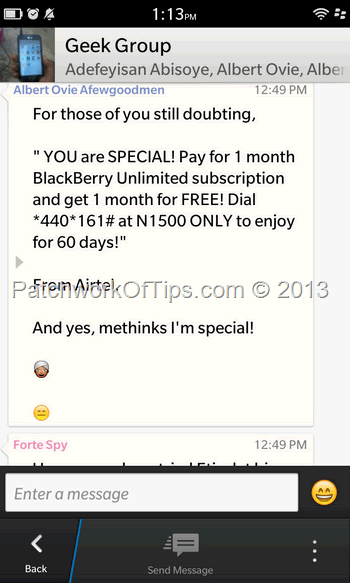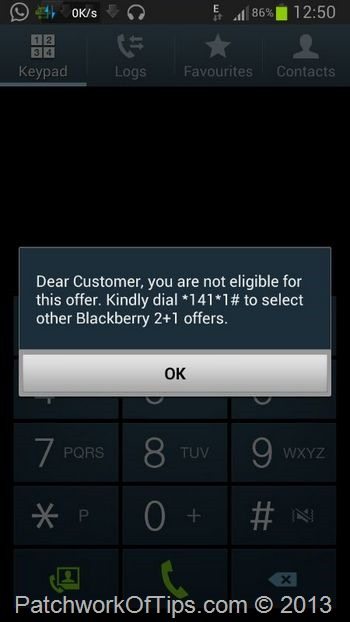 I was lucky to stumble on one of their numerous ads which led me to their actual promo page.,
The promo is tagged BlackBerry 2-PLUS-1 Offer and as is common with most offers, it is a limited offer which is available while offer lasts
As shown in the table below, BB Unlimited 2+1 offers you a whooping 6GB of data for just N3,000 when you dial *440*016# or text Bbum3 to 440 and it's valid for 90 days
Plan
Data Allowance (MB)
Retail Price (N)
Validity period
DIAL – USSD Activation Code
SMS – Activation Code to 440
BB Unlimited 2+1
Monthly
6144
3000
90
*440*016#
Bbum3
Weekly
1200
1050
21
*440*017#
Bbuw3
Daily
240
200
3
*440*018#
Bbud3
BB Complete_NEW
2+1
Monthly
600
2000
90
*440*019#
Bbcm3
Weekly
150
700
21
*440*020#
Bbcw3
Daily
30
140
3
*440*021#
Bbcd3
BIS Absolute 2+1
Monthly
3072

6000

90
*440*004#
Bismonth3
Weekly
300
2000
21
*440*022#
Bisweek3
Daily
30
400
3
*440*023#
Bisday3
BB complete 2+1
Monthly
3072
2800
90
*440*001#
Bcm3
Weekly
300
800
21
*440*002#
Bcw3
Daily
30
200
3
*440*003#
Bcd3
BB Social 2+1
Monthly
3072
2400
90
*440*024#
Bsm3
Weekly
300
800
21
*440*005#
Bsw3
Daily
30
200
3
*440*006#
Bsd3
BB 10 Max 2+1
Monthly
4608

6000

90
*440*007#
Bmm3
Weekly
1050
2100
21
*440*008#
Bmw3
Daily
150
400
3
*440*009#
Bmd3
BB 10 Midi 2+1
Monthly
1500
3000
90
*440*010#
Bim3
Weekly
390
1050
21
*440*011#
Biw3
Daily
45
200
3
*440*012#
Bid3
BB 10 Lite 2+1
Monthly
750
2000
90
*440*013#
Blm3
Weekly
240
700
21
*440*014#
Blw3
Daily
30
140
3
*440*015#
Bld3
No word from Airtel yet as to why BB Complete_NEW 2+1 and BB Social 2+1 are going for N6,000 monthly. I'm guessing they made a mistake.
Unfortunately I cannot act as a guinea pig on this one for you guys as I still have data left on my Airtel SIM. If any of you have tried it out with success, do please holla via the comments section below. Also there have been rumors that these plans don't work on PC and other non blackberry devices like the regular Airtel BlackBerry Complete and Social Plans. Do please clarify that for us too.
UPDATE: The BB Unlimited 2+1 6GB data plan subscription actually works as confirmed in the screen captures below. The 7.26GB data balance is due to data rollover.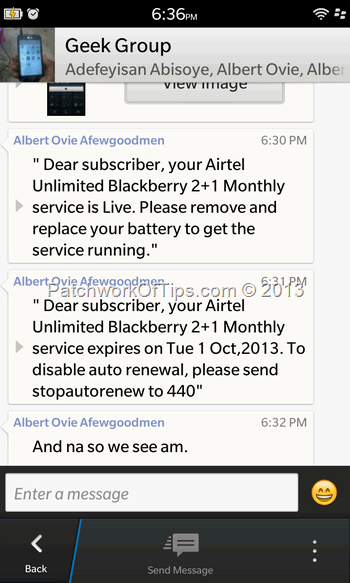 Please rate & share this article to help others. Thanks
You'll also like: