BlackBerry's flagship device, the Z10, has been on the market for over a month now but due to the asking price (N100,000 – N130,000), lack of data compression and the *funny* data caps being offered by the major networks, I'm yet to get one. Besides I hear before the year runs out, 3 more devices will be launched (Q10 included) and for all I know, they will feature the same 4.2 inch screen and cost less than the Z10.
Thus I've decided to hold off on getting one for now.
In the mean time, for those who are out to get theirs now, here's a run through of the data plans created by the networks specially for the new BlackBerry 10 devices. For BlackBerry 7 devices and below, the old data plans/subscription codes still apply. Only time will tell, if we all will be forced to make use of the BlackBerry 10 Plans on all devices.
Before we proceed, here are links to the existing blackberry plans for OS 7 devices and below
Etisalat Nigeria BlackBerry Complete, Voice & Social Plans
MTN BlackBerry Complete Plans Subscription Codes
Airtel Nigeria BlackBerry Complete Plans
Glo BlackBerry Social and Complete Plans
NOTE: Once you exhaust your data cap on BlackBerry 10, all functions that need internet access will stop working minus BlackBerry Messenger which has unlimited access for the duration of your plan. The new BlackBerry 10 internet plans follows:
GLO BLACKBERRY 10 DATA PLANS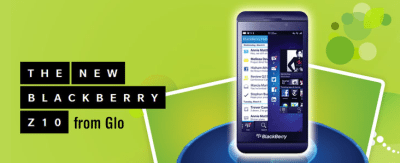 UPDATE 4th May 2015: Looks like some of you aren't aware but the old blackberry data plans for Globacom Nigeria still work on blackberry 10. The only caveat is that the browsing or download speed is limited to 124 KB/s
To subscribe, simply send the appropriate keyword to 777
| Category | Package | COST (N) | Data | Keyword |
| --- | --- | --- | --- | --- |
| BB10Max | Month | 3000 | 1.5 GB | MaxMonth |
| | Week | 1050 | 350 MB | MaxWeek |
| BB10Mid | Month | 1400 | 500 MB | MidMonth |
| | Week | 600 | 100 MB | MidWeek |
| BB10Lite | Month | 1000 | 200 MB | LitMonth |
| | Week | 400 | 50 MB | LitWeek |
AIRTEL NIGERIA BLACKBERRY 10 DATA PLANS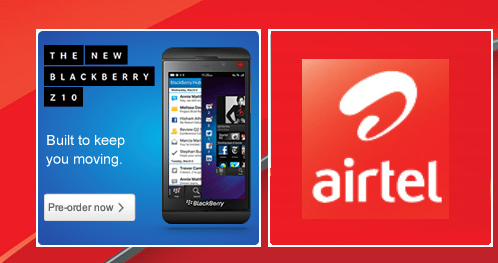 To subscribe to any of the plans below, simply dial the appropriate USSD code or SMS the appropriate code to 440
| Plans | Duration | Data | SMS Code | USSD Code | Price |
| --- | --- | --- | --- | --- | --- |
| BB10 Max – Month | 30 days | 1.5GB | BMM | *440*7# | 3000 Naira |
| BB10 Max – Week | 7 days | 350MB | BMW | *440*8# | 1050 Naira |
| BB10 Max – Daily | 24 hours | 50MB | BMD | *440*9# | 200 Naira |
| BB10 Midi – Month | 30 days | 500MB | BIM | *440*10# | 1500 Naira |
| BB10 Midi – Week | 7 days | 130MB | BIW | *440*11# | 525 Naira |
| BB10 Midi – Daily | 24 hours | 15MB | BID | *440*12# | 100 Naira |
| BB10 Lite – Month | 30 days | 250MB | BLM | *440*13# | 1000 Naira |
| BB10 Lite – Week | 7 days | 80MB | BLW | *440*14# | 350 Naira |
| BB10 Lite – Daily | 24 Hours | 10MB | BLD | *440*15# | 70 Naira |
MTN NIGERIA BLACKBERRY 10 DATA PLANS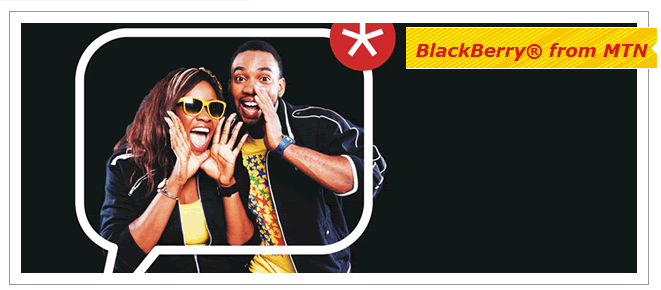 To subscribe to any of the plans below, simply dial the appropriate USSD code or SMS the appropriate code to 21600
s/n
Plans
Validity
Data
Cost
USSD Code
SMS Code
BB10 MAXI PLANS
1
BB10 MAXI
Monthly
1.5GB
NGN3,000
*216*15#
BBMAXIM
2
BB10 MAXI
Weekly
350MB
NGN1,100
*216*14#
BBMAXIW
3
BB10 MAXI
Daily
50MB
NGN200
*216*13#
BBMAXID
BB10 MIDI PLANS
4
BB10 MIDI
Monthly
500MB
NGN1,500
*216*12#
BBMIDIM
5
BB10 MIDI
Weekly
125MB
NGN550
*216*11#
BBMIDIW
6
BB10 MIDI
Daily
15 MB
NGN100
*216*10#
BBMIDID
BB10 MINI PLANS
7
BB10 Lite
Monthly
260MB
NGN1,000
*216*9#
BBLITEM
8
BB10 lite
Weekly
70MB
NGN350
*216*8#
BBLITEW
9
BB10 lite
Daily
10MB
NGN70
*216*7#
BBLITED
ETISALAT NIGERIA BLACKBERRY 10 DATA PLANS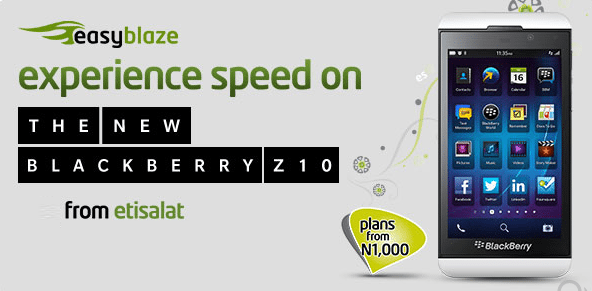 | | | | | | |
| --- | --- | --- | --- | --- | --- |
| s/n | BB 10 Monthly Plans | Data Bundles | Price | Opt in Code USSD | Opt in Code SMS |
| 1 | BB10 Lite | 200MB | 1,000 | *599*2# | SMS MLite to 399 |
| 2 | BB10 Mid | 360MB | 2,000 | *599*3# | SMS MMid to 399 |
| 3 | BB10 Max | 1GB | 3,000 | *599*4# | SMS MMax to 399 |
| 4 | BB10 MaxPlus | 1.5GB | 4,000 | *599*1# | SMS MPlus to 399 |

| | | | | | |
| --- | --- | --- | --- | --- | --- |
| s/n | BB10 Weekly Plans | Data Bundles | Price | Opt in Code USSD | Opt in Code SMS |
| 1 | BB10 Lite | 85MB | 850 | *599*2*1# | SMS WLite to 399 |
| 2 | BB10 Mid | 200MB | 1000 | *599*3*1# | SMS WMid to 399 |
| 3 | BB10 Max | 500MB | 1,500 | *599*8# | SMS WMax to 399 |
That's all folks. Remember to share
Please rate & share this article to help others. Thanks
You'll also like: