Hey guys my review of 4 of Bondi Sands major SPF 50+ sunscreen products is out. I hope you find it informative. Questions and comments are welcome as always down below and don't forget to please like, share, subscribe to my channel.
Related Post: When you're done, you might want to check out our new video >>> Tizo Sunscreens:  White Cast Test On Dark Skin
Thanks guys
Bondi Sands Australia: https://www.bondisands.com.au/shop/shop-by-type/suncare/lotions
Bondi Sands Australia: https://www.patchworkoftips.com/go/bondi-sands/ (Amazon UK)
Video Transcript
Bondi Sands advertises their range of sunscreens as these high UV protection, non-greasy wonders but in reality they are not. In my experience they can be quite greasy and best suited for folks with normal to dry skin.
This is my concise review of these Bondi Sands SPF 50+ sunscreens and lip balm which I got in my last haul
Bondi Sands Coconut Beach Sunscreen Lotion Spray SPF50 Plus
This Coconut Beach Sunscreen Lotion Spray comes in a 200ml spray bottle and offers SPF 50+ UVB Protection and UVA protection of 4 stars. It's rated water resistant up to 80 minutes and is sulfate free.
The sunscreen filters in this formula are Homosalate, Octisalate, Octocrylene, Avobenzone and Tinosorb M. Yep. Tinsorb M. The only reason I bought this sunscreen was because I read a review from someone with olive skin who claimed it didn't leave a cast on her so I assumed it was well formulated not to leave a cast but I was wrong.
It has a period after opening date of 12 months, is reef friendly and cruelty free.
I put this sticker on the bottle so as not to forget to shake the bottle prperly before application as the usage instructions state. Failure to shake will definitely reduce the level of protection you get.
It rubs into the skin nicely leaving a greasy zero white cast finish depending on how much product you apply at a time. I don't use this sunscreen on my face as the first time I tried it, it required a bit of effort to rub into my face and 2 minutes after I was done, I started sweating and white patches started to turn up on my face. It leaves your sweat looking milky and also leaves white marks in skin creases. I only use this on my body as I can massage it thoroughly till the white cast disappears and when the white cast surfaces I don't mind it being on my body than on my face.
Unfortunately I've lost the footage on me testing this on my face and I have no intention of repeating the trial again. Sorry guys.
25 pumps of this spray sunscreen will give you 5ml of product. I measured it with a teaspoon. This sunscreen leaves yellow stains wherever it lands so be very careful.
As the name suggests and as noted in the ingredient listing, it does have a coconut beach fragrance to it which in all honesty took me a while to settle into especially as it does linger all day long.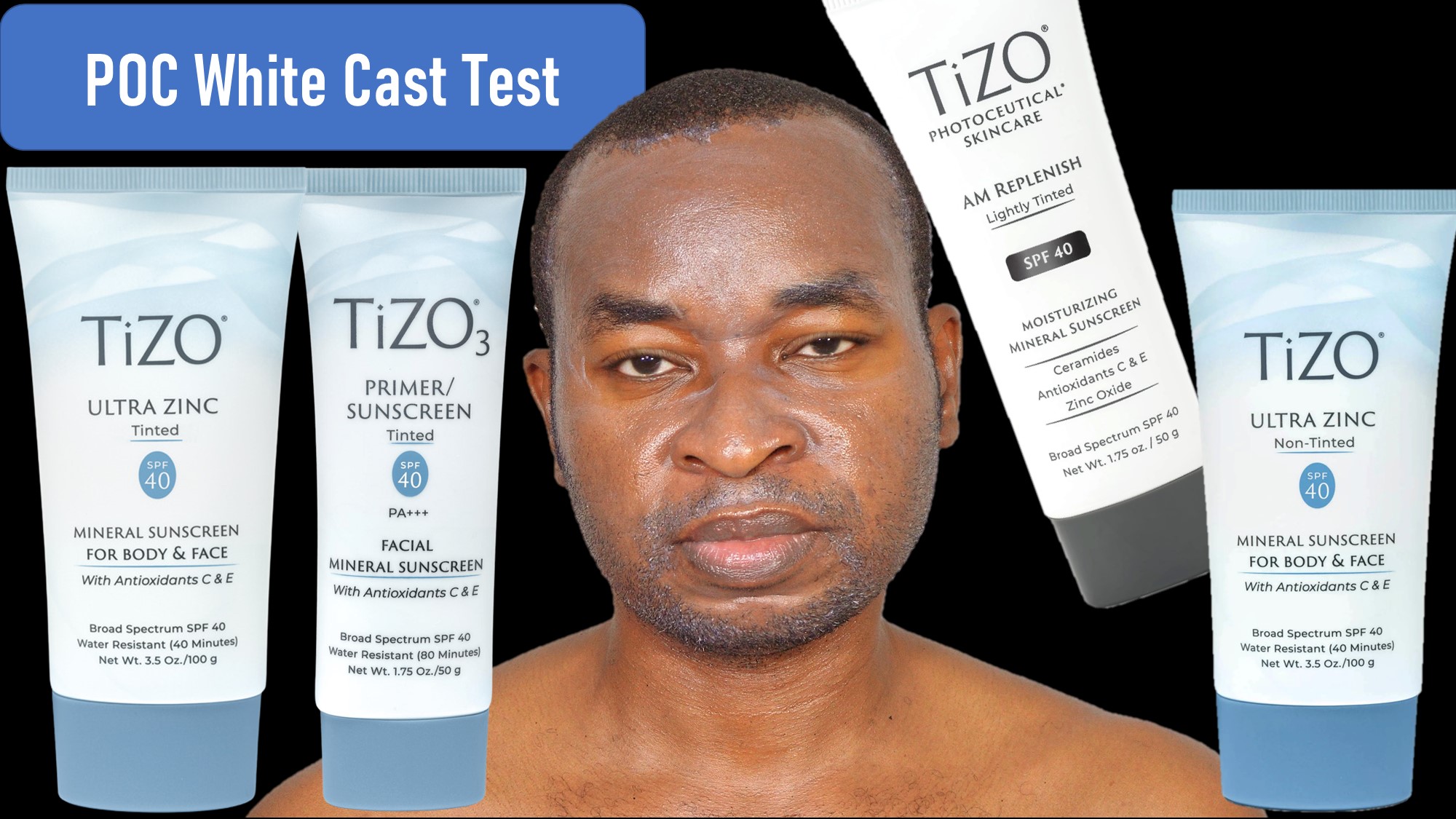 Bondi Sands Sunscreen Lotion SPF50 Plus Fragrance Free
These two sunscreens are literally the same thing with the only difference been that one is fragrance free and the other is not. Also based on the ingredient listing, these sunscreens are literally the same thing with the Daily Moisturizing Face SPF 50+….just that the Face SPF has 75ml of product.
I like that the packaging comes with extra protection against spillage in transit. I'll be reviewing the fragrance free version which I opened first.
It offers 4hrs of SPF 50+ water resistant protection and keeps the skin well hydrated up to 72hrs. It has a UVA protection of 3 Boot Stars and is also reef friendly and cruelty free. Do not forget to shake properly before use.
This blends well into the skin leaving zero white cast but a greasy finish. The greasy finish gets worse if you use too much product or layer over a rich moisturizer.
It tends to accumulate in creases like the eye lid crease.
My oil control setting powder and primer sits well over this without giving me issues at all.
With regards to ocular tolerance, depending on how much I apply and how I apply it around the eye area, it sometimes stings and sometimes doesn't sting at all.
This is what the ingredient listing for the fragrance free version looks like.
And this what that of the fragranced infused version looks like.
Like I said, the main difference here is the addition of fragrance. The UV Filters in both sunscreens are Homosalate, Octocrylene, Octisalate and Avobenzone.
Bondi Sands Coconut Lip Balm with SPF50 Plus
The final product I have here is their Lip Balm with SPF50+ which claims to hydrate and soothe dry lips unfortunately if you've got dry ass lips like I do, this lip balm won't do anything but protect you against the harsh effects of UV rays.
This protection against UV rays is offered by Avobenzone, Uvinul T150, Octocrylene and Tinosorb S.
All 15g of product comes in a cute little packaging
It comes out like a wax and tastes kind of sugary. It doesn't last and you'd most probably find yourself reapplying every 1hr or so.
To be honest Vaseline does a better job than this but hey if you're having issues with your lips going dark or you just want to protect your lips from sun damage, then you definitely need this.
Conclusion: the only thing I'm obsessed about with these sunscreens are the price, high UVA/UVB protection and the 4hr water resistant rating. According to what I read off Caroline Hirons ad for this sunscreen, this water resistant rating means that it's expected to maintain an SPF 50+ protection rating after 4hrs of exposure to swimming/sunbathing (sweating!)
Less I forget, there are no expiry dates on the packaging. I contacted Bondi Sands and like some silly brands out there, they started making annoying demands which I complied with to no avail. They simply left me with this silly response. I don't know what is so difficult in providing an actual expiry date to your fucking product!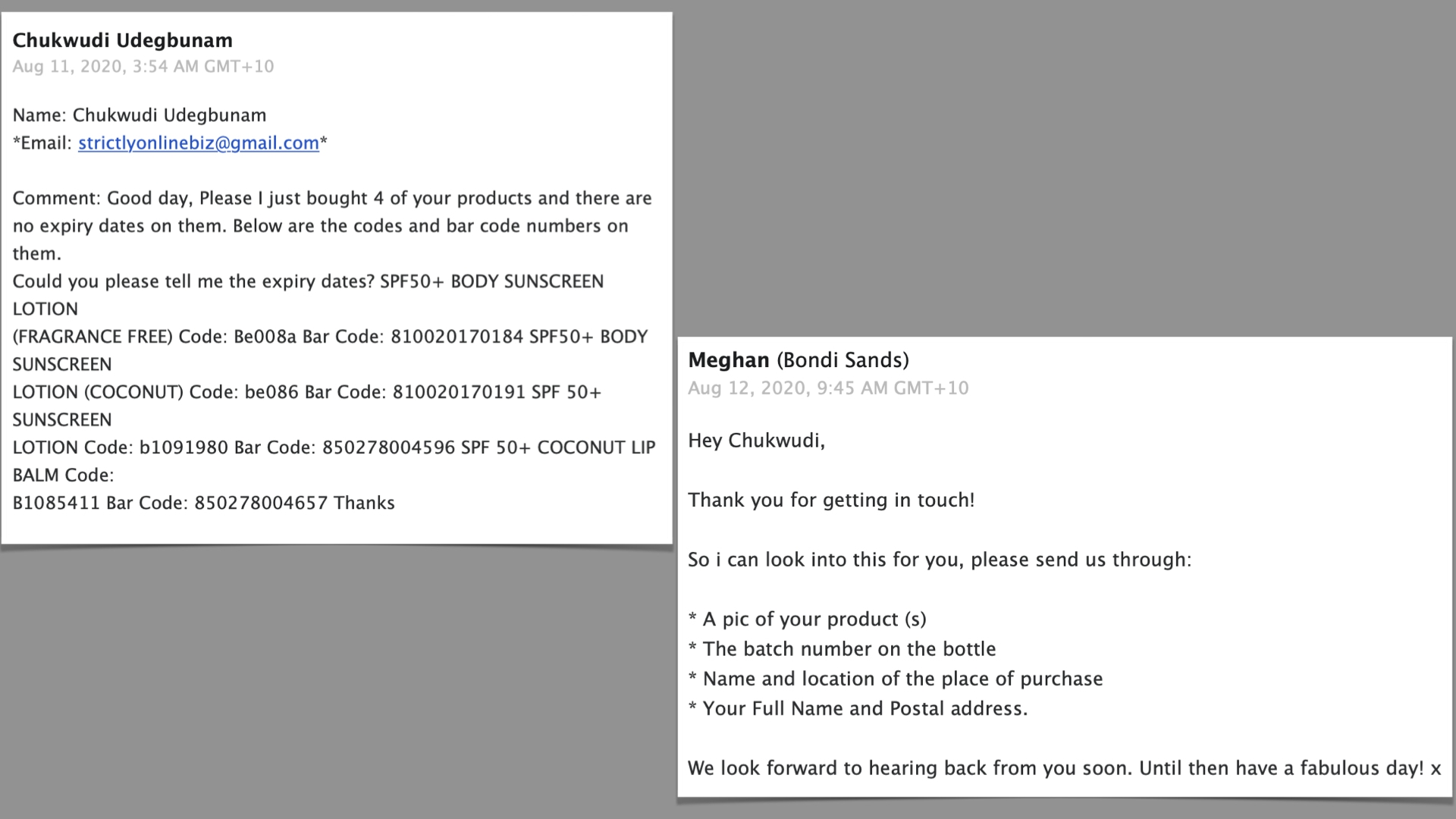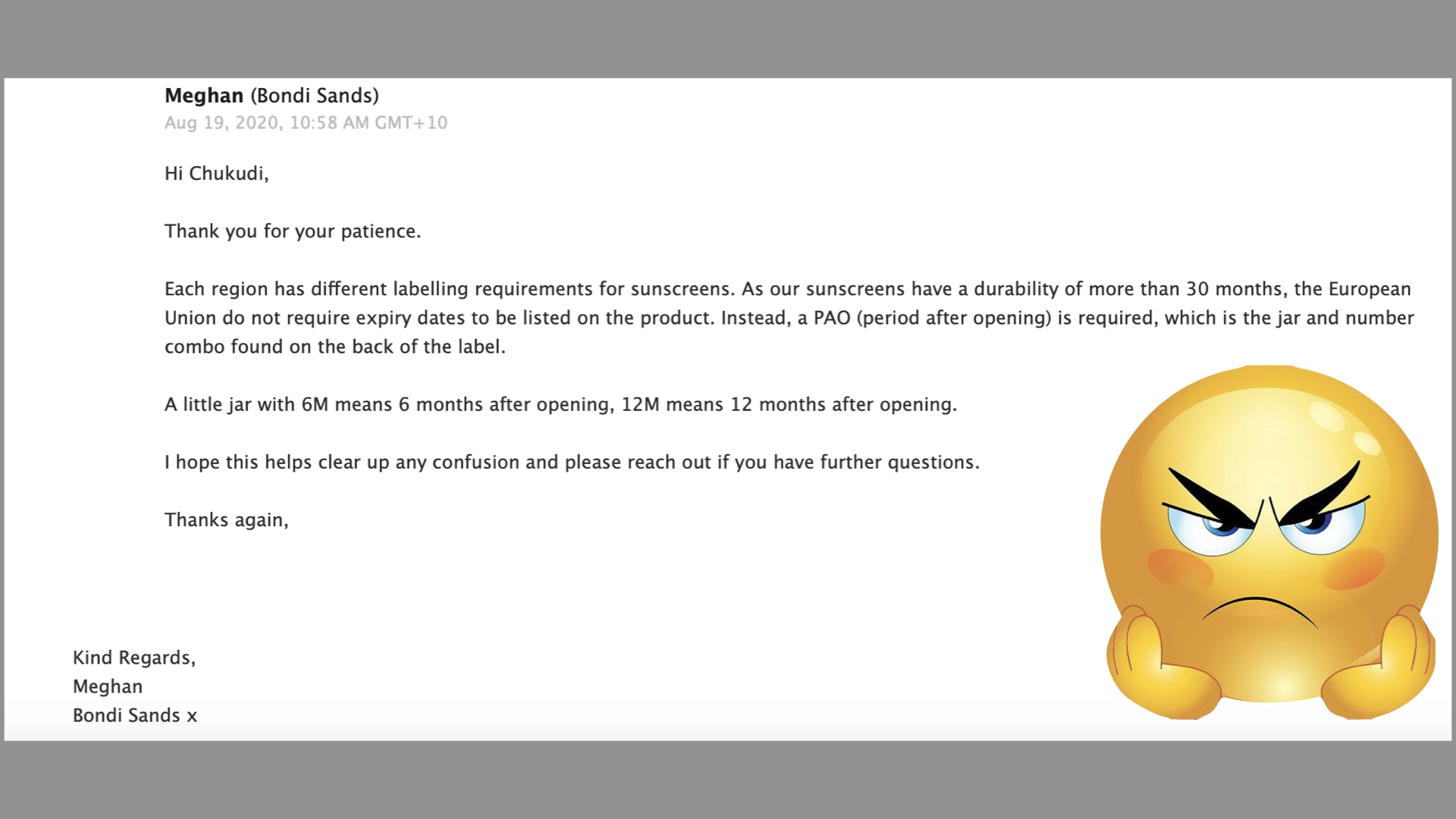 I will definitely be keeping a bottle of this sunscreen around for days when I have a lot of outdoor activities planned but it unfortunately won't remain my daily go to sunscreen due to the greasiness.
Don't forget to please Like or Comment or Share or Subscribe to my channel. Either one of these activities really helps me a lot. Thanks a lot
Have a great day. Bye guys.
Please rate & share this article to help others. Thanks
You'll also like: