WARNING
UPDATE 27th April, 2020: Please make sure to read up on their shipment value protection issue before placing an order. Thanks.
After my nasty experience with ShippyMe (now Zaposta), I swore off shopping UK and US stores via Nigerian third party merchants. If there was any urgent shopping to be done, it had to be done via MyUs.com. About 3 weeks ago I got an email from PayPal urging me to check out MallForAfrica with a $10 off coupon. The deal looked too sweet to ignore and suddenly I got the itch to just shop for something…anything (If I were rich, I'd probably be a shopaholic by now. lol). I contacted one of my favorite geeks who I remember had some form of issue with MallforAfrica in the past and he encouraged me to go ahead as they are working just fine now thus I took the plunge.
Shopping via MallForAfrica is pretty easy. You simply sign up for an account, activate it and then download one of their mobile, PC or MAC apps and you're good to go.
NOTE: The Android app had some issue with the PayPal coupon code, so I went with the MAC app. Unfortunately I didn't grab screenshots from the beginning of the process sha.

If you're shopping from different sites, they will all be billed separately. As far as I can tell, MallForAfrica doesn't offer that kind of service that waits for your orders from various shops to arrive before shipping out your goods. They ship out goods per site so if you shop Amazon and MACY's, you'll get two different billings and they will be shipped to Nigeria in the order they arrive.
Launch the app, navigate to the site you wish to shop (sites are organized by interest and location) and start adding items to your shopping cart. When you're done, click on the button at the top right corner that says Click Here to Checkout & Buy Items. You will be asked to log in and then will be directed to a page like the one below that has all the items you ordered.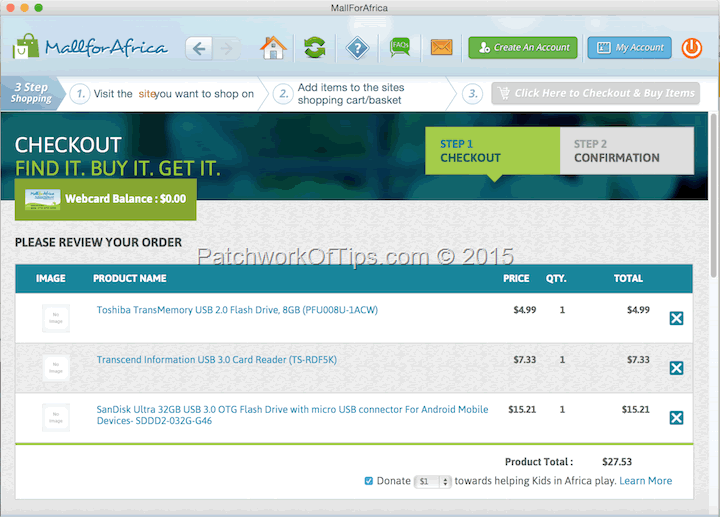 Mall For Africa doesn't have a pickup location in Sokoto at the moment so I went with Door to Door delivery (Picking up your goods at their office is cheaper than door to door delivery). As par payment method, you could use a MallForAfrica web card (which I don't understand and didn't want to risk), an international debit/credit card or PayPal. I went with PayPal 'cause of the awoof $10 PayPal10 coupon code.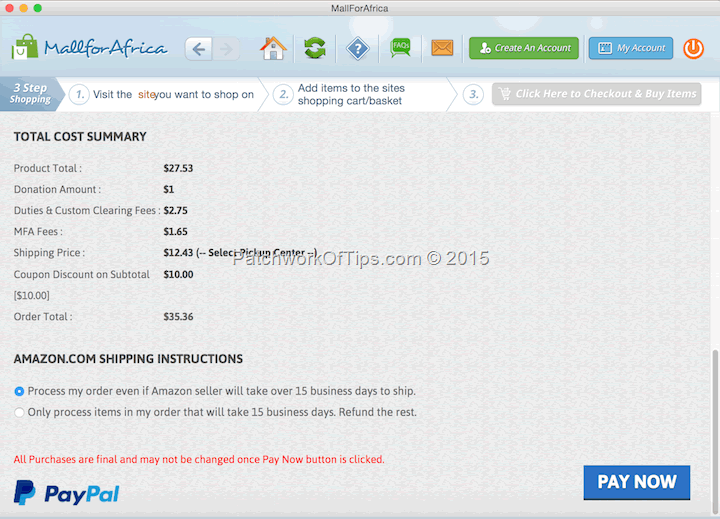 Click on the Pay Now button  and you'll be directed to PayPal where you'll make your payment and then be redirected to MallForAfrica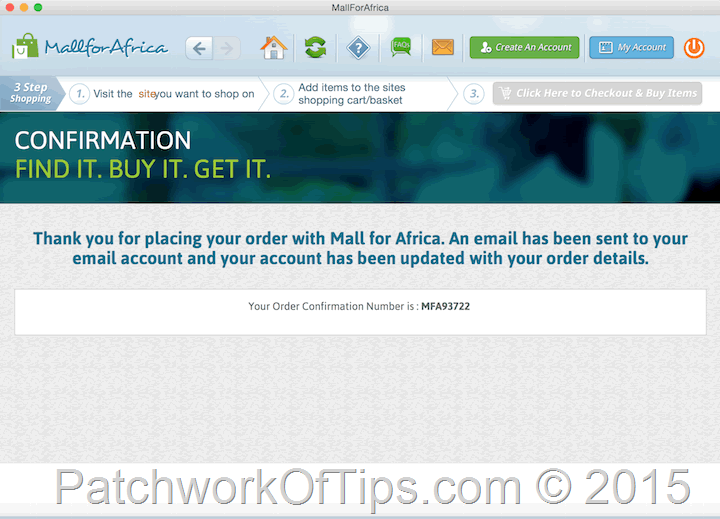 As all my orders were from Amazon direct, my order was processed within a few hours and two days later, I got an email that my goods were already en route to Nigeria. I did not hear from MallForAfrica after that until yesterday morning when a colleague told me DHL dropped off a parcel after I left the office, the day before. Amazing, right? 6 business days transaction. I placed my order on Sunday August 26th and by Tuesday 4th of September, it was in Sokoto, Nigeria courtesy of DHL.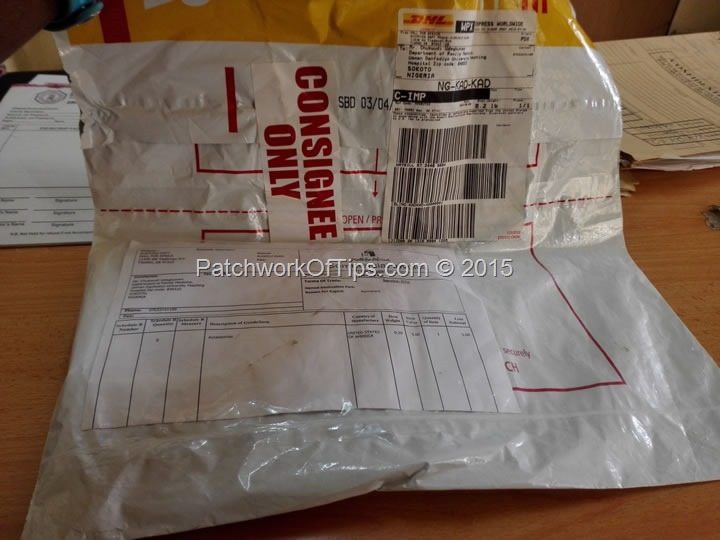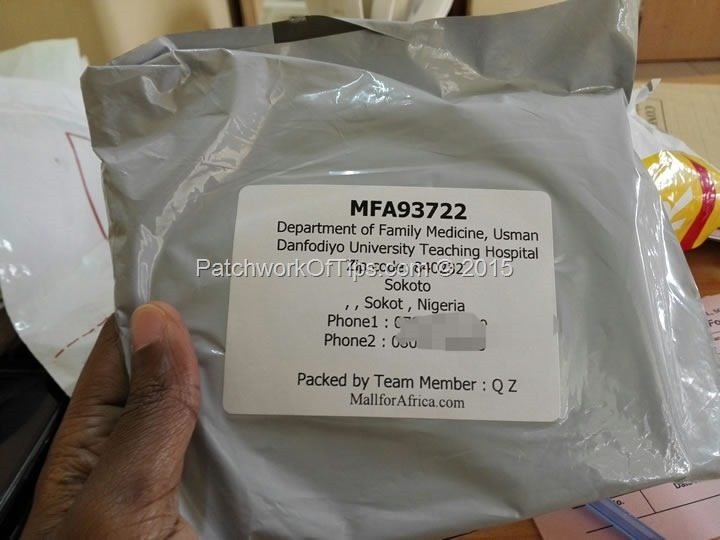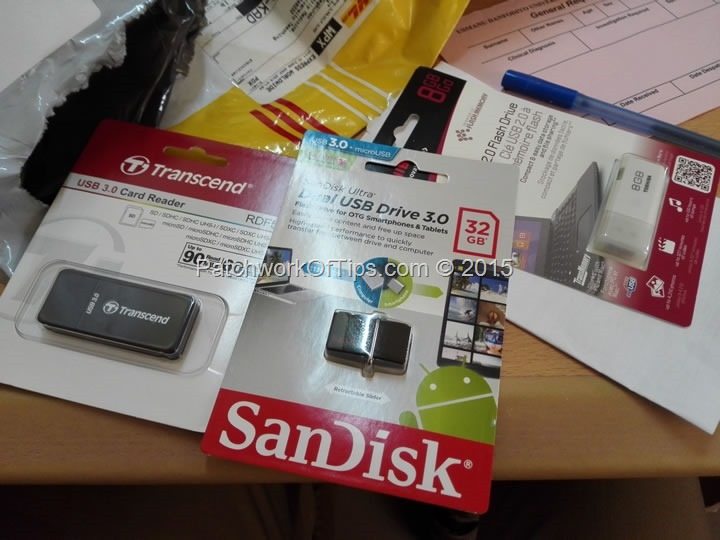 One thing I noticed is that the package was sent via DHL direct from the United States which in my opinion is excellent as waiting for them to ship it out from their Nigerian warehouse can cause delays.
I'm not happy with the way the package was delivered without prior notification. I have trust issues and don't like people all up in my business. MallForAfrica needs to start issuing WayBill numbers for orders like mine so that clients can track the location of their order on their own and know when to expect it.
The package didn't come with the original Amazon receipts which some wouldn't mind but I kinda do (Yeah, I'm paranoid like that. I can't shout).
The major plus with MallForAfrica right now is this their DHL delivery which is similar to how MyUS.com handles their orders. I wish their partnership never goes sour as it's a correct business model.
Will I be ordering via MallForAfrica once again in the future? MOST DEFINITELY (As they are cheaper than MyUS.com). Hopefully they won't disappoint after 2 trials like ShippyMe did.
If you've got any questions or comments, just hit me up in the comment section or other channels

Click Here To Sign Up For A Free Mall For Africa Account & Start Shopping
You can watch my quick tutorial on shopping Mall For Africa here
UPDATE 13th October, 2015: My second door to door order arrived Sokoto 1 week after it left the US. Unfortunately MallForAfrica didn't update the status and thus I wasn't expecting it. Imagine my surprise this morning when one of the hospital's auxiliary staff gave me the package, that she had signed for it over a week ago 'cause I wasn't available. I wonder when DHL will get their sh*t together and start calling or texting peeps before making a delivery. How hard and expensive can this be? Even NIPOST alerts you before delivering! NIPOST oh! Hian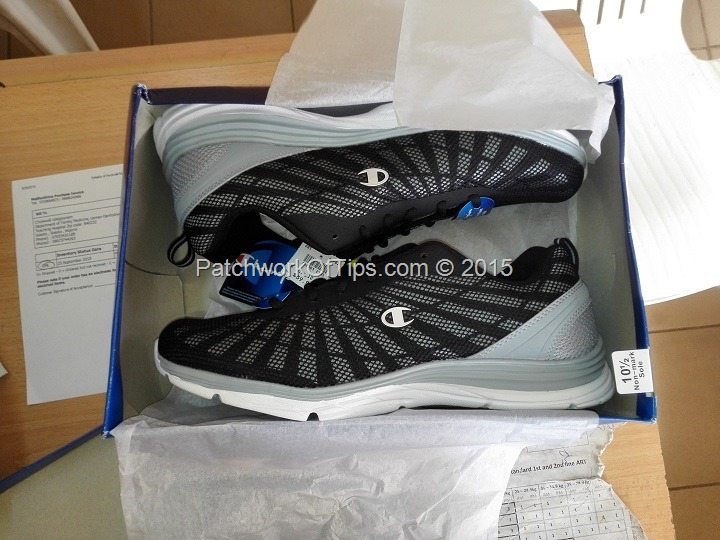 UPDATE 6th November, 2015: I finally got all 3 of my pickup orders from MallforAfrica's pickup point in Kano State. All three orders were from the $5-ships-it-all event they held in October, 2015. Words can't express the joy I felt going through the items from Gap, Old Navy and Sports Direct as they were all on point quality and size wise except for a few that weren't the right size and I had to let them go.
Aside from that I placed a smartwatch order for a friend via Amazon Warehouse Deals and it arrived just on time via DHL (as expected). Unfortunately it wouldn't work. I contacted MallforAfrica and I was told they only take responsibility for nonfunctional devices or wrong items at the point of delivery.
TRANSLATION: When you receive your MallForAfrica order, open it there and then in front of the delivery guy or MallForAfrica rep to ensure the items are the exact stuff you ordered for and that they are working just fine. If at that point, you detect the items aren't working, simply decline to sign for them and raise a complaint. MallForAfrica will have the items replaced as soon as possible or will refund you the full amount including other charges.
P.S: Through trial and error, my friend and I discovered that the smartwatch's battery wasn't actually making contact with the charging points. Using a paper wedge, he fixed that and the smartwatch is working just fine now. Talk about a heavenly intervention. lol. $46 for just burn like that.
More MallForAfrica shopping experience coming up soon. ;)
UPDATE 1st July, 2016: This is my seventh order with MallForAfrica and just as I was about calling them to verify the status of my package, they sent a "ready for pickup" notification. They now operate a 15 business days delivery policy for goods sold and fulfilled by Amazon and I'm quite happy they stuck to that delivery time frame.
I'll be placing another order later in the day :D
Please rate & share this article to help others. Thanks
You'll also like: