I might be wrong but it seems like in the future, Mall For Africa might be sold off to DHL Africa as that's the only thing that makes sense to me given their recent product launch.
For those that don't know what I'm taking about, Mall For Africa is one of the many sites that help Africans shop US/UK stores and have their purchases delivered to their doorsteps via DHL Africa. You can read my review of their services by clicking here. It's literally the only shopping service I recommend to folks 'cause they've given me ZERO headache in the past 4 years of doing business with them.
Recently Mall For Africa sent out emails introducing DHL Africa eShop. The services provided by this new eShop are no different from what Mall For Africa currently offers but with some slight/major changes as follow below.
Faster Delivery Times
Where Mall For Africa promises to deliver your goods within 15 business days (if you follow their instructions and shop from recommended sellers), DHL Africa eShop seeks to deliver your orders in 10 business days or less as the service is offered as an express service. Luckily, despite being an express service of sorts, the price is still pretty good in my experience.
Weight Limits
Considering the express shipping thingy above, weight restrictions are in place especially for fluids. For example, my first order was rejected because they weighed more than 8oz (US Fluid Ounce). Eventually I had to request for a refund back to my debit card and then placed the order via Mall For Africa instead.
Luckily this fluid weight restriction only applies per item and not the entire order so you can freely order as many bottles as you want as long as each bottle is below 8oz.
Unfortunately this restriction is currently NOT reflected anywhere on their site/app and can frustrate users like it did me.
UPDATE 14th August 2019: Looks like their policy has changed. My second order with the service just came in and it wasn't split into 5 deliveries. All 5 bottles of sunscreen with 150ml content each arrived in one package.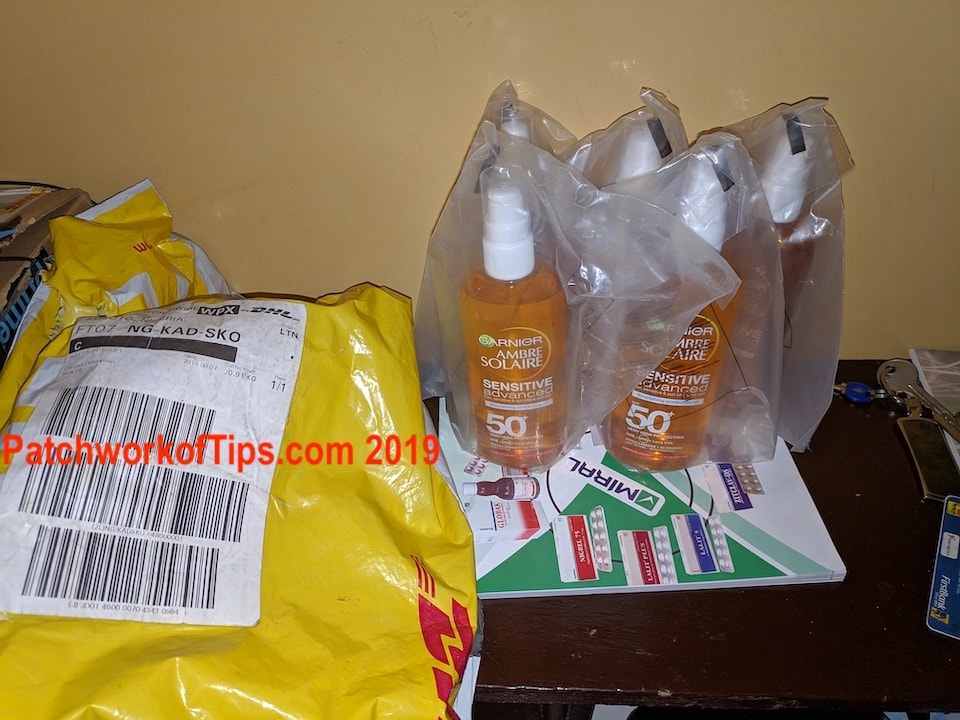 Bit by Bit Shipping
In relation to the fluid weight issue above, DHL Africa eShop will not ship your entire order at a go. As an express service, it's only allowed to ship one bottle per shipping bag. I discovered this after I placed an order for 3 100ml tubes of soothing balm. All tubes were shipped to Nigeria in 3 different bags at different times (like 12 – 24hrs between one another).
No Collection Centers
While Mall For Africa allows you to have your goods shipped to one of their collection centers where you can then walk in and pick them up, DHL Africa eShop doesn't leave room for that. All orders are delivered straight to your doorstep so you MUST have a reliable delivery address to shop with them.
No DHL Tracking Numbers
This has always been one of my main issues with Mall For Africa as I enjoy tracking the movement of my packages on my own in real time. Unfortunately they don't give you the direct DHL tracking number but instead their own Mall For Africa order number.
I was really expecting things to be different with DHL Africa eShop but it's not so. Mall For Africa is directly in charge of giving you progress updates on your packages.
Just as I was writing this post, it dawned on me why we don't have access to the official DHL Tracking Number (just my opinion. lol). Considering the fact that the main function of DHL in this deal with Mall For Africa is transportation while the later handles communication and order processing, it wouldn't make sense to have customers stressing DHL customer care lines when their orders are delayed or whatever.
UPDATE 14th August 2019: We still don't have access to DHL tracking numbers, but DHL tracking has been added to the platform so you can see how your package moves from the US/UK to Nigeria.
Open the DHL eShop app and go to my Account >> Order History and click on the order you want to track. Click on View Tracking Details and you'll be able to see in which country your package is currently at.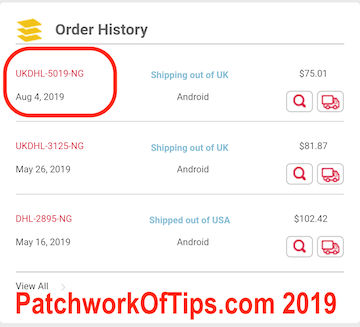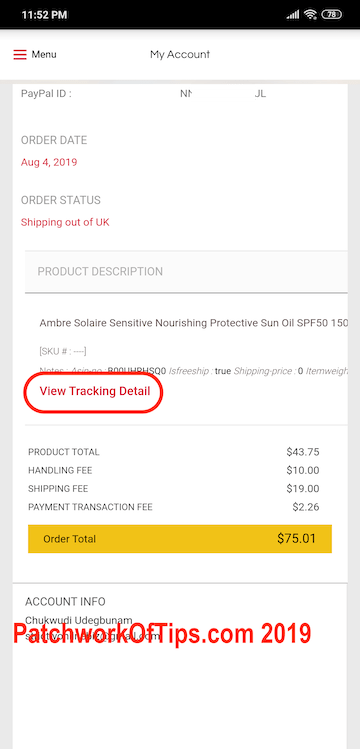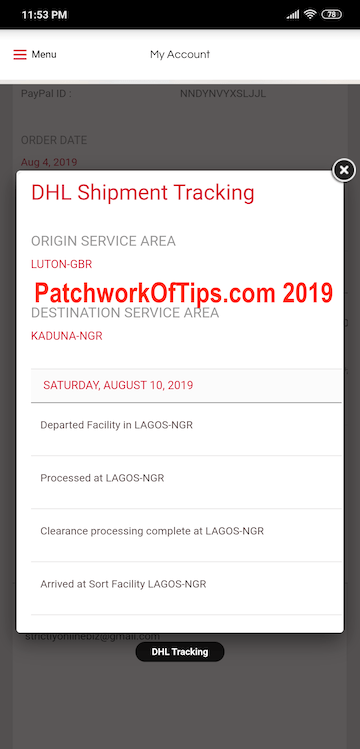 Overall the service makes a lot of sense and I'll definitely continue using it especially when I'm shopping from the UK as my UK orders arrive in 5 working days from when I place them.
If you've got questions about DHL Africa eShop or Mall For Africa, do please leave them in the comment section below or heck share your experience with these services so far with us.
Click Here to Sign Up For A Free DHL Africa eShop Account
Click Here to Sign Up For A Free Mall For Africa Account
You get $5 off your second order from either of these services when you sign up using the above links.
Do have a great weekend ahead.
You can watch my quick tutorial on shopping DHL Africa eShop here
WARNING
UPDATE 27th April, 2020: Please make sure to read up on their shipment value protection issue before placing an order. Thanks.
Please rate & share this article to help others. Thanks
You'll also like: