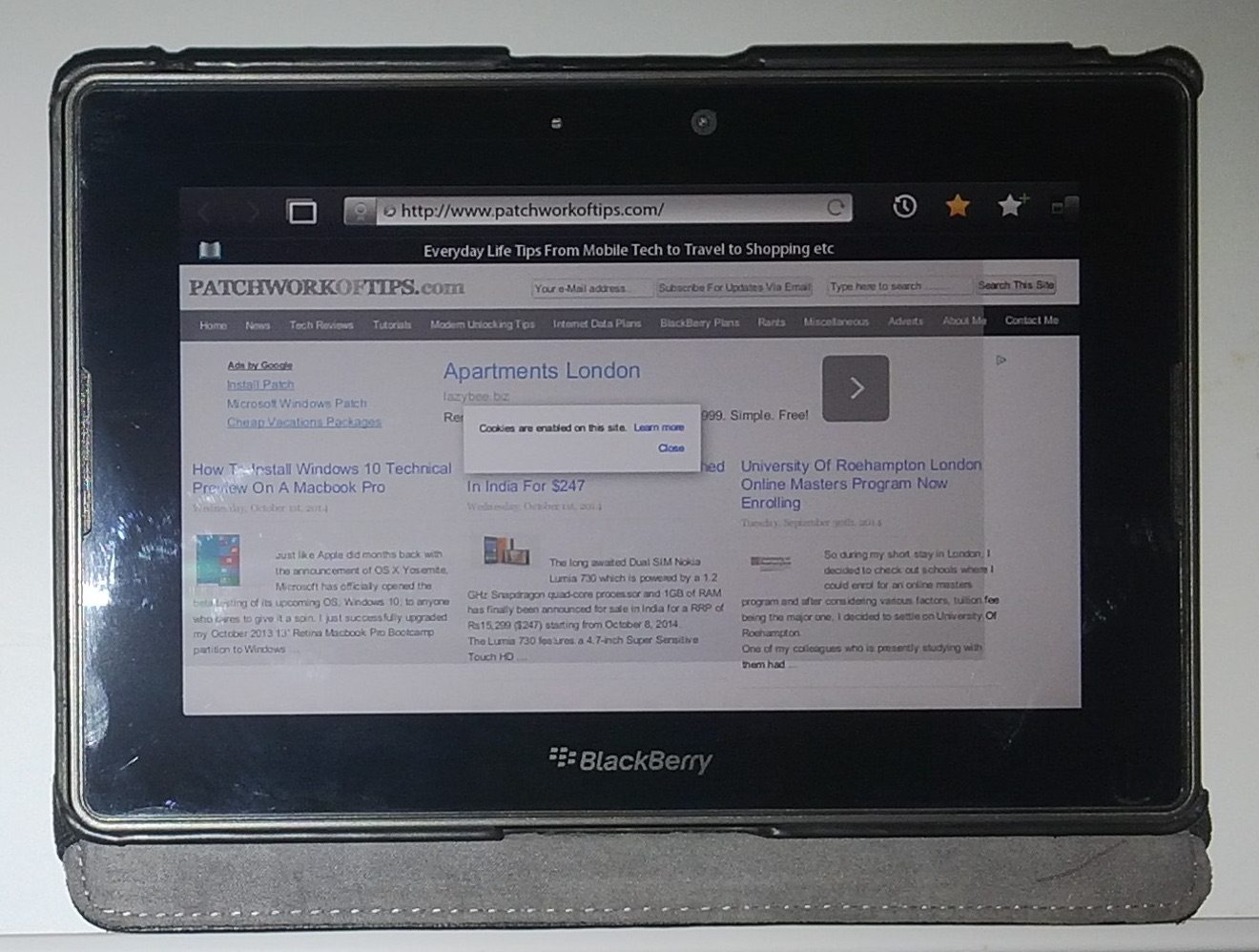 Last night I was looking round my room and my eyes fell on my BlackBerry Playbook which has been gathering dust for close to 10 months now. At that moment I decided it was time to let it go once and for all.
Considering the price I paid for it, I couldn't bring myself to sell for way less than that so I've decided to give it away to anyone who for some reason is interested in it.
My version is the Wi-Fi only version and it comes with a screen protector and standing carry case as shown in the picture above. The wall charger is broken so you have to buy one if you don't own one with a rating of at least 1.5Amps.  The device is still in excellent working condition as I hardly use it.
I recommend the Belkin Boost Up 12Watts-2.4Amps iPad Air & iPhone 5s Charger With Lightning Charge Sync Cable which I use to fast charge all my devices.
Rules and Regulations
This offer is open to Nigerians only due to shipping issues.
You MUST follow me on twitter and leave a comment on this post with your twitter account handle (@name) expressing your interest in the device
Giveaway will run till the end of this month and the randomly selected winner will be announced on the 31st of October 2014
I can only cover shipping via Nipost Registered Mail which is how I send out and receive gadgets most times. If you prefer to receive the tablet via other means, you'll have to cover the bill yourself.
That's all there is to it.
If you don't know what the playbook is all about, do please read my review of the device: BlackBerry PlayBook Review: Cheapest High Quality Budget 7 inch Tablet
If you're interested in a brand new Playbook with 32Gb of storage and  3G/4G/Wi-Fi connectivity, check out Jumia Nigeria's offer at N27,000.
Spread the word please. Thanks ;-)
UPDATE 31 October 2014: There were 19 entries in all. I had to add dummy emails for those of you that didn't leave email addresses as the plugin I used for the selection process was ignoring commentators who didn't leave an email address.
In the end Busuyi Sogo (@busuyi_sogo) won!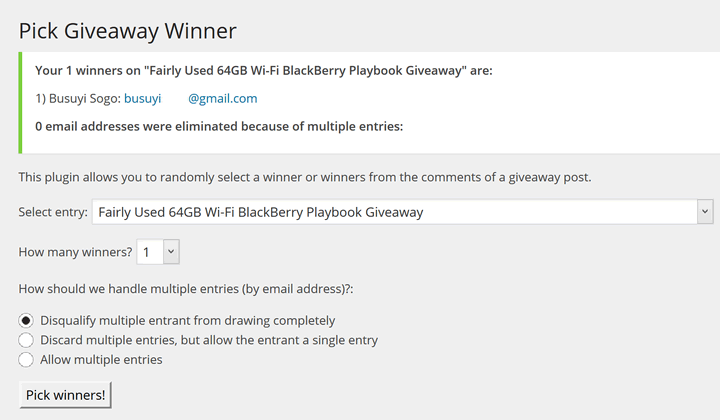 Congrats man. I'll be contacting you soon for shipping address details. Once you receive the tablet, you'll need to take a picture of you and the tablet which I'll post here for proof say no be fraud! lol
Hopefully we'll be doing this again soon by God's grace.
UPDATE 7th November 2014: Busuyi finally got his playbook via Nipost Registered Mail. Yes. That was a plug for Nipost. They seem to be working very well these days. Whosoever is in charge over there is werking well well. lol
@UdegbunamChuks Parcel arrived this afternoon pic.twitter.com/tZE8jEkFOO

— busuyi sogo (@busuyi_sogo) November 7, 2014
@UdegbunamChuks PlayBook out of the brown envelope pic.twitter.com/wfrgBmSEnF

— busuyi sogo (@busuyi_sogo) November 7, 2014
Please rate & share this article to help others. Thanks
You'll also like: