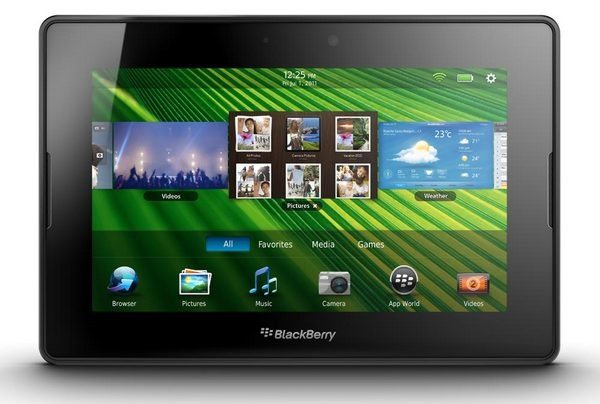 So I've had the 64GB Wi-Fi version of the BlackBerry PlayBook for almost 2 months now and I did have intentions of writing a review of it but unlike mobile phones, I was just not feeling inspired at all until now. Thanks to the guys at the Mobility Nigeria BBM group for "gingering" me to get it over with.
I'll try and keep it as short as possible while highlighting its pros and cons for those of you in the market for a tablet that wouldn't cost you an arm.
Feel free to ask any question or clarify any doubts you may have by leaving a comment below.
PROS OF THE BLACKBERRY PLAYBOOK WI-FI VERSION
Cheapest – High Quality hardware tablet
Truth be told when the Playbook hit the market many months back it was quite pricey at over $600 but it has suddenly come to settle around $150 – $250 keeping it within reach of all BlackBerry lovers. Most budget tablets like the awesome Nexus 7 cut corners by using plasticky casings but that of the Playbook is some serious hard rubber like casing that makes if feel like a true premium device.
The 7 inch 1024 x 600 pixel resolution multi-touch capacitive touchscreen is gorgeous especially when watching HD movies and the speakers are delightfully loud and crystal clear (depending of course on the quality of the audio/video file you throw at it). The graphic user interface is really beautiful and fluid and runs well on the dual core processor giving gaming, video playback etc that smooth run.
The stereo microphones make recording voice notes, voice messages, melodies and what have you a joy as the output is practically noise free and clear.
Since I'm not a photography buff all I can say is that the 5MP rear – facing camera and 2MP front facing camera get the job done with an acceptable quality with support for 1080p HD video recording. Hopefully in the nearest future I'll be uploading a video recorded on the playbook.
Using the Touch – sensitive frame you could wake up the tablet, minimize apps, switch between apps, view app menus etc by swiping from the frame to the screen. There are no physical navigation buttons on this tablet.
Some folks might have an issue with the power button given that it doesn't stick out well enough for easy manipulation but it works just fine for me since I've got dem fingernails

Signing up for a SwiftKey license is one of R.I.M's greatest moves as the keyboard on the Playbook is superb and even allows you to switch between English, Spanish, French, Dutch, Italian and Nederlands in a breeze with excellent text prediction.
The default web browser looks pretty bare but performs remarkably well and even supports resumption of broken downloads which we are yet to see in BlackBerry phones
With regards to battery life, I can only say that I've managed to squeeze out 7 hrs. of movie playback with earphones and the following screen settings: automatic backlight dimming switched on, 5 minute standby time out and 30 seconds backlight time-out as well 75% screen brightness.
I couldn't get an accurate figure when using the Playbook as an e-reader but I think it should do better than the Kindle given that it ships with a 5300mAh fixed battery.
The micro HDMI port enables you to just plug your Playbook into your flat screen TV or projector and enjoy your movies, pictures and what have you on a larger screen. NOTE: the micro HDMI cable is not included in the package.
The 64GB of storage (59.4GB accessible to the user) was one of the major selling points for me as I love being able to carry around loads of movies and music around. Other budget tablets I researched that came with or without a microSD card slot, couldn't match the 64GB for just $240.
Below is an image of the major hardware parts of the BlackBerry Playbook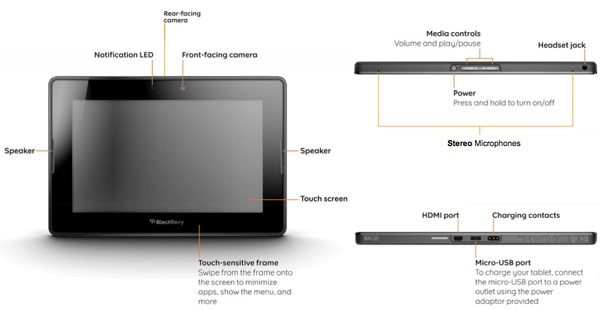 Free Internet Access For BlackBerry Phone Users
As is expected with budget tablets, 3G/4G/LTE is rarely thrown in and one has to rely on Wi-Fi for internet access on this version of the Playbook. (NOTE: There's a 3G/4G version of the playbook but it's yet to hit most countries and is still quite expensive at around $500). Now for those of you who already own BlackBerry smartphones, you could share your BB phone's BIS connection with your Playbook at no extra cost thanks to BlackBerry Bridge.
This has got to be the sexiest feature on the Playbook in my opinion. Like I said, if you own a BlackBerry phone already, you don't need an extra data plan for your Playbook as 99% of the Playbook's internet activity can be carried out over your BlackBerry service plan with the exception of the Appworld application which requires Wi-Fi.
Also with BlackBerry Bridge, you can use your BB smartphone as a remote keyboard for the playbook while enjoying access to your BlackBerry emails, text messages, contacts, calendar, BBM, MemoPad and tasks.
CONS OF THE BLACKBERRY PLAYBOOK WI-FI
Compulsory Startup OS Update: Before you set out to buy a BlackBerry Playbook, do please make sure that you have access to a Wi-fi network 'cause the very instant you turn on the device for the first time, you'd be required to upgrade to the latest OS before you can access the device properly. This update takes up like 300MB – 400MB and depending on the speed of your Wi-Fi connection, it could take as much as 8 hours.
If you don't have access to wi-fi but you have a 3G modem, you could use Connectify Pro to create a wi-fi hotspot and connect to that.
USB Charger issues: Unlike most tablets and phones that are designed to be chargeable via virtually any USB port, the BlackBerry Playbook can only be charged via the provided USB adapter only which brings up the issue of having a spare one handy should in case the only it ships with dies on you.
Also some users have reported issues with the Playbook refusing to start again after the battery drains and it switches itself off. ADVICE: never let your playbook hit 10% without having a wall socket close by. So far so good, there have been a few tips here and there on resolving the issue but it just doesn't work for everyone.
Poor Video Playback support : the default video player supports the following formats only (1080p HD Video, H.264, MPEG, DivX, WMV) and if your video file has kinks within, be sure to expect repeated crashes of the player. Unlike what is attainable with MX Player on the android platform, you can't set your video resolution size and searching through a video is pretty tedious without the *drag on screen to search* feature.
Till date there are no functional converted BAR files for VLC media player and MX Player which would have helped saved the situation. For playback of FLV files check out Local Media Player.
The only multi format video playback software available via appworld has a 2 week trial period and ugly GUI and needs access to wi-fi internet to work everytime. Pretty lame if you ask me. I'm talking of QM Player For BlackBerry Playbook.
Lack of quality free apps in Appworld : unlike the Appworld version for blackberry smartphones, the playbook's Appworld is filled with paid apps some of which are ridiculously priced and just don't do what they promise in the first instance. Thus why I wrote this article: How To Get Refunds From BlackBerry Appworld For Unwanted Applications
BlackBerry is yet to fix their payment gateway/processor issues as Appworld is quite annoyingly selective when it comes to debit and credit cards. A particular brand of debit card might work for a friend and not work for you despite having the same setup.
Google Play, iTunes and Nokia Ovi work with our Nigerian issued debit cards without issues but BlackBerry is still hell-bent on frustrating the living sh*t out of peeps to the extent you sometimes feel like smashing the device.
I had to resort to downloading Angry Birds etc via torrent when I couldn't pay for it due to debit card rejection.
Truth be told without the Android support on the BlackBerry Playbook, it would fall flat on its face with regards to availability of apps. Most of the apps on my Playbook are converted android apps which I got from Good E-reader.
Let's just hope they fix the payment processor and lack of quality apps mess with the launch of Blackberry 10.
On a final note, the upcoming BlackBerry 10 full touchscreen devices are modeled after the Playbook and all playbooks will run BlackBerry 10 software after launch so consider it the cheapest way of having a feel of BlackBerry 10 before buying the phone.
Well folks there you have it. My sharp sharp review of the BlackBerry Playbook which is available via Amazon US for $217 and even cheaper via Currys UK for £129. Both for the 64GB version.
P.S: Less I forget, here's a run through of the specs courtesy of CrackBerry.
7″ LCD, 1024 x 600, WSVGA, capacitive touch screen with full multi-touch and gesture support
BlackBerry Tablet OS with support for symmetric multiprocessing
Texas Instruments OMAP4430 Processor, Dual Core @ 1GHz

IVA 3 hardware accelerators enable full HD 1080p, multi-standard video encode/decode
Faster, higher-quality image and video capture with digital SLR-like imaging up to 20 megapixels
Dual-core ARM® Cortex-A9 MPCore with Symmetric Multiprocessing (SMP)
Integrated POWERVR SGX540 graphics accelerator drives 3D gaming and 3D user interfaces

1 GB RAM
Memory: 16GB, 32GB and 64GB versions to be available
5300mAh battery
Dual HD cameras (3 MP front facing, 5 MP rear facing), supports 1080p HD video recording
Video playback: 1080p HD Video, H.264, MPEG, DivX, WMV
Audio playback: MP3, AAC, WMA
HDMI video output
GPS and Wi-Fi – 802.11 a/b/g/n
Bluetooth 2.1 + EDR
Connectors: microHDMI, microUSB, 3.5mm headset port, charging contacts
Open, flexible application platform with support for WebKit/HTML-5, Adobe Flash Player 10.2, Adobe Mobile AIR, Adobe Reader, POSIX, OpenGL, Java
Ultra thin and portable:

Measures 5.1″x7.6″x0.4″ (130mm x 193mm x 10mm)
Weighs less than a pound (approximately 0.9 lb or 400g)
Please rate & share this article to help others. Thanks
You'll also like: