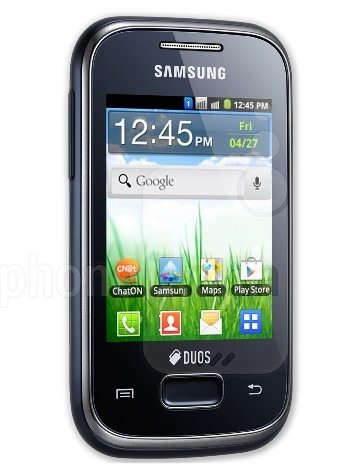 Barely a year after Samsung released the cheap Samsung Galaxy Pocket, a dual SIM version of the phone is set to hit the market in select countries.
Specs wise it's still the same old hardware in the previous version with just the Dual SIM function thrown in together with Android Gingerbread 2.3.6.
Personally I'm not a fan of this smartphone as I feel phones of this size are best left to the feature phone department as the screen (2.8inches) is just too small with a low resolution and pixel density display.
Coming from a cool Android Ice Cream Sandwich device (Pliris Blaze +), Gingerbread would be a step back in operating system functionality for me.
For some reason each time I think of the Samsung Galaxy Pocket, all I see is a glorified HSPA/MiFi internet device given that it comes with HSDPA, 3.6 Mbps as well as Wi-Fi hotspot capabilities with 6hrs of battery life on 3G mode.
With the single SIM version currently priced at N18,900, I wonder how competitively priced the dual SIM version would be in order to move it off the shelves despite being the cheapest dual sim android device in Samsung's arsenal of smartphones.
No word yet on when this device will be available in Nigeria as we also wait the launch of the Samsung Galaxy S Duos S7562 also another Dual SIM android but with a 4.0" capacitive touchscreen display and Android ICS.
Click here for full specs of the Samsung Galaxy Pocket Duos
Please rate & share this article to help others. Thanks
You'll also like: