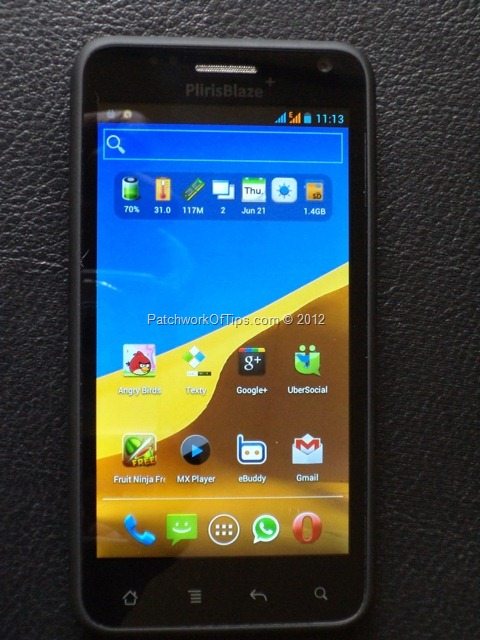 Before I start, allow me to say that never have I envisioned myself buying a Made By Nigerians mobile gadget. As in NEVER. That totally changed when I read Mister Mobility's mini review of the Pliris Blaze +. Right there and then, I knew I just had to get the device as it was literally my dream dual sim mobile smartphone (In the course of two and half years, I've experienced the Samsung GT C3212, LG X330T-X335 and the Nokia Asha 200. All dual SIM phones).
This will probably be the first full review of the Pliris Blaze + so I hope to make this as detailed as possible. Should I happen to leave something out, do please feel free to use the comment form below to ask your questions.
Full technical specification for the Pliris Blaze + can be found at the end of this review
NOTE: Before we begin, allow me to say that I don't own a professional camera neither am I Patrick Demarchelier, so do please bear with me with regards to the quality of the pictures. I'm using a Sony Cyber-shot DSC-S3000
Design and Build Quality
Encased in a solidly built all plastic with some metal shell, the Pliris Blaze + features the power button and 3.5mm audio jack at the top of the device with the microUSB charging and data transfer port to the right side of the device. The volume control buttons are placed to the left and the microphone is at the base.
The rear end of the phone, which in most of its length is the battery compartment cover, is made of thin plastic and can somewhat be difficult to pry open mainly out of fear of breaking it as it feels solid and fragile at the same time. One would definitely some finger nail to pry open the cover.
At the top of the back, the LED Flash, 8MP Camera lens and built-in speakerphone are all aligned. I'm not too fond of the red pattern around the lens though. Makes the phone look a bit *china* in my opinion. lol.
The Pliris Blaze + logo is printed at the bottom of the rear end of the phone.
The front of the device, right above the screen lies the Pliris Blaze + logo again and it's somewhat of faint. At that point is also the 0.3MP front facing camera for Video calls, the ear piece and some sensors.
NOTE: The Pliris Blaze + lacks LED notification which according to Pliris Mobile is a cost saving and battery saving move.  Coming from a BlackBerry, it took me sometime to adjust to non-existent blinking red light that notifies me of an unread email or missed call.
At the bottom of the screen are the Home, Menu, Back and Search software buttons.
Without its free protective casing, the Pliris Blaze + weighs 150g with 127 x 66 x 12 mm dimensions. It doesn't feel bulky at all to me.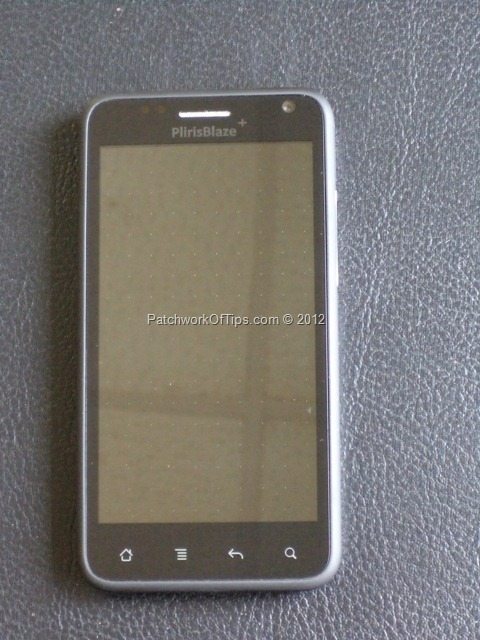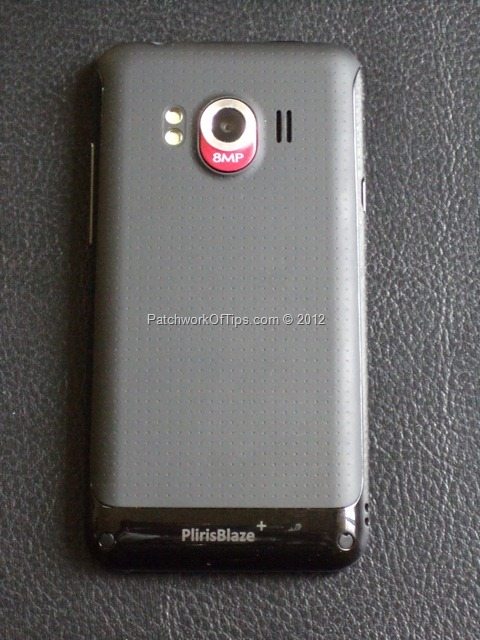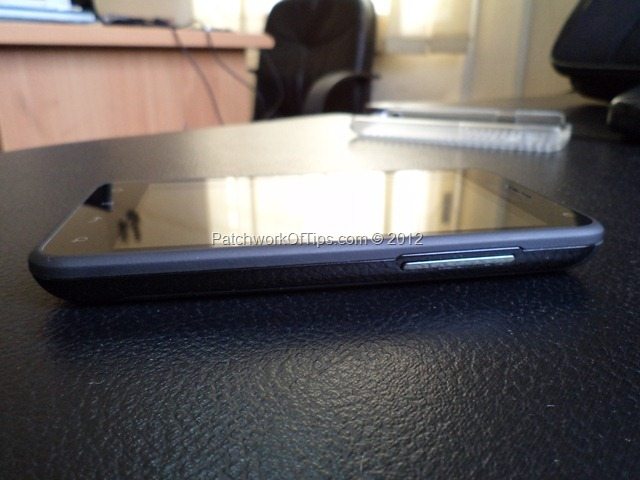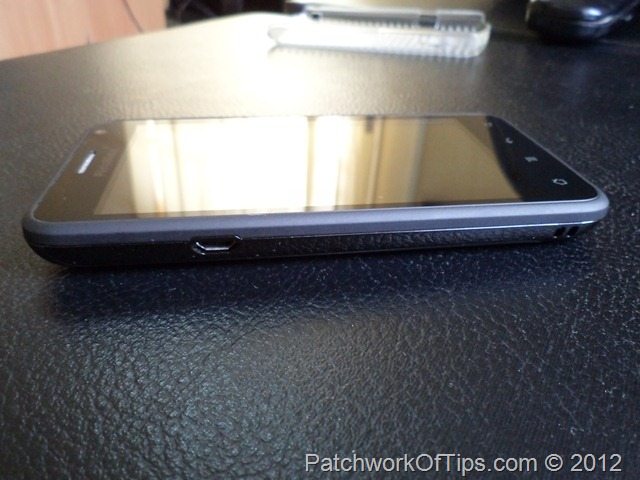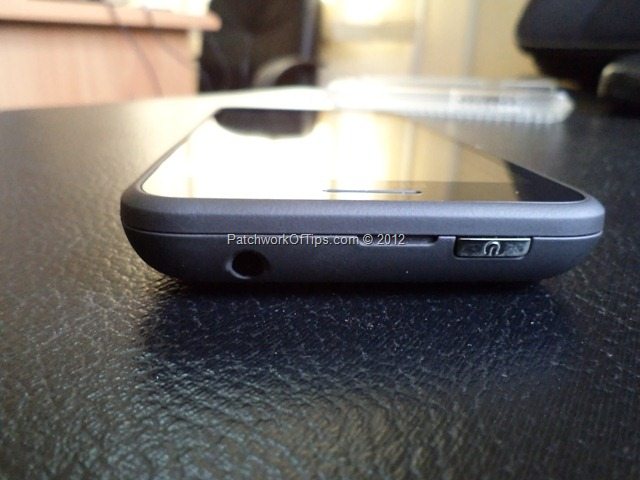 Internals and Performance
For its proposed retail price of N40,000 with full multitouch screen and Dual SIM active feature, they did a good job by throwing in the following hardware:
Mediatek CPU MT6575 chipset
1Ghz Dual Core Cortex A9 processor
512MB RAM
512MB Internal Storage
2GB Internal SD card storage
Free 4GB MicroSD external storage expandable to 32GB
Imagination Technologies PowerVR SGX531 400MP GPU
8 MP, 3264×2448 pixels, autofocus, LED flash with Video recording 352×288 pixels @ 20fps  and 0.3MP Front facing camera
Wi-Fi 802.11 b/g/a, Wi-Fi hotspot, Wi-Fi Direct
Bluetooth v2.1
microUSB 2.0
0.13mA Proximity and Light sensor from Capella
0.25mA Magnetic Field and Orientation sensor from Aichi Steel
0.13mA Accelerometer courtesy of the Android Open Source Project
The device runs smoothly with less lag than I tend to notice on my BlackBerry Bold 9900 but USB transfer of files to and from the phone, seems somewhat of slow in comparison to what I'm used to with my BlackBerry and this sluggishness affects both the internal and external SD memory slots.
Android apps such as AnTuTu Benchmark, Elixir and SetCPU all registered the processor as an ARMv7 but the Pliris Mobile team say that such apps may have a little bit of problem detecting the processor properly as the Mediatek chipset it comes it, is still new on the market.
I was able to run games such as Angry Birds Space, Air Attack HD Lite, Fruit Ninja, Fruit Slice and Temple Run smoothly without hiccups along the way.
There were certain issues with the orientation sensor (Accelerometer). It sometimes just didn't work or was slow to kick in but after deleting one too many apps that I had installed, it started working fine again. Probably one of those battery saver apps was to blame. I ain't so sure.
The Pliris Blaze + managed a score of 3558 ranking above the Google Nexus S, Samsung Galaxy S and Sony Ericsson X10i in a couple of AnTuTu Benchmark tests I ran. Not a bad achievement I must say.
View screenshot of benchmark test below.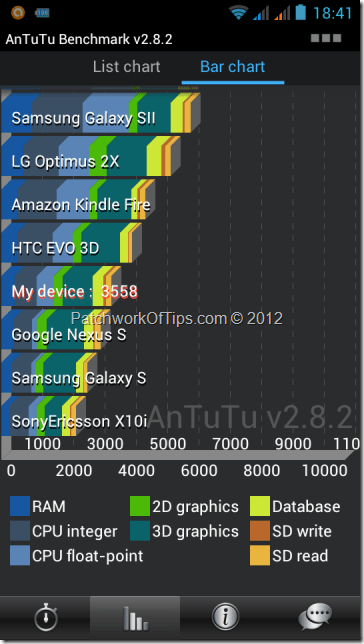 Screen Quality and Responsiveness
Mister Mobility was in no way joking when he said working on the touchscreen of the Pliris Blaze + was buttery smooth 'cause it actually is compared to what I've experienced on some Samsung and Nokia phones though they might have been packaged with resistive touchscreens.
The Pliris Blaze +  is rocking a 560 X 940 Pixels, 4.3 Inch (~240dpi pixel density) High Resolution Capacitive Touch Screen. Haptic feedback and 5 fingers multitouch are thrown in for good measure.
The color display is pretty clean and texts are well defined. My only problems with the screen is that it tends to easily accumulate finger prints and I wish it were scratch-proof.
Less I forget, even at its brightest setting, the Pliris Blaze + display ain't so clear in direct sunlight. Probably another enforced battery saving feature on their part.
My favorite activities on the Pliris Blaze + are watching HD movies and playing games. I'm very much in awe of the Blaze + High-definition 720p video playback capability.
Sounds and Call Quality
Except for days when the network was pretty bad across the country, call quality on the Pliris Mobile's Blaze + has been nothing but stellar to say the least. The clarity of recorded phone conversations on the device tells about the superb quality of the audio related hardware parts.
Music playback and calls via the phone's speaker and the provided earphones ain't Beats quality but still works mighty fine for me.
Dual SIM Active Functionality
The summarized tech specification list of the Pliris Blaze + says it's a Dual SIM Active phone but when I tested it, it wasn't so. It's a Dual SIM Standby phone. That is both SIMS are active but if you're actively taking a call on one line, calls to the second line would get the "number not available" treatment.
I guess we all have issues with these Dual SIM terms. lol. I did when I purchased the Nokia Asha 200.
For more info on the different types of Dual SIM technology, do please check out Wikipedia's Dual SIM entry.
Camera
This is the only part where I was so not impressed by the Pliris Blaze +. The pictures did not just tally with what I feel is expected of an 8MP camera. Color separation was sometimes poor and the pictures lacked perfect clarity. Then again after reading Mister Mobility's poor outing with the HTC One X's camera. I don't feel so bad.
I'm yet to test 3G Video Calling on the device as I presently don't have reliable 3G internet connection around me but I believe that should work without a fuss.
On Skype I was only able to test the audio via Wi-Fi but I've been assured that the video call function works too.
Below are a few pictures I took with the Pliris Blaze +. Do please note that they've been resized to 640 x 480 to save bandwidth.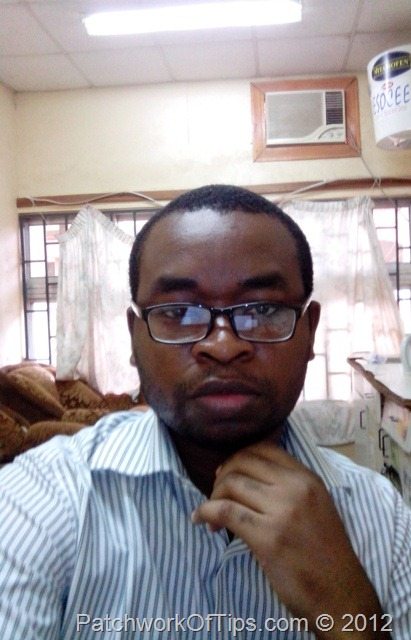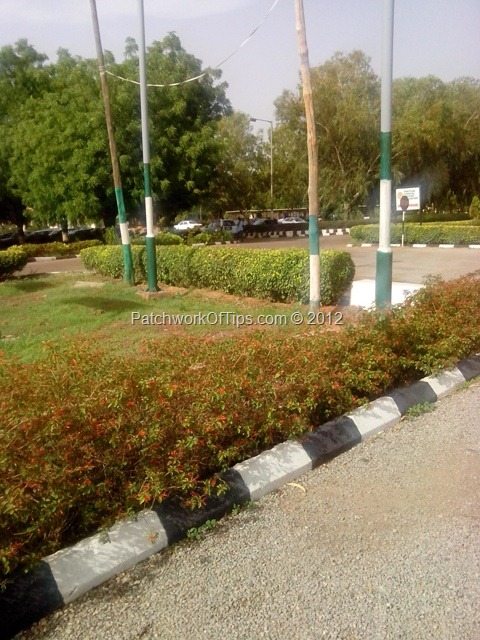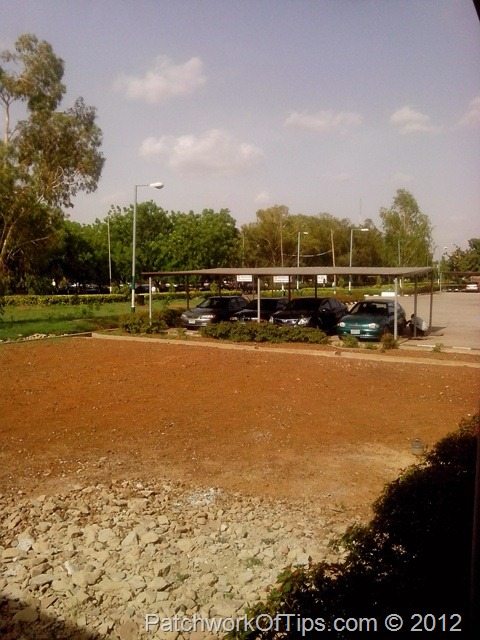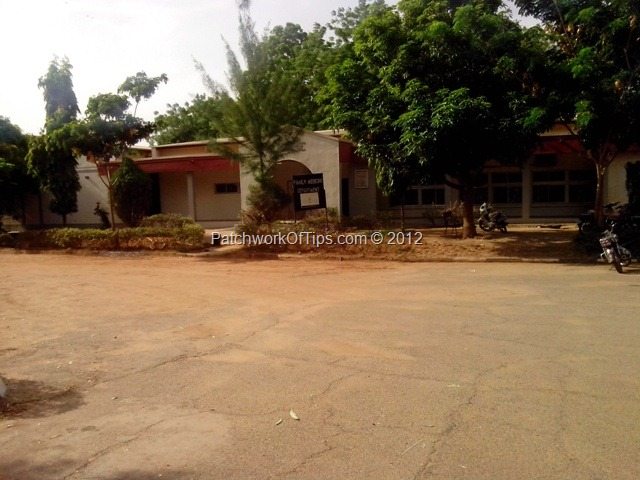 Battery Life
Each Pliris Blaze + Android  smartphone ships with two 2000mAh Li-On battery.
In between mild and moderate use, I was able to get around 9 – 11 hrs of battery life. When gaming was involved, I got around 5 – 6hours.
With Wi-Fi and Mobile data turned off + earphones and maximum screen brightness, I got approximately 6 hrs of video playback before the battery was completely drained
Do please note that during my battery test. I had all forms of vibration turned off as well as screen brightness set to the minimum. Wi-Fi and GPS were turned off with Bluetooth only coming on when I needed to transfer files from my Samsung Solar netbook to the device.
One nagging problem I experienced was that whilst charging the phone or doing something intensive on it, I tend to get these annoying alerts which the Pliris Blaze + rep has told me to just ignore.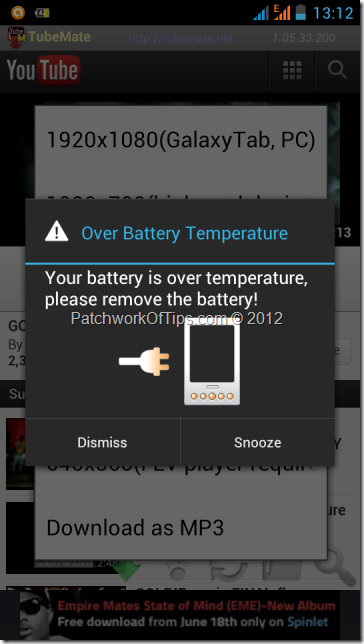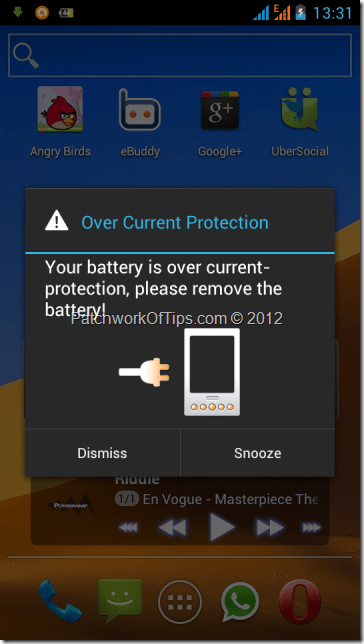 I can't seem to find these warning messages anywhere online and I wonder if they are part of the stock Android Ice Cream Sandwich operating system.
Android Ice Cream Sandwich Software
From all indications, the Pliris Blaze + is running stock Android ICS without too many modifications. My Pliris Mobile contact says only standard tweaks were made to the OS in order to optimize its performance.
The notification bar at the top of the screen offers quick access to turning on and off functions such as Wi-Fi, Bluetooth, GPS, Data Connection and Airplane Mode as well as Auto rotation and audio profiles.
Locking and unlocking the screen is as easy as pushing the power button though you've got a few choices like sliding to open or typing in a password to open.
Another feature I like is swiping left to answer calls, right to cancel calls and upwards to send a quick pre-typed SMS to whosoever is calling you.
Application integration into the OS is very much present though in some areas it lacks or beats that which is obtainable via the BlackBerry OS.
Creating screenshots needs some practice as you have to press the power button and the volume down button at the same time and hold down for a sec or two to capture the screen. Since my Pliris Blaze + was delivered in its rooted state, I'm now using Screenshot by Kastor Soft which requires such a shake of the phone to take screenshots.
DocumentsToGo has been thrown in free of charge to enable viewing and editing of PowerPoint, Excel and Word documents. It also comes with a PDF viewer.
I really appreciate the ease with which one could set Opera Mini as the default browser for EVERY single link one wishes to open on the phone. This is one feature which has been lacking on the BlackBerry platform till date.
It took me a while to get use to the OS since I'm mostly all about the BlackBerry but I'm getting the hang of things.
The music and video players doesn't support some popular formats like WMA and MKV thus you'd be needing a free video player like MX Player and something like Poweramp Music Player wish costs $5 via Google Play. Still on Google Play, I kept getting *INCOMPATIBILITY* messages on some apps that I really needed such as UberSocial for Android, WordPress and Fruit Ninja. Luckily for me sites like 1 Mobile exist to solve that problem. Simply download which app you like, transfer to your device and install right away.
I love the way, you can trigger Google Play downloads onto your device from your anywhere but your android phone. Pretty cool.
NOTE: To install apps outside of Google Play marketplace, you need to configure the device security settings to allow for such installations.
The Pliris Blaze + features two Pliris Mobile proprietary apps, Pliris Texty and SKoopIT which allow you to send 10 free SMS daily to any network and to stream internet radio respectively. Those free SMS sure do come in handy when you're stranded without an SMS credit on your line but you have an active internet connection.
Not to worry, the Pliris Blaze + comes with an FM radio receiver so you can listen to your favorite offline radio stations on the go without the need of an internet connection. FM Radio recording is very possible with the Blaze +.
The Pliris Blaze + does not come with an installation CD of any kind. Connecting to the internet on your PC with your phone is pretty easy as the phone once plugged in auto-configures everything for you.
Transferring contacts to the phone is only possible via your Google account and vcards which must be loaded unto the SD card and then imported. I had to install the latest version of Nokia PC Suite not Nokia Ovi to extract all my contacts as vcards from the Nokia Asha 200
The phone offers no way of monitoring your battery whilst charging it powered off. To know exactly when the phone is fully charged, you need to turn on the phone and monitor it from the locked screen
Warranty
Come July 2012, when the Pliris Blaze + will be officially launched, each device would come with a six (6) months warranty which excludes end-user provoked physical damage. Customers will be expected to pay up to 50% of the cost for such repairs.
Alternatively, you are eligible for 1 year device warranty whereby you pay full price for parts and services in situations whereby you damage parts of the device.
Officially Pliris Mobile is yet to take a stand regarding this Warranty issue as they would love to impress customers by offering 50% on repairs of end-user damaged goods.
As far as I know, plying this route is a hot recipe for bankruptcy. They should just stick with the 1 year warranty with end users paying for any physical damages to their devices. That's what the big guys like Nokia, Samsung and BlackBerry are offering.
Paying for a customer's carelessness or misfortune is just too much.
Support
UPDATE: October 2012): This is one department that Pliris Mobile seriously needs to work on. It took me three days after an email, twitter mention and Facebook page post to get in touch in them about fixing a small battery leak issue I was having.
In the end, I lost the zeal to follow up on the battery leak fix 'cause given the slow response, I quickly assumed that getting my device back would take a considerable amount of time too.
If it were a big company like the likes of Nokia and Samsung, that would be TOTALLY acceptable but not from a small company with just a handful of customers.
I wonder why they removed their contact number and just left their Abuja office address. It would have made customer service a lot more faster IMO.
Conclusion
If I were to rate the Pliris Blaze + on a scale of 1 to 10 based on what it offers as the first attempt at a dual sim active android ICS smartphone by Nigerians and its' current market price, I would give it an 8/10.
It's kinda sad that I seem to be spending more time on it these days instead of my BlackBerry Bold 5. If not for financial constraints, I would have placed a pre-launch order on the Pliris Rave which offers an even larger display.
Pliris Blaze + Full Tech Specifications
BRAND and MODEL
– Brand: PLIRIS
– Model: BLAZE+
– Carrier: Unlocked
– Sim card: Dual sim dual standby
– Case Shell Material: Plastic and Metal
OS and CPU
– Operating System: Google Android Ice Cream Sandwich 4.0.3
– 1Ghz Dual Core Cortex A9 Processor
– Mediatek CPU MT6575 chipset
NETWORKING
– Dual sim dual standby, WCDMA\GSM+GSM
– 2G: GSM 850/900/1800/1900 MHz
– 3G: WCDMA HSPDA 850/2100 MHz
– UMTS HSPA 900, 2100 (Global except Americas)
– UMTS HSPA 800, 850, 1900, 2100 (Americas)
– Data Technology: GPRS, EDGE, HSPDA
CAMERA and VIDEO
– 8MP back Camera + 0.3MP front camera with auto focus and photo light
– Image playback, supported formats: BMP, GIF, JPEG, PNG
– Video playback and recording, supported formats: 3GPP, MP4
CONNECTIVITY and COMMUNICATION
– Track ID music recognition
– 3.5 mm audio jack for headphones
– Stereo speakers
– Audio playback, supported formats: MP3, ACC,AMR,OGG,M4AMID,3GP,3G2, MP4, WAV
– Audio recording, supported formats: 720P,3GPP, MP4, AVI, ASF, RM, RMVB(Third party app support)
– 3D and motion gaming
– Facebook, Twitter inside
– Micro USB support: 2.0
– WiFi: Wi-Fi IEEE 802.11 b/g/a
– Wi-Fi Hotspot functionality, Tethering & portable hotspot
– Synchronization via Exchange ActiveSync
– WebKit web browser with zoom
– Bluetooth technology: Bluetooth 2.1
– VPN
– GPS satellites
– Voice input & output
DISPLAY
– Screen Size: 4.3-inch
– Color Support: 16 Million Colors
– Screen Technology: Capacitive Multi-touch Screen
– Display resolution: QDH, 960*540 pixels
PRE-LOADED APPLICATIONS
– Pliris Texty
– sKoopIT!
– Google Play shop
– Google Maps
– Google Talk
– Google Mail
– Google Calendar
– Compass
– Google Documents to Go
– Google Voice (for International Use doesn't work in Nigeria yet)
– Youtube
MEMORY
– Internal phone storage: 2GB ROM
– RAM: 512MB
– Memory card support : MicroSD Card up to 32gb
BATTERY
– Battery: Built-in Li-on battery, 2000mAh
– Standby time: 120-180 hours
– Talk/Active Browsing Time: 6 – 10 hours
SIZE
– Dimensions: 127×66×12mm
– Weight:150g
IN PACKAGE
– 1 x Pliris BLAZE+ Phone
– 1 x Travel Charger
– 1 x USB Data Cable
– 1 x earphones
– 2 x 2,000mAh Batteries
– 1 x User Manual
– Free Protective Case
– 4GB microSD card
Please rate & share this article to help others. Thanks
You'll also like: