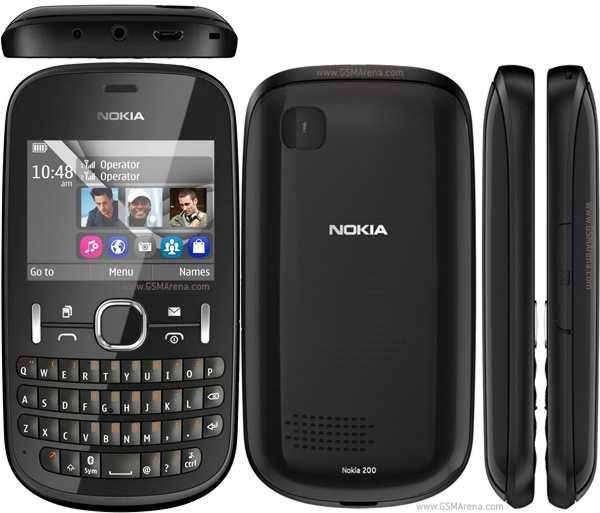 UPDATE: A new software update just rolled out as Version 11.56 and it promises a new version of the web browser as well as ability to manually configure internet connection access point names (APN). For those having memory related problems with the media player and custom themes, this update should set things right asap.
The convenience of Dual SIM phones is something that will never fade in this part of the world where mobile call services as well as mobile data can be epileptic and unless you're a lady with one of those huge handbags like the Hermes Birkin that can carry loads of stuff, walking around with 3 – 4 phones can be cumbersome.
Nokia's QWERTY Asha 200 is my third Dual SIM mobile phones in the past 2 years. In my honest opinion The Samsung GT-C3212 and LG X330-T ain't got nothing on Asha 200 at all.
With a well constructed plastic casing that comes in Graphite, Green, Blue, Aqua, Pearl White, Light Pink, Pink and Orange, the Asha 200 is simply fantastic with a much better GUI that's easy on the eyes and makes navigating the phone fun while keeping the cost at N14,000 ($88) from Slot Abuja, Nigeria.
The basic package comes with a Nokia charger, 2GB memory card, earphones, 1 battery. There's no microUSB cable included
Click here for full specification of the Nokia Asha 200 and you can read on for my unprofessional review of this dual sim handset. GSM Arena offers you a more detailed review @ Nokia Asha 200 review: Dual SIMpatico
DISADVANTAGES OF THE NOKIA ASHA 200 DUAL SIM MOBILE PHONE
There seems to be an echo effect when answering calls. This has been the major complain online from folks who purchased the device. Despite all these complaints, Nokia is yet to issue a statement regarding this glitch leaving me to draw the conclusion that they are playing dumb so as not to have to call back the devices as being defective.
For some reason, my Glo internet plan only works on default browser. Other apps on the device like Ovi store and Opera Mini can't use it. Works flawlessly though with MTN Nigeria's mobile internet bundle and Etisalat Nigeria EasyBlaze plans. Unlike is seen in most Nokia phones, the Asha 200 doesn't give options for manual internet settings. It's as though all internet settings have been automatically embedded in the phone. Pretty annoying I'd say. UPDATE: After upgrading to Nokia Asha firmware 10.60, Glo internet settings started to work across all apps on the phone.
Dual SIM Standby: unlike the Samsung and LG dual SIM phones I once owned, this Nokia S40 phone only comes with one radio thus when one SIM is active (calls, data transmission etc), the other SIM is unavailable. I can't really be bothered by this as my second SIM is an emergency one and thus I don't really receive calls with it .
The Internal SIM slot must contain a SIM or your device will only be able to make emergency calls
Internet connection cannot be open in the background thus making fluid social networking impossible as these networks require a constantly open internet connection
No USB Charging: In this day and age, it's pretty sad that Nokia is yet to embrace mobile technology that allows for phones to be charged via USB.
This device does not support multitasking except for music playback in the background
No dedicated volume control button that works even when the keypad is locked. I love this feature on my BlackBerry Curve 3G as well the Samsung C3212 and LG X330.
No 3G and No Wi-Fi which is TOTALLY expected of such a budget friendly device.
Battery takes over 3 – 4 hours to achieve a full charge.
Included earpiece may be defective as it only works well on the Nokia Asha 200. This is one earphone that can't be readily used on a computer or other phones as you can barely hear a thing on other devices.
It's been only 4 days of use and the glossy back cover is all scratched up!
Unlike some sites are rporting, Nokia Asha 200 does not support radio recording.
Looks like the RAM on board is quite insufficient as any attempt to run heavy apps or themes throws up a memory related error message.
Opera Mini 4.4 is the best you can get on this device for now as the current version 6.5 shuts down due to insufficient memory after browsing a page or two.
The screen can be sometimes too bright and the lack of a brightness control mechanism puzzles me.
Unlike most dual SIM phones, Nokia 200 offers no way of switching off one of the SIM without removing the SIM card from the device.
Connecting to the internet with the Nokia Asha 200 via Nokia Ovi Suite on your computer only works with the first SIM.
The Media Player doesn't come with an Equalizer.
Updating the phone's software from version 10.58 to version 10.60 is reported to fix the echo issues most of us are experiencing but Nokia Suite and Nokia Software Update app always crash even before the update starts and updating the software via the phone doesn't recognize the availability of a new operating system software.
The Nokia Asha 200 offers no support for video streaming thus You can't watch Youtube videos on the device.
The video player back only supports MP4s with a particular encoding mechanism thus not every mp4 plays on it. Even 3gp videos are affected too.
ADVANTAGES OF THE NOKIA ASHA 200 DUAL SIM MOBILE PHONE
With Easy Swap slots, you can change SIMS and memory cards without turning off your device at all. What's more, the Nokia 200 can save up to 5 SIM settings in memory should in case you swap SIMs a lot.
Both SIMS are GPRS/EDGE enabled and unlike the Samsung C31212, they both provide data connectivity irrespective of being in SIM slot 1 or slot 2.
Glossy back/battery cover that can serve as a mirror for taking self-portraits
Internet settings are maintained despite frequent SIM switch.
Social networking is possible using Nokia Social app though not as fluid as you would get with smartphones like the Samsung Galaxy SII and BlackBerry
Fully functional email client that supports Gmail, Yahoo, Hotmail etc.
Chat platforms like Yahoo Messenger, Facebook Chat, Windows Messenger and GTalk are supported.
Pretty nifty media player that categorizes tracks by Albums, Artists and Genre with support for album art display (if available). Media player can be hidden to play in the background and the sound quality is pretty ok by my standards given I'm not an audiophile. Supported file formats include MP4/H.264/H.263/WMV/MP3/WAV/WMA/AAC
Backup facility that allows to backup your contacts, messages, apps, settings, bookmarks, calendar and what have you to a remote server or onto your memory card (2GB memory card is included in the package)
You can easily update the Nokia Asha 200 firmware directly on the phone or via PC using Nokia Ovi Suite.
Home Screen shortcut app which allows to access the SIM Manager and functions including media player, camera, chat, countdown timer, calendar, e-mails, sms and what have you right from the home screen with navigating the phone's menu.
Fast internet browser that supports cookies and comes with data compression which Opera Mini is widely popular for. I still prefer Opera Mini though
Battery Life is good and with average use, one can easily keep going for 2 days without a charge. Do please note that email/web browsing was minimal to achieve this. The LG X330-T beats it hands down in terms of battery life but that should be expected given the crude and slow operating system that comes with the LG. Removing or deactivating the second SIM in areas with poor reception, gives a boost in battery life.
The layout of the QWERTY keypad needs a bit getting used to as a hardcore BlackBerry user but it's 100times better than the LG X330-T
I'm not really into camera phones thus I really can't say much about the 2MP camera that it ships with. The pictures I've taken so far with it are manageable.
Due to my current location, I haven't really used the radio application so I can't say a thing about it.
In conclusion, if you are looking for a dual SIM Standby mobile phone with close to 3 days of battery life with call, sms, email, camera, web browsing and social networking capabilities and a pretty GUI, the Nokia Asha 200 should do.
If you want your second SIM to be active while the first one is active, I suggest you get the LG X335.
Feel free to ask me anything regarding the phone which I might have missed in this mini-review of the Nokia Asha 200 s40 Dual SIM wonder.
UPDATE: Looks like Nokia silently released a new firmware for the Nokia Asha 200 over 1 month ago. Unfortunately I can't really tell for certain if this firmware upgrade fixes the echo issues we've been having as the network in my area has been kinda bad lately but I can most definitely say that the frequency with which I hear those echo sounds have been reduced.
This update is not yet available for direct download to your phone so you would have to upgrade it via Nokia OVI. Nokia OVI kept crashing on me each time I started an update but I was able to find a solution at the Nokia Forums.
To fix the Nokia Ovi crashing problem while updating Nokia Asha 200 software simply do as follows
Open C:\Program Files\Nokia\Nokia Suite\productapi\productapiconfiguration.xml file in Notepad.
Using the find feature, search for <TypeDesignator>RM-800</TypeDesignator> <SecuritySolution>SD</SecuritySolution> and change it to <TypeDesignator>RM-800</TypeDesignator> <SecuritySolution>NA</SecuritySolution>.
Also search for <TypeDesignator>RM-761</TypeDesignator> <SecuritySolution>SD</SecuritySolution> and change it to <TypeDesignator>RM-761</TypeDesignator> <SecuritySolution>NA</SecuritySolution>.
Save the file and re-launch Nokia Ovi again. Now you will most definitely be able to install the new firmware in Nokia Asha 200.
Thanks to one of Nokia's Employee's for the fix. ;-)
Please rate & share this article to help others. Thanks
You'll also like: