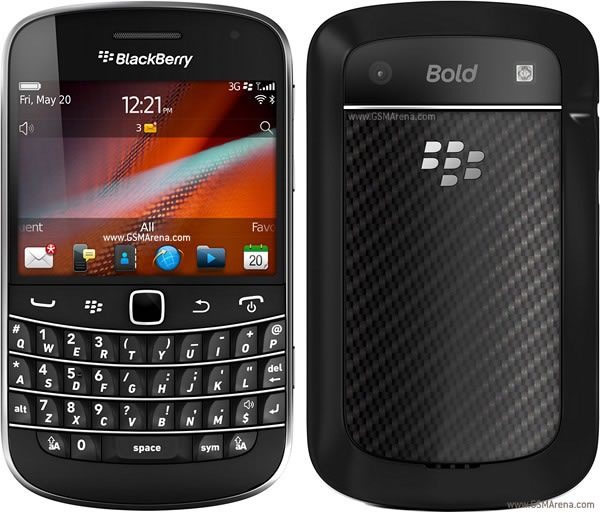 Despite been scheduled for a September 2011 release, the new BlackBerry Bold Touch 9900 has finally made its way into the major mobile markets and has managed to create some sort of frenzy amongst loyal BlackBerry users. Unfortunately I ain't so impressed and if I ever decide to get this new addition to the BlackBerry Bold family, it would be because of the following features:
Crystal clear BlackBerry OS 7 Liquid Graphics technology powered 2.8-inch, 640 x 480 pixel capacitive touchscreen
Large, spacious QWERTY keyboard
Excellent battery life
Encased within solid stainless steel bezel with carbon-fiber and coming in at 115 x 66 x 10.5 mm, the BB Bold 9900 is the slimmest BlackBerry to date. Noticeable is the fact that the screen lock/unlock button at the middle of the top of the phone has been made prominent thus no longer requiring long fingernails to push in some cases.
RIM seems to be pushing the device with the promise of a whole new system in BlackBerry OS 7 which they recently claimed features 40% faster browsing and fluid operation twice the speed offered by BlackBerry OS 5. Backed with a swift 1.2 GHz processor with 768 MB RAM and 8 GB of onboard memory, they manage to cover the faster speed claims but truth be told, BlackBerry OS 7 only bears little difference to the not so long ago released BlackBerry OS 6.
NOTE: If your device is still using BlackBerry OS 5 and you'd like to upgrade to OS 6.0, please read How To Upgrade To BlackBerry OS 6. In the event that after the upgrade, your device is left with less memory for apps and all that, you can increase your device's memory by taking a look at How To Increase Memory In BlackBerry OS 6.0. Also with the improvement on speed, rebooting your BB device no longer takes forever
RIM maintains its long term lead when it comes to hardware QWERTY keyboards and the BlackBerry Bold 9900 shines in this department. Hardcore text and email addicts would TOTALLY fall in love with the new keyboard which is now quite spacious and tactile and has been tagged by some folks as the best QWERTY keyboard on a smartphone ever.
Unlike the Curve 3G that reboots in an average of 4mins, the Bold Touch loads within an impressive 1minute
BlackBerry ID protection has been put into place. Whenever the device detects a SIM change, you'll be prompted to entered the blackberry ID that corresponds to your device. Lack of such denies you access to the device. I really don't know how strong this is and one can bypass it by flashing the phone.
BlackBerry 7 now makes 1280 x 720 HD video recording possible with the Bold 9900's 5 MP, 2592×1944 pixels camera. Geo-tagging, face detection and image stabilization are supported by this camera.
The browser is no different from what you'll get from OS 6 but it still lacks a serious download managers. As it is now, downloads can neither be paused nor resumed leading to waste of precious data when large sized downloads fail and have to be started all over again. It seems to be a lot faster but is yet to support flash videos which makes reproduction of FLV files impossible.
NOTE: If you're looking for a secondary mobile browser for your BlackBerry Device, I highly recommend the new UC Browser with Super Download Manager for BlackBerry Phones
Liquid Graphics technology makes viewing videos on this device cool and the following formats are supported MP4, WMV, 3GP, MOV, H.263 and H.264. Just as it is with other BB devices, MKV and FLV are not supported.
Despite coming with 768MB of RAM, most of these was occupied by the OS and what have you, leaving just a little over 150MB for app installation. BB Boss 2.2 as usual came to the rescued and increased that free memory to over 200MB. The boot time seemed to increase immensely after the OS compression but subsequent reboots went back to the 1 minute plus mark.
I really don't like touching call quality aspects of mobile phones as in my experience it all comes down to the quality of your mobile network's signals. Calls on the BB Bold Touch 9900 are clear enough for me.
Though the device comes with a smaller standard battery (Li-Ion 1230 mAh), it has been tested around the web by geeks at CrackBerry and found to last up to 18hrs of intense use. The average user should expect to get close to 2 days of battery juice.

Mobile hotspot is to die for even though it doesn't make use of your active BIS plan. (You need a separate data plan). Now I have my own personal wireless internet connection courtesy of the BlackBerry Bold 9900. Also you need an active BIS connection to make use of the mobile hotspot.
I was earnestly expecting an FM radio when I was through with the upgrade to BlackBerry OS 7.1 but alas there was none. A little bit of poking around and I discovered that the FM radio thingy was only limited to the BlackBerry Curve 9330 and 9360
So far so good, the BlackBerry Bold Touch 9900 is available from major carriers in the US and UK based on contracts. For those seeking SIM-free – Unlocked models, the device would set them back around $700 and £500 in the US and UK respectively.
As soon the major networks in countries around the world are able to program their networks to support BlackBerry OS 7, the device would be make its way in quickly.
This is a guest post submission by Frank Olivera and all opinions expressed within are entirely his and not that of PatchworkOfTips.com.
Please rate & share this article to help others. Thanks
You'll also like: