Upgrading the operating system of any mobile device is pretty easy these days as it can be done over-the-air (OTA) or via bluetooth as the circumstance presents. Some cell phone manufacturers aren't too keen on pushing OTA updates probably due to the high cost of bandwidth needed to serve these updates to end users so what they do is make the update file available via file sharing services like Mega, DropBox, Google Drive etc and then show users how to download and flash the updates to their devices.
The 64bit Oukitel K6000 Pro has received two updates that are yet to show up on my devices thus pushing me to download the whole rom and then flash only certain sections of the device. This experiment luckily worked and I'm here to show you how I was able to do it.
This is a quick demonstration of how to update/upgrade the operating system of your MTK android phone using SP Flash Tool without risking the loss of your data.
NOTE: Sh*t happens some times so as always, make sure to backup your device before proceeding. This is my recommended backup method >> How To Backup – Restore Data With Stock Android System Recovery 3e. Also I think this works for only minor OS updates. I don't think it will work for huge OS updates i.e upgrading Android 5.1 to Android 6 as compatibility issues could arise.
Finally, I'm not responsible for whatever evil befalls your device for following this guide. It worked for me thus my sharing it with you guys. It might work for you or not.
If you've never flashed your phone before using SP Flash Tool, do please read How To Flash Oukitel K4000 Pro – K6000 Pro With SP Flash Tool. It works for flashing most MTK android phones. Do please make sure you have the right android OS update ROM file for your device.
When you've loaded the Android scatter file (according to the last guide I linked to above), deselect preloader, tee1, tee2, cache and userdata as shown in the image below (click to enlarge image). On some ROMs tee1 and tee2 are reflected as ebr1 and ebr2. Just deselect them.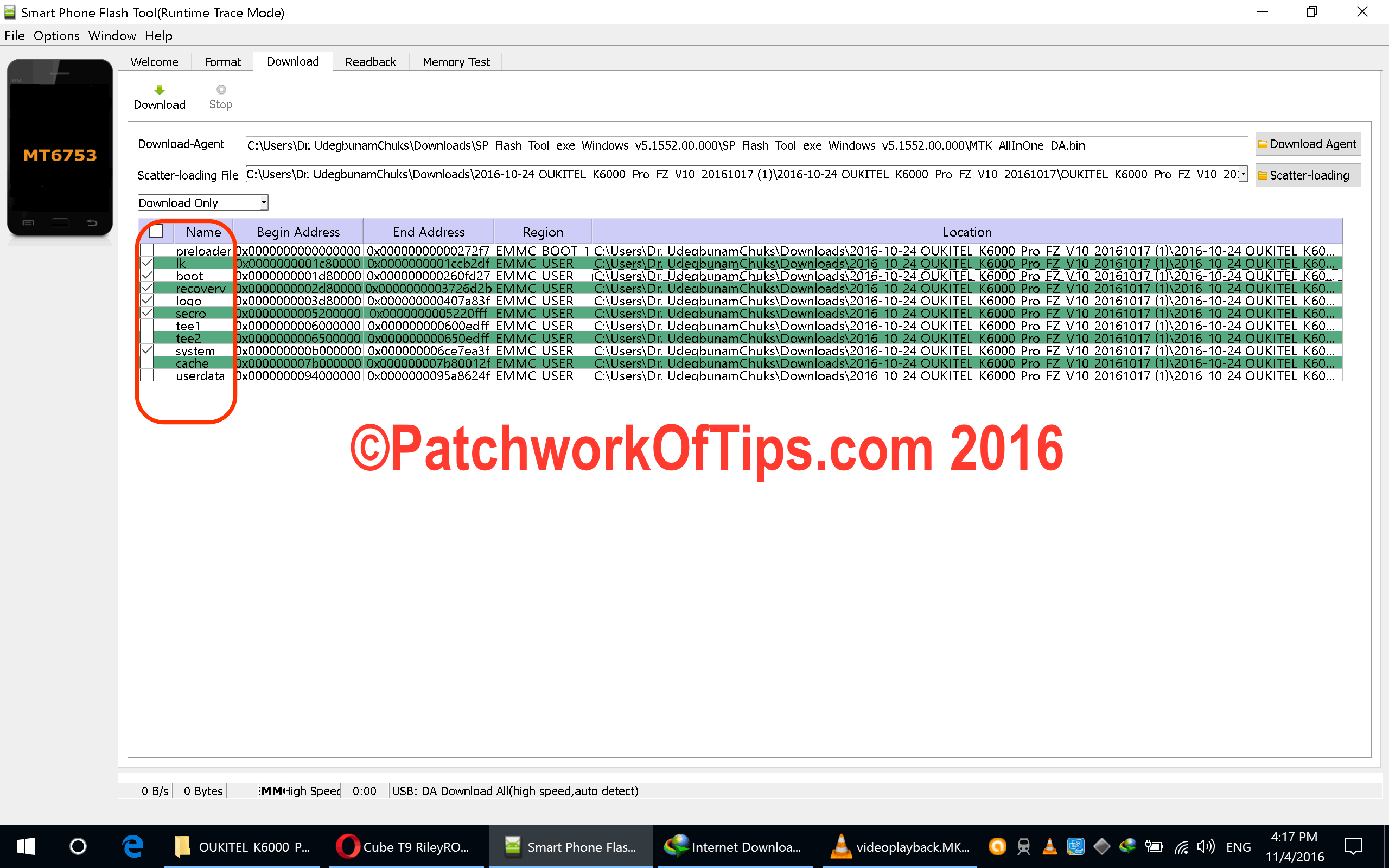 Switch off your device and follow the rest of the guide ( How To Flash Oukitel K4000 Pro – K6000 Pro With SP Flash Tool) to complete flashing the upgrade to your device.
If all goes well, you will have the latest version of operating system running fine. If not, simply boot back into android recovery and restore your backup.
Have a great weekend folks
Please rate & share this article to help others. Thanks
You'll also like: