So my leave is almost over as work resumes next week Monday and I'm so not anticipating getting back to work. "Gosh! Why dem no born me with golden spoon?".
So I was making final preparations for the move back to Sokoto when I remembered I still had an UBER coupon worth N2,500 that was going to expire by the end of the month. I got the coupon after some thorough googling 3 weeks back when I needed a ride home from the airport as mummy dearest wasn't available to play chauffeur as she always does for her one and only. Unfortunately I ended up taking a regular taxi as I was kind of scared the uber fee would be more than a regular cab.
Anyway so I made up my mind to go see one last movie and afterwards take an Uber back home just to get a feel of the service and how expensive it actually is……. Ain't no way I was letting that coupon go to waste.
So I launched the app set my destination and got a fare estimate of N1900 to N2500 and thus proceeded to request a cab which was 3 minutes away according to the Uber App Map. The driver called me like 40 seconds after I placed the request to let me know he was waiting for me at the gate….though the map showed he was yet to arrive.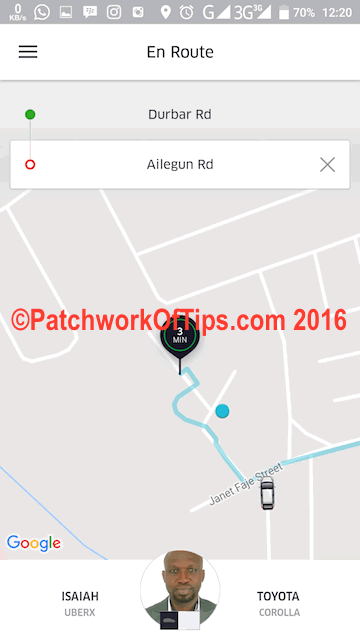 The ride was a clean black Toyota Corolla with correct AC and I have to say I felt like a boss. lol. As soon as I got in, we drove off and the app's status switched from En Route to On Trip.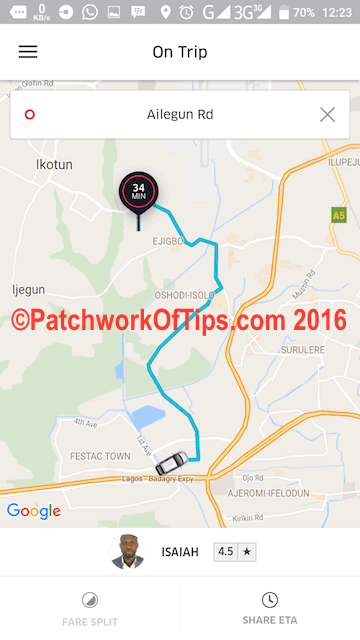 The drive was smooth and though I'm not one for conversations when taking a taxi, I didn't mind the small talk with the driver. I think he had noticed I was kind of idle in the back seat and thus offered to play music from my phone on the car's system but I declined which led to him making small talk to keep me entertained.
Our destination was clearly laid out on the map but we took a short cut and the app's map adjusted itself accordingly without hassle. The trip lasted 26 minutes with very very little traffic for just N1939.00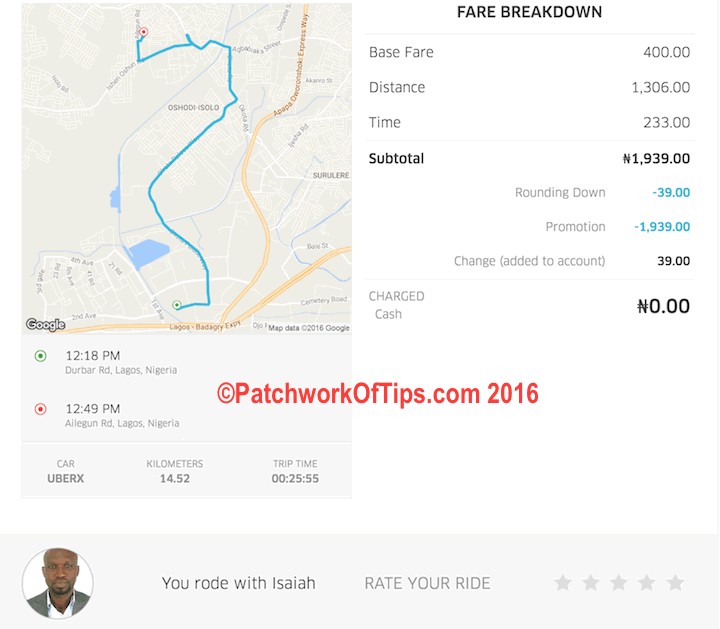 It was a really pleasant ride and I was quite happy with the service that I saw myself leaving a tip. The driver was on point and so was the fare and I wouldn't mind taking a ride with them when next I need a taxi in Lagos or Abuja.
THINGS TO NOTE ABOUT UBER'S SERVICE
The longer you stay in traffic, the higher your bill so plan your trips carefully and avoid traffic prone areas/periods.
If you wish to use a coupon, you MUST apply the coupon before requesting the cab. Failure to do so will result in you paying for your ride. To apply your coupon simply launch the app and go to Promotions and add your code.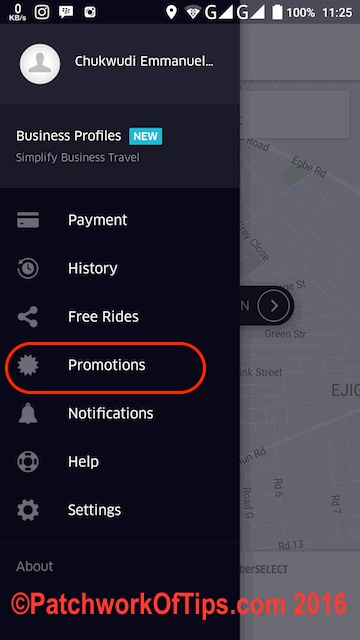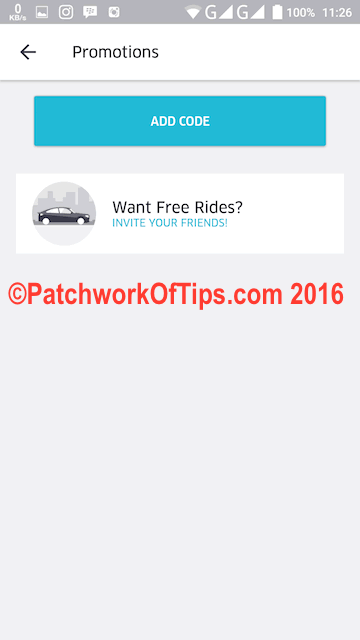 Need an Uber Coupon or Invite Code? Use mine:  ngq5cs6fue. Uber didn't specify how much this code is worth. They say it depends on the location of whosoever applies it to his new account.
Finally anything left of your coupon code will automatically expire after your first ride. In my case my ride was N1939.00, meaning I forfeited N565.00 of the N2,500 coupon I was given.
Got questions/complaints about Uber Nigeria's services, do please leave a comment below.
Please rate & share this article to help others. Thanks
You'll also like: