This is a guest post by Mahmoud Farad. To leave a guest post here, please contact us.
BlackBerry subscribers in the UAE can now enjoy the new BlackBerry Bold Touch 9900 through Etisalat UAE. Though subscribers are limited to only 2 plans if they want to get this device via Etisalat, 3 more BlackBerry Plans are also available.
For those looking for Blackberry subscription codes for Etisalat UAE, you've come to the right place

.
Before we proceed, it would be nice to acknowledge the fact that BlackBerry services are a lot more enjoyable with the new BlackBerry OS 6.0 so for those of you seeking to upgrade to BlackBerry OS 6 for Etisalat UAE, please read this post: Download BlackBerry OS 6.0 For All Mobile Networks Worldwide.
To use your Etisalat BlackBerry device as an internet modem, please read How To Use Your BlackBerry As An Internet Modem.
With that out of the way, here are BlackBerry Internet Service Plans for Etisalat UAE.
5 BLACKBERRY SUBSCRIPTION PLANS FOR ETISALAT UAE
Etisalat UAE offers 5 ways to subscribe to their blackberry internet service and of them all only the BlackBerry Global plan is limited to Postpaid subscribers only. The BlackBerry Global plan being the most expensive of the packages offers unlimited monthly data as well as roaming data usage with 24/7 access to your emails as they arrive, social media and instant messaging networks, BlackBerry Messenger and BlackBerry Appworld. Unfortunately it doesn't support YouTube video streaming.
The only Blackberry plan that supports YouTube streaming is the Premium package which costs 149AED monthly with 1GB of monthly data usage and 5MB of roaming data.
Though the BlackBerry Social plan is the cheapest of the lot and offers unlimited monthly data usage for just 49AED, it only allows you access to social networks like Facebook®, Twitter®, MySpace®, BlackBerry® Messenger™, Windows Live Messenger®, Yahoo Messenger® and ICQ® within the UAE. You get no email, no internet and no BlackBerry Appworld access.
A summary of the various subscription plans for Etisalat UAE's BlackBerry services are as shown below.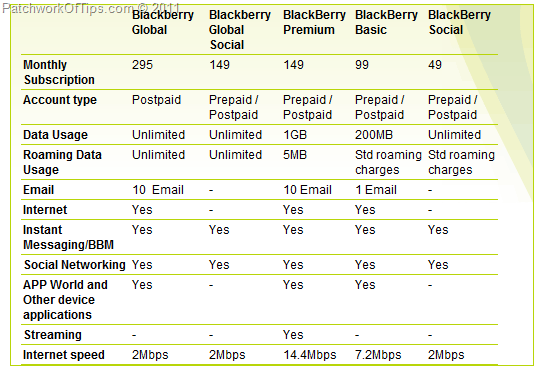 HOW TO SUBSCRIBE TO ETISALAT UAE BLACKBERRY SERVICES
To subscribe to any of the BlackBerry® Internet Solution packages, simply send an SMS with the short code of your desired package to 1010.
Below are the BlackBerry Packages with their corresponding Subscription Short Code.

HOW TO CHECK YOUR BLACKBERRY DATA BALANCE
By default, Etisalat UAE sends you SMS alerts when you reach 80%, 90% and 100% of your data allowance for the month but if you are on the Premium or Basic plan and would like to check it on the go, simply text DATA to 1010 or call 101 from your Etisalat line.
BLACKBERRY PHONES AVAILABLE FROM ETISALAT UAE
The following BlackBerry devices are readily available for sale directly from Etisalat UAE but do please note that they are all locked to the Etisalat network and as such can't be used on any other network until they've been successfully unlocked.
They are as follows: BlackBerry® Bold™ 9900, Blackberry® Curve™ 8520, BlackBerry® Bold™ 9700, BlackBerry® Bold™ 9780, BlackBerry® Curve™ 9300 3G, BlackBerry® Torch™ 9800.
You can get some of these blackberry devices for as low as AED30 per month with a 1 year or 2 year installment scheme.
Please call at 101 to their customer support representative for further information & assistance.
Please rate & share this article to help others. Thanks
You'll also like: