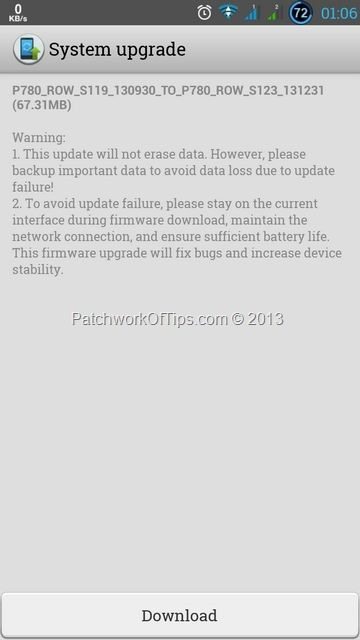 CLICK TO READ MY LENOVO P780 REVIEW
My good ol' Lenovo P780 4GB version got an update over the weekend and I have to say it has my phone running better now. It's a small update at 67.31MB but if you have a custom recovery in place, you will not be able to update it over the air. It moves the Build Number from P780_ROW_S119_130930 to P780_ROW_S123_131231. There's no changelog attached just a message alluding to the fact that the update will fix bugs and increase device stability.
How to Download Lenovo P780 To Firmware Build Number P780_ROW_S123_131231
WARNING: Backup all important data before proceeding. This update seems to be for the 4GB version only. I'm not sure if it works for the 8GB version.
To download directly to phone OTA, simply go to Settings >> About Phone >>  System Update. The update is just 67MB if you're running P780_S119
To update via custom recovery, download this file and install >>> P780_S123 Custom Recovery Update.
NOTE: I updated mine via custom recovery using the file above and I was using TWRP custom recovery. Hopefully it works the same way with CWM recovery. Also after the update, I lost all installed apps and settings as well as root and custom recovery but was able to gain root again using Framaroot 1.8.1 (select Install SuperSU and then make use of Boromir exploit). I didn't bother installing custom recovery again so I can update easily next time an update is released.
To update via PC using Flash Tool, download P780_S123 PC Update
Notable Changes With The New Lenovo P780 January 2014 Update
These are the few improvements I've noted so far on my device
Default Apps for browsing, multimedia etc stay put even after device reboot
Thumbnails no longer consume space on all drives. Thumbnails are restricted to default picture storage location.
The device tends to return back to functional state faster after unplugging from PC
FolderMount no longer works but setting default write disk to External Storage works flawlessly now as I was able to install most of my games like Asphalt 8 to microSD card
There's better RAM management which makes the device run much faster
File transfer via bluetooth and USB cable is much better in terms of speed.
GravityBox now works flawlessly and even helps to remove the 3G/G icon in the status bar amongst other goodies.
I'll add further changes as I detect them.
Don't waste time any more. Download the new update now. It's TOTALLY worth it

Please rate & share this article to help others. Thanks
You'll also like: