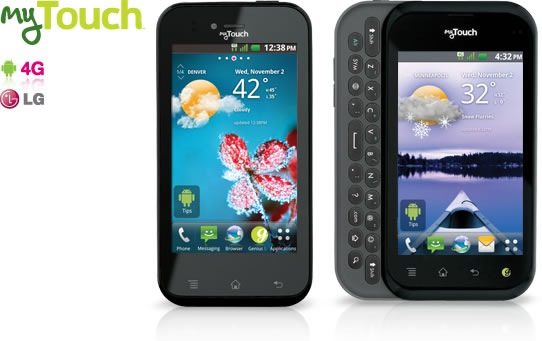 Coming on the heels of its recent announcement of the $200 Samsung Exhibit II 4G which is been sold in collaboration with Walmart, T-Mobile USA seeks to further widen their range of affordable android smartphones by offering LG's myTouch and myTouch Q for $80 each after a $50 mail-in-rebate with a new 2 year contract.
According to the official press release, both android phones will run Android OS 2.3 Gingerbread and feature a 3.8inch touchscreen display with 1Ghz Qualcomm Snapdragon processor as well as a 5 Megapixel camera.
As far as major differences between both devices go, myTouch Q comes with a slide-out QWERTY keyboard and a dedicated Genius Button for voice control.
The LG myTouch and myTouch Q go on sale 2nd November 2011 on the T-Mobile USA 4G network.
Please rate & share this article to help others. Thanks
You'll also like: