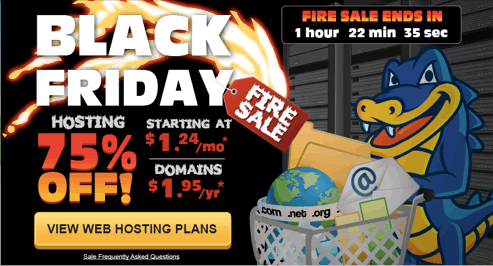 Thanksgiving Weekend is upon us and as always one of the world's top web hosting companies; Hostgator is offering pretty exciting deals on their premium web hosting plans.
If you've been thinking of getting a self hosted website for your personal blog, company website or what have you, now is the best time to shop for quality web hosting on the cheap.  I've been with Hostgator since 2008 and in my honest opinion, they're simply the best when it comes to support and service delivery.
When Does the Hostgator Discount Start?
It all kicks off at 12:00AM US Central time on Friday November 29th and runs up until 11:59PM US Central time Monday, December 2nd. For those of you in Nigeria, that's 7.00AM on Friday November 29th to 6.59PM Monday, December 2nd.
To get the appropriate time for your zones, you can make use of World Time Buddy

NOTE: The first hour will be a flash sale for 75% OFF Hosting (starting at only $1.24/m) and $1.95 domains. That's from 12 AM central to 1AM Central, November 29th. DON'T miss it!
CLICK HERE TO VISIT THE HOSTGATOR WEBSITE
How Much Discount on Web Hosting Is Hostgator Offering?
Except to get as much as 60% discount from Hostgator and this applies to all NEW hosting packages (Starting at $1.98/month) – including Shared, Reseller, VPS and Dedicated servers as well as domain names ending with .COM/NET/ORG/INFO/BIZ for $4.50.
If you wish to save more and get as much as 75% discount (Starting at only $1.24/month) and $1.95 domains, be sure to visit the Hostgator website frequently each day for their daily limited fire sales at these US Central times.
Nigerians add 7 hours to the time to get the appropriate time
Friday 12AM – 1AM
Friday 9AM – 11AM
Friday 9PM – 11PM
Saturday 12PM – 1PM
Sunday 8PM – 9PM
Monday 12AM – 1AM
Monday 10AM – 12AM
Monday 10PM – 11:59PM
Final Note
For those of you not living in the developed countries like the US, UK and Canada, do please make sure to have the following available when making your order
A scanned copy of your means of identification (International passport, drivers license or national ID card)
A screenshot of your bank statement
A clear picture of you holding up your means of identification and your debit card…..don't forget to blur out the middle digits of your card number
These requirements are in place to prevent fraudulent orders, I went through the same process once but subsequently didn't have to
If you've got any questions, feel free to ask below.
CLICK HERE TO VISIT THE HOSTGATOR WEBSITE
Please rate & share this article to help others. Thanks
You'll also like: