If you are in need of the latest computers and mobile phones in the Nigerian market and scared of getting conned by the boys @ Computer Village, Ikeja, do please allow me to quickly introduce you to three Nigerian InfoTech companies with whom I've transacted in the past without regrets.
GAFUNK NIGERIA LIMITED
Gafunk Nigeria is the place to go if you need computers, laptops and accessories at a rock bottom price. I always conduct a mini research before buying electronics and when it comes to computers Gafunk is the cheapest and not only that, you are assured of getting an authentic system with its actual 1 year warranty and all.
I'm one of those rare Nigerians who doesn't know how to bargain @ all and because of that I hate bargaining 'cause I always end up feeling cheated or actually cheated. At Gafunk there's no BARGAINING @ all. Whatever you see on their price list is FINAL and you can hardly find a better offer elsewhere in the market.
Their price list is regularly updated and can be downloaded online from their main website.
Gafunk Nigeria has got various branches scattered across Lagos and Abuja with their head office @ 7 Afisman Drive Opp Pam-Pam Hotel Anifowoshe, Ikeja Lagos.
PTV PHONES AND SLOT NIGERIA LTD
Whenever a new mobile phone gets advertised in the dailies, you can be sure to see SLOT and PTV  listed as authorized retailers meaning that when you buy from them, you can be rest assured that you're buying quality which is covered for 1 year @ major repair centers across Nigeria.
These two companies offer one of the most competitive prices in the mobile market at the moment and better still whenever the likes of Nokia, Sony and Samsung run promotions, all phones bought from these two retailers are valid for such promos

.
On their official website, PTV Phones have classified their stock of cell phones into Classic, Gold, Platinum and Diamond with Classic being for the average Nigerian and ranging from N0 – N11,000 and Diamond being for the "BIG" boys with prices starting @ N60,000.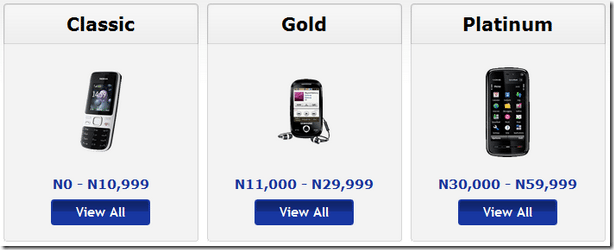 SLOT Ltd for some reason no longer makes it's price list available online but you can get one as soon as you walk into any of their shops in Ikeja.
NOTE: These recommendations are from my own personal experience and yours might vary so please follow your own judgment .
Please rate & share this article to help others. Thanks
You'll also like: