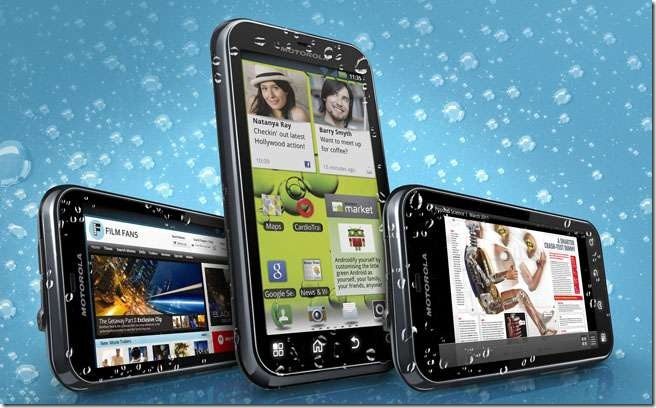 Motorola has just announced an improved version of the water resistant, scratch resistant and dust proof, Motorola DEFY. Tagged Motorola DEFY+ and set for release in Asia, Europe and Latin America beginning in early fall, the new addition to the family of Motorola Android smartphones, features a 1GHz processor, Android 2.3 (Gingerbread) with MOTOBLUR, a 3.7-inch touchscreen, a 5-megapixel camera, 2GB of internal storage and a 1,700 mAh battery.
According to Moto's press release, with its ability to survive a sudden downpour, a beach picnic, an all-night party or even a tough workout, the Motorola DEFY+ is a life proof device that can keep up with your toughest demands and wildest adventures.
Powered by Android 2.3 (Gingerbread), the device is 25% faster than its predecessor (Motorola DEFY), boasts of a better battery life and a rich web surfing experience thanks to its Adobe® Flash® 10-enabled browser which allows for quality web video viewing. Rich media content downloads are pretty fast and social networking has never been easier with DEFY+.
TOP FEATURES OF MOTOROLA'S DEFY+ sMARTPHONE
GSM Network 850 / 900 / 1800 / 1900 3G Network HSDPA 900 / 2100, HSDPA 1700 / 2100 and HSDPA 850 / 1900
Android Operating System v2.3 (Gingerbread)
1 GHz TI OMAP 3620 processor with 512 MB RAM, 1 GB ROM.
3.7-inch high-resolution IP67 certified water resistant, dust proof, and featuring scratch resistant Corning® Gorilla® Glass touch screen display.
Data connectivity via GPRS, EDGE, 3G and HSDPA
Internal memory storage of 2GB with *2GB microSD card in box, expandable up to 32GB
MOTOBLUR UI with Live Widgets for quick access to social media accounts like Facebook, Twitter, MySpace and Google Talk, right from the home screen.
Video recording and Picture capturing with 5 MP camera. Digital zoom, autofocus and LED flash enabled.
Motorola Media Link allows users to sync their media content from their desktops at home or work .
Standard 1700mAH battery for 7.1 hours of talk time and 16 days in standby
Motorola's DEFY+ is set for release in Asia, Europe and Latin America starting in early fall.
UPDATE: This stunning android smartphone is now available for sale in the UK through The Smartphone Centre and Clove for just £240. Please note that it's carrier dependent too
Please rate & share this article to help others. Thanks
You'll also like: