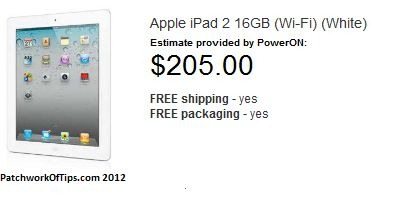 Apple's newest baby, the iPad 3 was just released to the market with over 1 million pre-orders across the globe already. With  a 5MP iSight camera, Bluetooth 4.0 technology, 4G LTE Connectivity, an A5X processor and quad-core graphics chip which is rumored to perform 4 times better than a Tegra 3 as well as a high-resolution Retina display and twice the pixel resolution of it's predecessor, the iPad 3 is poised to help Apple maintain its' rating as the world's top tablet manufacturer.
For those dying to lay on their hands on the new version of the iPad, Apple's Computer Reuse and Recycling program is offering a maximum of $320 USD Apple Gift Cards in exchange for your current tablet and with this gift card you could then order the latest iPad version at a lower fee.
Apple's Trade In – Gift Card plans are as shown below
iPad 2 Wi-Fi (16GB) – $205
iPad 2 Wi-Fi + 3G (16GB) – $250
iPad 2 Wi-Fi (32GB) – $245
iPad 2 Wi-Fi + 3G (32GB) – $280
iPad 2 Wi-Fi (64GB) – $275
iPad 2 Wi-Fi + 3G (64GB) – $320
The prices above are subject to your iPad 2 being in perfect condition. Perfect condition terms include having no cracks or damage or light to moderate scratches or scuffs  to either the display or case, no damages brought on water related accidents and no engravings on the back cover.
Not to worry, 'cause even if your tablet ain't in perfect condition, you can still get something in exchange for it.

Click here to trade in your iPad 2 now
Please rate & share this article to help others. Thanks
You'll also like: